Fort McDermitt community marks National Child Abuse Prevention Month
2 min read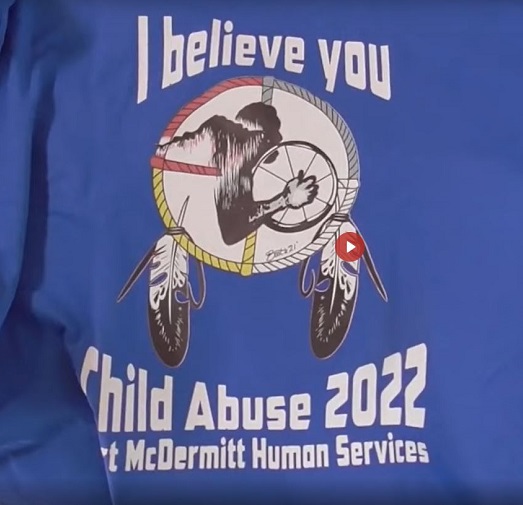 by Muffie Mousseau
for the Lakota Law Project
Several weeks back, my wife, Felipa, and I traveled from our home in South Dakota to visit Native communities around Thacker Pass. On that trip, we brought buffalo, donated by the Intertribal Buffalo Council of South Dakota, for feeds in Salt Lake City and Nevada to uplift and encourage the people.
We discovered both amazing relatives and appalling conditions in several communities. We were particularly struck by the poverty and patterns of violence suffered by the people of the Fort McDermitt Paiute-Shoshone Tribe. What a blessing it was, then, to be invited back to reconnect with our relatives there and participate in some important healing activities last week.
As April is National Child Abuse Prevention Month, our trip could not have been better timed. On April 23, as shown in our new video, we joined the Fort McDermitt community for some hard but very good conversations and a powerful walk against sexual violence and child abuse.
Wherever Felipa and I go, we mean to bring good energy and uplift everybody we meet. We stand together with our relatives, relying for strength on our culture, Lakota spirituality, and each other as human beings and Indigenous people.
At Fort McDermitt, our goal was to help raise awareness about the violence happening in a community ravaged by joblessness (the unemployment rate is well over 80 percent there), a lack of healthcare, and the absence of responsible law enforcement. All of that results in heartbreaking patterns of assaults and domestic, drug, and alcohol abuse.
As part of our journey, we talked with Tribal Chair Maxine Redstar, a strong matriarch with a good heart and firm understanding that something must be done. We also talked with Rose Curtis, an unci who shared her personal story with us and helped create the "I believe you" child abuse awareness campaign featured in our video.
While centuries of colonial violence have perpetuated these issues in our communities, no attempt to erase us has worked — and we will keep fighting for our children and all relatives who suffer violence. As our communities participate in the national week of action around missing and murdered relatives, we send heartfelt condolences across Turtle Island to all who have lost family and friends. Mitakuye oyasin — we are all related.