Lithium mine lawsuit: BLM lied about consultation, violated NEPA, FLPMA, NHPA
6 min read
The U.S. government continues to quietly commit acts of genocide against Indigenous peoples in the Great Basin.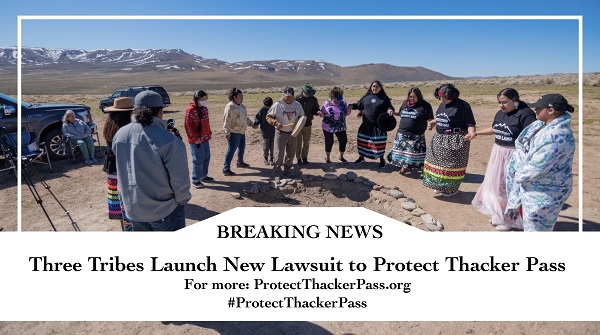 Three sovereign Indigenous nations in the Great Basin say the Bureau of Land Management violated multiple U.S. laws in approving and expanding permits for the Thacker Pass lithium mine.
The Reno-Sparks Indian Colony, Burns Paiute Tribe, and Summit Lake Paiute Tribe filed the federal lawsuit Feb. 16, which claims the BLM violated the National Environmental Policy Act, Federal Land Policy Management Act, and National Historic Preservation Act, and that the BLM is in breach of contract.
The lawsuit alleges:
The BLM lied about consulting with the Summit Lake Paiute Tribe, Winnemucca Indian Colony, and Fort McDermitt Paiute-Shoshone Tribe; all three sovereign governments dispute the BLM's claims.
The BLM refuses to acknowledge oral and written histories about the sacredness and cultural significance of Peehee Mu'huh.
The BLM withheld crucial information from the Nevada State Historic Preservation Office and lied about the extent of tribal consultation in order to secure legally-required concurrence about historic properties in Peehee Mu'huh / Thacker Pass.
BLM was complicit in false statements about older mining-related permits in Peehee Mu'huh, while quietly expanding the scope of previous permits dozens of times, without notifying tribes or the public. This has allowed preliminary mine construction activities that harm traditional cultural properties.
All three litigating tribes hold Peehee Mu'huh as a sacred and culturally important site which has been used for gathering edible and medicinal plants, hunting and fishing, conducting ceremonies, camping, and everyday lifeways of Paiute and Shoshone peoples.
Many oral histories, passed down for generations among regional Native American communities, tell of the significance of this area.
Thacker Pass is also the site of two massacres of Paiute people – one prior to colonization as part of an inter-tribal raid, and September 12, 1865, when U.S. troops massacred between 31 and 50 Paiute men, women, and children in a surprise attack at dawn.
Much of this history has been assembled for the first time in a comprehensive ethnological report, "Thacker Pass / Peehee mu'huh: A Living Monument to Numu History and Culture," commissioned by the Reno Sparks Indian Colony and Summit Lake Paiute Tribe. Numu is the name Northern Paiutes use to refer to themselves.
On Feb. 3, the tribes submitted the report to the Department of the Interior as part of an application to list two areas on the National Register of Historic Places: the 1865 massacre site and the whole of Thacker Pass, which tribes are calling the "Thacker Pass Traditional Cultural District."
Chairman Arlan Melendez said the Reno-Sparks Indian Colony would continue to advocate for "our sacred site PeeHee Mu'Huh….where prior to colonization, all our Paiute Shoshone ancestors lived for countless generations. And is the very same place they were massacred (never laid to rest properly) by the U.S. Cavalry. It's a place where all Paiute Shoshone people continue to pray, gather medicines and food, honor our non-human relatives, honor our water, honor our way of life, honor our ancestors."
He called on the Biden Administration to right the wrong that has been done to the 22 tribes with significant ties to Thacker Pass.
"Our contention is with the largest lithium mine in country and the expansion of the 40+ other lithium claims proposed for the state of Nevada," he said. "They should have notified all tribes sooner. The Thacker Pass permitting process was not done correctly. BLM contends they have discretion to decide who to notify or consult with. We need the federal government to make that right. Our history, our culture, our people, and our sacred sites must be protected."
Diane Teeman, chair of the Burns Paiute Tribal Council and director of its Culture and Heritage Department, shared oral histories. "Thacker Pass is known as a spiritually powerful place because of the presence of the remains of tribal ancestors and their spirits. Our Paiute oral history tells us that we Paiutes have lived in this area since before the Cascade Mountains were formed," she said. .
"Our people follow our unwritten traditional tribal laws and philosophy of life which require we respect all other living things including plants, animals, minerals, and so on," she said. "Our traditional ways require we live in reciprocity with all other things and never put ourselves as feeble humans above others. For this reason, our unwritten traditional tribal law requires we do everything in our power to protect it. Only the tribe and its members can speak to the significance of an area to the tribe."
Michon Eben, tribal historic preservation officer at the Reno-Sparks Indian Colony, said the federal government has a responsibility to determine if a proposed mining project may adversely affect historic properties.
"Historic properties include Native American massacre sites," Eben said. "The BLM failed in its trust responsibility to tribes and now our ancestors' final resting place is currently being destroyed at Peehee Mu'huh. Why is it that when our ancestors' burials are under threat, it's business as usual? We are demanding mutual respect for our dead relatives and their final resting place. The BLM and non-native archeologists do not have the expertise to determine whether a property is of religious or cultural importance to a tribe. Native American tribes are the special experts of our culture and Peehee Mu'huh / Thacker Pass is significant to regional tribes and to American history."
Fort McDermitt Tribal Member Shelley Harjo asked, "Are we willing to sacrifice sacred sites, health and internal balance for short term economic gains while giant corporations create unmeasurable wealth, deplete resources, and leave our future generations to endure the disorder the Thacker Pass mine would leave behind?"
She said private security forces are bullying tribal elders.
"I will never believe this is the best method for greener living and nor do many other native people in our area," she said. "My elders who have been going up to fish and gather medicine in the Thacker Pass have been followed and harassed by Lithium Nevada's private security, and now say they don't feel safe on their own ancestral homeland. This is an unacceptable bullying tactic against elderly women by a foreign mining company that has no business here."
In its rush to approve the mining project during the final days of the Trump administration, the BLM overlooked critical information, according to attorney Will Falk.
"BLM fast-tracked its review of the Thacker Pass Lithium Mine Project and was moving so fast, it made a number of mistakes, including failing to identify the September 12, 1865 massacre site, even though BLM possessed descriptions of this massacre in its own General Land Office records," Falk said.
"The tribes have notified BLM of the cultural, spiritual, and historical significance of Thacker Pass, but BLM continues to refuse to acknowledge this information," he said.
Max Wilbert, co-author of the book "Bright Green Lies" and organizer at Protect Thacker Pass, acknowledged that global warming is a serious problem and we cannot continue burning fossil fuels. "But destroying mountains for lithium is just as bad as destroying mountains for coal. You can't blow up a mountain and call it green," he said.
The Thacker Pass lithium mine project has become emblematic of what critics say is a rushed transition to "green energy" that is replicating many of the problems of the fossil fuel industry, resulting in major environmental damage, and harming frontline communities. Mine opponents say they aren't arguing in favor of fossil fuels, but in favor of protecting the Earth.
Lithium Nevada claims that its lithium mine will be essential to producing batteries for combating global warming, and the Biden administration has previously indicated some support for Thacker Pass.
Mine opponents call this "greenwashing," arguing that the project would harm important wildlife habitat and create significant pollution, including greenhouse gas emissions. They say that electric cars are harmful to the planet and a different approach is needed to address the climate crisis.