City's HRNI office responds to whistleblower
2 min read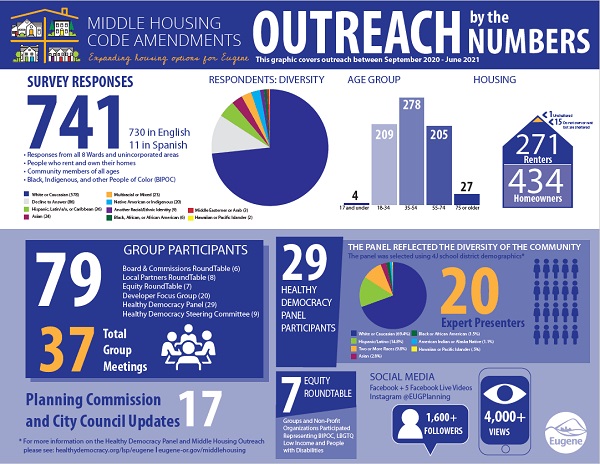 "I do not have records of any recommendations made by Rene Kane" —HRNI Manager Fabio Andrade
by John Quetzalcoatl Murray
Eugene's Human Rights and Neighborhood Involvement office has responded to former HRNI staff member Rene Kane, who says City engagement with neighborhoods on middle housing was "absolutely pitiful, absent."
Rene told a City of Eugene public hearing April 18 and the Neighborhood Leaders Council meeting April 26 that she was not allowed to review public engagement plans and tools for the City's Middle Housing project — despite being identified as a member of the project team.
HRNI Manager Fabio Andrade said, "I do not have records of any recommendations made by Rene Kane while she was a staff member with HRNI in regards to community engagement for the Middle Housing Code Amendments project."
"I do know that our office recommended the addition of an equity panel with local organizations to complement the Healthy Democracy process. That recommendation was accepted by Planning staff," he said.
After City Communications Director Cambra Ward Jacobson said "HRNI's suggestions were implemented in the Middle Housing Code Amendments," Fabio identified those specific suggestions.
"When the proposal was presented to the Planning Commission, we recommended offering some sessions for people to learn about the proposal and how to provide public comments on it. Planning staff accepted the recommendation and offered several online sessions. HRNI advertised those session with neighborhood associations. The sessions were recorded and posted in the project page."
That Middle Housing Public Engagement page on the City's website highlights the accomplishments of the public engagement effort.
"The middle housing public engagement process exemplified excellence in reaching and informing a broad cross section of our community, not just the most vocal," the page states. The graphic "Outreach By The Numbers" identifies 741 persons who responded to surveys.
But 741 is far short of the 4,000 responses the City received on another project, Rene says, when HRNI enlisted help from neighborhood associations.
Rene said the Planning Department failed to build on HRNI's deep knowledge of neighborhood engagement.
"I was never once asked how best to engage neighborhoods in developing this proposal," she told the City Council April 18. "In fact, the only tool geared toward neighborhood associations and other community groups was developed without my input. There was no training on the tool and no follow-up to see how it was working. How effective was it? I was told by Planning staff that one neighborhood organization used it resulting in one neighborhood response. What a failed opportunity."
The City Council will offer a public forum Monday, May 23 at 7:30 p.m. in advance of a special meeting on middle housing Tuesday May 24, at 5:30 p.m.
---
Contact John Quetzalcoatl Murray by email or by phone, ‪(541) 632-3692‬.