Council invites comments on middle housing during May 23 public forum
5 min read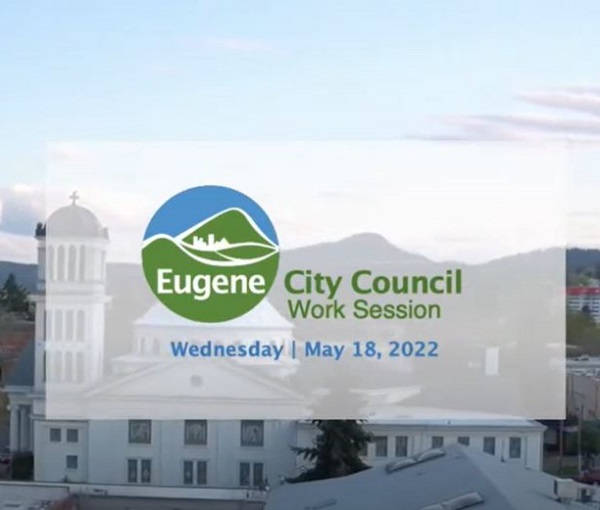 'We have a divided council and a divided community'

Eugene City Councilor Emily Semple
by John Quetzalcoatl Murray
At its May 18 session, the City Council considers future work sessions on solar access, tree preservation and short term rentals.
[00:00:09] Mayor Lucy Vinis: So we're picking up basically where we left off last Wednesday. We're going to begin this meeting by resuming with a motion that is on the table.
[00:00:21] Councilor Alan Zelenka: The reason I put this motion forward was for solar access ordinance and tree preservation, because I don't think either of them are well understood. And secondly, I think they're both very weak and they both need a look at and potentially changing dramatically.
[00:00:36] I think short-term rentals merits a work session as well. I think the middle housing code changes from HB 2001 is a game changer for short-term rentals. So I would move to amend to include short-term rentals as a third work session for City Council. The intent is to see if the middle housing ordinance should apply to short-term rentals.
[00:01:03] John Q: Councilor Mike Clark asked about the timing.
[00:01:05] Councilor Mike Clark: It seems like that's what some folks would like us to do is they would like us to prohibit any newly constructed places to be used as a short-term rental. I'm saying, Can we prohibit that without running into a Measure 49 claim if in fact we approve this stuff now, before we have that work session.
[00:01:25] Councilor Emily Semple: Oh, I just was wondering if we had any idea of how long this will take.
[00:01:31] City Manager Sarah Medary: We're looking at the fall at the earliest and the mayor and I talk about the calendar once a week. Given the lineup of things that are already on there and the number of spots, we're looking at, I would think, late fall, early winter.
[00:01:44] Councilor Mike Clark: Is there any chance, and I'm asking both the Mayor and Sarah, is there any chance to have this work session prior to completion of the middle housing amendments?
[00:01:52] Mayor Lucy Vinis: No.
[00:01:53] Councilor Mike Clark: The value of it for me is understanding its application to the …amendment that we've discussed. And the point becomes considerably less after the fact, if we don't do it until the fall…. It's always good to talk, but the timing matters. And I think to talk about it later doesn't do us any good, if we've already passed middle housing amendments.
[00:02:16] John Q: Councilor Clark summarized a staff presentation on tree preservation.
[00:02:20] Councilor Mike Clark: It seems like what you're telling us is that the trees aren't protected…And that seemed to be my colleagues' concern. So it seems to me that if anybody voted on the lot coverage question with the thought process that trees would be protected, it seems they may want to reconsider that vote.
[00:02:36] John Q: He suggested that tree preservation is linked to lot coverage.
[00:02:40] Councilor Mike Clark: Correct me if I'm wrong. If we accept the 75 percent, you by definition almost cannot protect any trees except those that exist in the setbacks, because you can put a building right to the edge, right? The only trees, then, if you do with a 75 percent coverage, the only trees that would be protected and prohibit a structure there, would be trees that exist within the setback. You can build right up to the lines, so there's nothing to protect. It can all be cut down. That's the way we do it with single-family housing right now. So for those councilors that are comfortable not having the tree protection work session in advance of this decision, what we're deciding is, you can cut everything down unless it exists in the setback.
[00:03:27] John Q: Councilor Clark offered a motion.
[00:03:29] Councilor Mike Clark: Because of the difference in what I've heard, I want to make a motion on this. I move to direct the (City) Manager to come back to us with an ordinance reflecting a 50 percent lot coverage instead of a 75 percent lot coverage as we discussed previously. My thinking on this is that—just as Alan said, and he was right—that these are big issues and you know that it requires us revisiting this with a better community investment in discussions. And so it seems we're going to do that in the fall.
[00:04:03] And that was my rationale in the first place to support Emily's initial motion, which was, let's do the minimum that we are required to do, and come back after we've more thoroughly vetted the conversation on some of these issues.
[00:04:19] Councilor Randy Groves: I agree. I would like to have an opportunity to understand what the tree canopy conversation is going to produce. That's been a concern of mine all along. At the same time, I understand we need to get something in place before June 30th. But if we go with the 50 percent that doesn't preclude us from coming back and expanding that to 75 percent later.
[00:04:41] Councilor Emily Semple: People are very upset about being heard. I think our outreach was new, innovative, and very useful. I value this information: the points of view, the life experiences, and the reality of our housing crisis. However, as a councilor, I believe it is my responsibility to ensure my constituents are heard.
[00:05:03] We have a divided council and a divided community. Regardless of the topic, this is a vital duty, to hear our community. We're hearing distress and outrage about the technical difficulties with both the public hearing and last week's forum. People were dropped from the list and couldn't stay up that late for the hearing.
[00:05:24] If we don't let people have another chance to speak live on video, the resulting anger will be justified. I do not believe we are likely to get additional information or to change our votes, but it would be wrong not to allow the opportunity for people to speak again.
[00:05:42] I realize we can't have another public hearing, but we do have a public forum coming up and I think people should be allowed to speak to this. If we vote today, that public forum doesn't matter.
[00:05:53] I'm going to make a motion that we don't vote until May 25th. It will not affect our ability to vote before the deadline. I don't see any harm in it. And I especially do not want to have the vote immediately after the forum. So I move to postpone our vote on House Bill 2001 to date certain Wednesday, May 25th, 2022.
[00:06:18] John Q: That date was adjusted to May 24.
[00:06:22] Councilor Randy Groves: I agree with Councilor Semple. It is important that we provide every opportunity for people to express their concerns and their opinions. And I take that pretty seriously.
[00:06:33] John Q: Community members can speak at a public forum Monday May 23 at 7:30 p.m.  The Council will meet in special session at 5:30 p.m. Tuesday May 24th, for the final vote on the middle housing code amendments.
---
Contact John Quetzalcoatl Murray by email or by phone, ‪(541) 632-3692‬.