Nehalem Bay emergency volunteers share tips for engaging neighbors
6 min read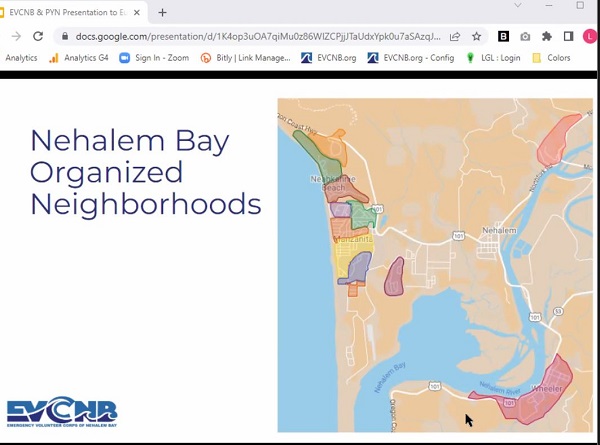 After exchanging emergency information with nearby neighbors, what next? Community leaders shared ideas at the May meeting of the Eugene Neighborhoods' Preparedness Network.
[00:00:13] Randy Prince (Amazon Neighbors): I'm Randy Prince, a co-coordinator of the Eugene Neighborhoods' Preparedness Network.
[00:00:17] Linda Kuestner is here representing the Emergency Volunteer Corps of Nehalem Bay. It's a citizen-led effort that knows there's no way regular emergency providers can do everything, and we've got to be prepared. They've taken the 'Map Your Neighborhood' program, had some experience with it, and they're now branding it to 'Prepare Your Neighborhood.'
[00:00:43] John Q: They started organizing after a winter storm in 2007.
[00:00:48] Linda Kuestner: After that 2007 Great Coastal Gale, that winter storm that had hurricane-force winds, (we) lost a lot of trees, landslides that cut off our communities from each other and from anywhere else. Many of us had no electricity for over a week. My next-door neighbor, who was here at the time, likes to tell stories of how the community came together.
[00:01:06] In early 2008, a group of citizens held a community meeting with close to 100 people attending. We did identify that Map Your Neighborhood program in Washington state and the community really took hold of the idea. Our neighborhood teams began and that really was the foundation of everything that supported EVCNB's growth.
[00:01:22] John Q: They started with radio communications, CERT training and Map Your Neighborhood. The leaders saw where neighborhood groups formed and where they didn't.
[00:01:32] Linda Kuestner: The Nehalem Bay region does have three cities and a large part of unincorporated north Tillamook County. Manzanita and Neahkahnie, to the north, are generally wealthier; retirees have more time and funds to put towards preparedness. The other areas are more working people and younger families, with correspondingly less time and funds, and we've had greater successes in some areas than others in response to that economic disparity,
[00:01:56] It's also a vacation destination. We have only about 25 percent full-time population in Manzanita and Neahkahnie. We have a lot of short-term rentals and loads of unprepared day-trippers in their flip-flops with no Go Bags.
[00:02:08] John Q: The Map Your Neighborhood groups were very successful, wherever a volunteer offered to serve as a block captain.
[00:02:16] Linda Kuestner: We did start in 2008 with the Map of Your Neighborhood program, but in our area, it was just not a sustainable program because it was focused on every block having a captain and that left a lot of blocks and a lot of large areas with no leadership at all. So the 'Prepare Your Neighborhood' program replaced the 'Map Your Neighborhood' for us in 2017.
[00:02:32] We have three key metrics that we track: Do you have a Go Bag? Do you have a disaster communications plan? And do you know your routes to safety?
[00:02:40] John Q: After neighbors meet, they collaboratively choose how to organize themselves.
[00:02:46] Linda Kuestner: Clusters are independently organized neighborhood groups. It could be under a homeowner's association or some other structure that matches the local community's funding or existing social networks.
[00:02:57] Clusters are really grassroots neighborhood groups who train, plan, and share resources in the name of emergency preparedness. They range from 50 to 300 homes, and they organize their own leadership structure however best fits their neighborhood. We have some that are sort of a board model, a team, some that have like an executive director model with one person who sort of manages area captains— whatever fits their model, we let them do what they need to do. They do their own fundraising for their emergency supply caches.
[00:03:23] John Q: The program provides training, drills, and feedback.
[00:03:28] Linda Kuestner: The PYN program supports cluster leadership through regular meetings and we offer coaching and mentoring to newly forming clusters, document best practices, and we provide training.
[00:03:37] We currently have classes on water sanitation hygiene, Go Bags, Yellow Radio, camping at home, food planning. And we also have CERT training. Practice drills are important, like putting on your Go Bag and walking to your gathering site and practicing how to use the equipment in your storage unit. PYN has helped to develop effective drills and we have observed the drills to document ways that the cluster and our drills can improve.
[00:04:02] John Q: Linda offered two tips for better nearby neighbor meetings.
[00:04:05] Linda Kuestner: We started out by having neighborhood meetings where we've talked about some emergency preparedness topic. And what we found to be more successful recently is, to be a little bit more sneaky about it—and to focus more on the social aspect of getting to know your neighbors and maybe having an adult beverage or coffee or something, and then kind of sliding in the exercise or the training as part of the meeting. And that's brought in a lot more people and a lot more activity.
[00:04:34] John Q: She found that the meeting site can help motivate neighbors.
[00:04:38] Linda Kuestner: For us, we've seen that the neighborhood gathering site is one of the top galvanizing factors that enhances and increases neighbor participation in the cluster. Somehow seeing the stuff, that makes it more real, and having a place to practice and socialize builds those community bonds.
[00:04:53] Patence Winningham (Lane County Emergency Management): I think this is great, Linda. Thank you for coming to our community to share this information.
[00:05:01] I spent a lot of time early on in my career, pounding my head against the wall with Map Your Neighborhood program, and 'How can we do it better?' And you hit the nail on the head. It was really hard for us to find people to be leaders for each of those blocks. Because that was something we also struggled with when I was responsible for the Metro area.
[00:05:19] But now that I'm more in the rural area, I'm looking at working with our community centers and granges to build lighthouse facilities, such as the caches you were talking about with volunteers. I want to make it happen in our rural areas, because the last thing we want them to do in a Cascadia scenario is come to the urban area, looking for the same resources and assistance when they could very well stay in their own community and take care of themselves.
[00:05:50] Andy Davis (Eugene Springfield CERT): Linda, we were working Map Your Neighborhood as well, and found it very difficult like you did. So we've started a new initiative. ,We're asking that all the CERTs in Eugene where they live, to develop a citizen corps: People that live on their street, a damage assessment team. So hopefully the CERTs would be the radio team leaders, and then the civilian neighbors would be a damage assessment team, that would go out as a pair and assess, do a windshield survey, so to speak, of their neighborhood they live in, and pass that information to the radio team leader.
[00:06:26] And then that radio team leader would pass it to the neighborhood hams and then on up to the neighborhood net control, and then to the district net control, to EOC. So I look at the CERTs like special forces, they're embedded into the neighborhoods and the district CERT leaders will assist the CERTs in their district to train these folks, keep them safe.
[00:06:52] So we've got the Harlow neighborhood coming up and then also June 18 EWEB I think, is going to put on a demonstration with one of their emergency wells at Lane County Events Center and then we have some exercises coming up in August, September, and October of this year.
[00:07:11] John Q: Preparedness leaders keep finding new ways to support nearby neighbors. For more information, see ENPN on Facebook or visit the Eugene Springfield CERTs and the Emergency Volunteer Corps websites.
---