Ceremony to honor fallen fire fighters June 9
3 min read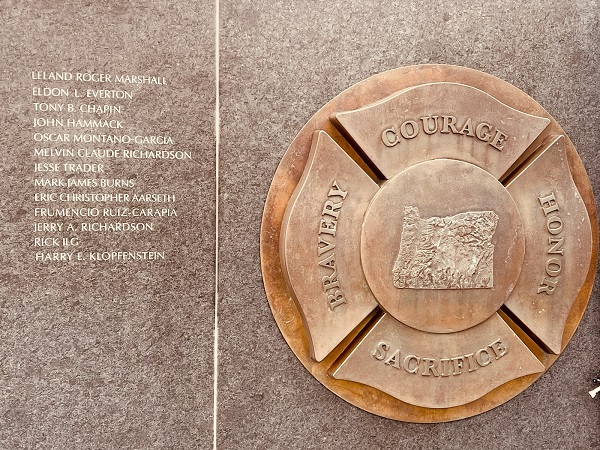 The annual Oregon Fallen Fire Fighters Memorial ceremony, honoring fire fighters we lost during the past year, will be held on June 9, 2022 at 1:00 p.m.
This year's ceremony is open to the public. The memorial is located at the Oregon Public Safety Academy, 4190 Aumsville Highway, Salem.
In preparation for the ceremony, the names of Frumencio Ruiz-Carapia, Richard Ilg, Harry Klopfenstein, and Jerry Richardson were etched into the memorial wall this week. Families of the fallen were in attendance at the engraving event alongside members of the Oregon Fire Service Honor Guard, who stood watch while the names were added.
Firefighter/Squad Boss Frumencio Ruiz-Carapia, 56, was killed in the line of duty on August 23, 2021 when he was struck by a falling tree during the Gales Fire in Lane County. Ruiz-Carapia succumbed to his injuries at the scene despite efforts from his crew to save him. Immediately following his death, responders wrapped him in the American flag and formed a procession before his body was prepared for transport home to Medford, where he would eventually be sent to Queretaro, Mexico where his mother and brother live. Ruiz-Carapia was a 20-year firefighting veteran where he was known to be a kind, caring, upbeat individual that loved his wife and three children. Unfortunately, he was due to return home the day following his death where his wife had his favorite food prepared for him.
Forest Grove Fire & Rescue's Captain Richard Ilg passed away peacefully in his home on September 12, 2021 after a courageous battle against brain cancer. He was just 49 years old. Ilg began his career with Forest Grove Fire & Rescue in 2003 after working as a Paramedic with Metro West Ambulance. During his years of service with Forest Grove Fire & Rescue, he became the department's highest decorated firefighter with several commendations and awards in service to the community, including the department's highest honor, the Medal of Valor, which he earned during a daring technical rescue in the Oregon Coast Range Mountains in 2014. Ilg was known in his region as a highly respected and regarded Paramedic who had an incredible ability to remain calm and collected on high-risk calls. Ilg is survived by a wife and daughter.
Silverton Fire District's Captain Harry Klopfenstein passed of cardiac complications on September 25, 2021 following a response to a motor vehicle crash. The next day, Klopfenstein was assisting a neighbor near his property where he collapsed and eventually succumbed to cardiac complications at Silverton Hospital, less than 24 hours after responding to the vehicle incident. Klopfenstein selflessly gave 33 years of service as a volunteer for Silverton Fire District as well as owned KS Seeds, but he was happiest when working with his family on the farm. He is survived by his wife of 40 years, five sons, and several grandchildren.
Lieutenant Jerry Richardson lost his battle with cancer and passed away on Nov. 19, 2021, after being diagnosed with mesothelioma after serving as a firefighter and fire paramedic for over 34 years. Richardson, a loving husband and father of two, started his life of service as a volunteer at Selah Fire Department in Montebello, California when he was just a junior in high school. After graduating high school, Jerry enlisted in the United States Air Force where he served as an airbase firefighter for four years. After the military, Richardson studied to become a Paramedic and began his firefighting career at Cottage Grove Fire in 1992. In 1999, Richardson started at Portland Fire & Rescue where he would become a well-respected Lieutenant and leader. Richardson enjoyed hunting, fishing, camping, hiking, baseball, softball, coaching, woodworking, and church, but he valued his family most. In 1993, Richardson married the love of his life, Heather, and soon after they would expand their family with the birth of their children, Eddie and Kaylee. Though Richardson battled cancer for the last three years of his life, he still managed to find joy in each day.
To date, 170 Line-of-Duty-Deaths have been approved for the memorial wall from as far back as 1881. The submissions include every aspect of the fire service, including: career, volunteer, wildland, and structural fire fighters; chief officers, company officers, engineers, and fire fighters.
The construction of the memorial was completed and dedicated on September 9, 2006. The Oregon Fire Service Honor Guard has volunteered to serve as the conduit for the annual memorial ceremony that is held in June.