Downtown Riverfront Park to celebrate grand opening June 10
3 min read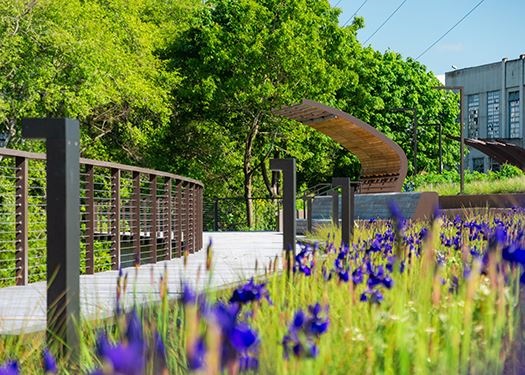 The City of Eugene invites the community to attend the grand opening of the new Downtown Riverfront Park, starting Friday, June 10 at 10 a.m.
After decades of visioning, the City of Eugene has fulfilled a long-held goal of turning the former EWEB utility operations yard into a vibrant, active, and accessible riverfront park that reconnects Downtown to the Willamette River and serves as a regional destination.
The Downtown Riverfront Park will host a free fan festival July 15-24 for visitors and local community members during the World Athletics Championships at Hayward Field. The festival will be an opportunity to showcase our state, local businesses, and our diverse and talented local arts communities to the world.
With the thousands of visitors to Eugene, the Downtown Riverfront Park is sure to be a centerpiece of the festival and a community legacy beyond 2022.
Funding for the Downtown Riverfront Park development comes from the 2018 Parks and Recreation Bond, Urban Renewal Agency funds and Public Works capital funds. Ongoing maintenance of the park is being funded by the 2018 Parks and Recreation Levy.
The three-acre Downtown Riverfront Park is urban in character balanced by riverbank and habitat enhancements. The park design, which included input from thousands of community members, features broad river views, new bicycle and pedestrian paths, covered seating and overlooks.
Integrated art pieces tell the stories of the ecology, industry and community, creating a park experience that's truly all about Eugene.
With the direct input from Eugene's Black community, this site will be the future home of a sculptural bronze water fountain framing views across the river to Alton Baker Park. The interpretive piece will share the story of Eugene's first Black neighborhood that was razed with very little notice in 1949 to make way for construction of today's Ferry Street Bridge.
Sculpted as a continuous bronze surface that bends and folds to accommodate adults, children and people who are mobility challenged, the work is an inclusive invitation for all to come to the river's edge to share a drink of fresh water together. This piece is expected to be installed late 2022.
The adjacent one-acre park plaza, to the west of the Downtown Riverfront Park, is scheduled for additional design work and construction to be completed in 2025. A series of public open houses will begin in late June this year and run through the summer. Project design will be completed in 2023, with one year of construction anticipated to begin in Spring of 2024.
The weekend celebration will begin at 10 a.m. Friday with speeches by Mayor Lucy Vinis and City Manager Sarah Medary and a ribbon-cutting ceremony.
Harmonic Laboratory and City of Eugene will be presenting special Artistic Encounters programming throughout the weekend. All performances are free to the public and will run from 12 – 1 p.m. on Friday, 12 – 2 p.m. on Saturday and 12 – 1 p.m. on Sunday under the new art pavilion, SubSupra.
Food will be available for purchase from local favorites including: Most Wanted Espresso, O'my Mini Donuts, Sweetbay Shave Ice, and Sling-in Weiner.