Nearby neighbors help each another prepare for the next Cascadia quake
4 min read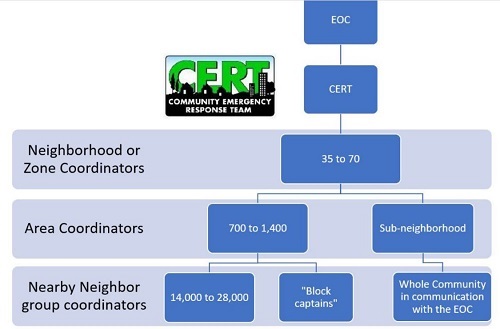 Northwest Eugene looked at a train derailment and Southeast looked at wildfire. Friendly (Area Neighbors) is looking at the failure of an upstream dam. If you'd like to practice responding to events, one Eugene neighborhood association is ready to help. Opening the March meeting of the Board of Directors, Southeast Neighbors co-chair Dennis Hebert.
[00:00:19] Dennis Hebert (Southeast Neighbors Co-chair): This meeting is recorded and it's a public meeting. So everything said and heard and seen is open to the public for viewing. So, be aware of that.
[00:00:29] John Q: Correcting the February meeting minutes, Dennis and David Monk.
[00:00:33] Dennis Hebert (Southeast Neighbors Co-chair): I think, David, didn't you send something?
[00:00:35] David Monk (Ready SE): Yeah, just correcting it. I can't take credit for the grant proposal. It was Don Metheny and John (Q.) of course, who, helped him.
[00:00:43] John Q: Here's that exchange at the February meeting. Co-chair Dennis Hebert introduces Disaster Preparedness Committee Chair David Monk.
[00:00:50] Dennis Hebert  (Southeast Neighbors Co-chair): Okay. Mr. Monk, Monkmeister, how'd the exercise go tonight?
[00:00:55] David Monk (Ready SE): Well, the exercise went quite well. Just to let you all know, we—John and I—were facilitating an evacuation exercise in Northwest Eugene. This is River Road, ABC Active Bethel Citizens, Santa Clara neighborhoods. They've got an up-and-coming preparedness program.
[00:01:13] John created this template for these tabletop exercises. We did it for wildfire principally, but this was focused on a chlorine leak and I'm going to let John—John, tell us what you thought about the event tonight.
[00:01:25] John Q: Oh, great discussion. Yeah, we're working on—. Well, let me start at the beginning. This neighborhood is totally amazing. The Disaster Preparedness Committee has been going for 10 years, working their plan, and they went from small discussion exercises to big all-city field exercises. Had the first one last October with the Great Shakeout where they had this integrated thing—the Map Your Neighborhood teams would run around and find out what had happened in their neighborhood, relay that information to the ham radio operators, and they would talk up to the EOC (Emergency Operations Center). This is part of that whole comprehensive Exercise and Evaluation Program that we're trying to roll out.
[00:02:08] And the River Road folks were really amazing. They took our wildfire exercise and they completely rewrote it for something that was more relevant to their area of town, up northwest Eugene, the rail yards, I guess they had a sulphuric acid derailment a couple of years ago.
[00:02:26] And the suggestion that David had was that we make it a chlorine gas leak. And the (Ready NW) folks here did all this research, they presented on how to shelter in place. If you're unable to evacuate, you don't want to go into these hazmat toxic clouds. They, we, talked about putting plastic sheeting and duct tape and sealing up rooms.
[00:02:48] I think that, David, will end up being its own presentation down the road.
[00:02:52] David Monk (Ready SE): Yeah, and of course, this is part of this effort that has been underway for many years, because as John indicated, we pretty much got started first with Disaster Preparedness here in Southeast, in large measure, Don Metheny, Heather Sielicki, Heather was the board chair at that time. There was a lot of interest amongst that board. And so we're out in front of a lot of other neighborhoods by virtue of that. We have over 60 volunteers now in our program and most of them participate in our monthly radio check-ins. Some of them have organized their nearby neighbors.
[00:03:26] That's our goal is to have—as we've talked about this—200 volunteers in our neighborhood, all actively working with their nearby neighbors, 20 households, approximately, right? So that we cover most of the neighborhood.
[00:03:38] So again this exercise we did with Northwest goes hand-in-hand with the proposal your preparedness committee just submitted, really appreciate your jumping in quickly and supporting that.
[00:03:51] I think we can really take what we've learned in our neighborhood, and the expertise that we have amongst a dozen ham radio operators, emergency response people that worked in that field professionally and now retired and living in our neighborhood, we can take that to all these other neighborhoods who are struggling to get started with their programs.
[00:04:11] And there's so many not only neighborhood associations, but folks living in rest stops, elders who are isolated and alone because they don't have nearby family, and they're not connected with their nearby neighbors. We want to bring this Whole Community approach to the whole Metro area. John, anything else you want to add?
[00:04:29] John Q: Just a big thank you to the board for the unanimous support. We know that in a disaster, the Cascadia event, it's the person who's physically near you at that time—whether you're in the workplace or at home, if you're at home, it's your nearby neighbors —they're going to be the ones who help you. And by doing all these trainings and these nearby-neighbor discussions, we're helping to build capacity and resilience here in Eugene.
[00:04:54] We really want to do a lot of outreach during the World (Athletics) Championship event. We'll have international media here. We can talk about how we are trying to prepare as an entire city where we have this complete emergency structure in real time that goes from the EOC and reaches down to every neighborhood.
[00:05:16] Dennis Hebert (Southeast Neighbors Co-chair): You guys did a stellar job, man. Knocked it out of the park, as someone said.
[00:05:20] John Q: To organize your neighborhood's preparedness exercise, see WholeCommunitySupport.org.