Charges dismissed for BLM activist at Springfield protest
2 min read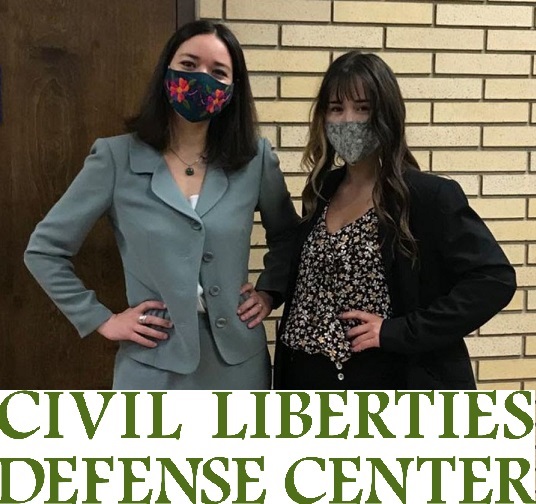 by the Civil Liberties Defense Center
Moments before a jury was to hear opening statements, the Deputy Lane County District Attorney abruptly moved to dismiss all charges against racial justice activist Jazmine Jourdan for events related to a 2020 protest led by Black Unity against racism in Springfield's Thurston neighborhood.
This is the same incident that spurred the Civil Liberties Defense Center and the non-profit community organization Black Unity to file civil litigation against the City of Springfield for numerous civil rights violations.
CLDC understands that Ms. Jourdan's case was dismissed by the Court after the jury was sworn in because a necessary witness for the State, former Springfield Police Officer Bronson Durrant, declined to voluntarily appear.
After two years, the final criminal prosecution of Black Lives Matter activists has ended in victory for the community members who stood up against racism in Springfield.
"First off, I'm going to say BLACK LIVES MATTER," said Ms. Jourdan. "Two years of my adult life have been taken away from me, filled with anxiety and fear by Springfield P.D. Finally, this has come to an end. I am innocent, I am an activist, and I am not ashamed. I am so thankful for Black Unity, the community, and my lawyers at CLDC for working day in and day out to fight for my freedom. It's finally over!"
Sarah Alvarez, an attorney with the Civil Liberties Defense Center, said she was honored and proud to have represented such a strong and resilient activist in a repressive, political trial.
"Jazmine acted with integrity and stood up for what she knew was right during the July 29, 2020 protest here in Oregon. I am pleased that the prosecution dismissed the charges," said Alvarez. "I only wish they hadn't waited so long to do so."
The Civil Liberties Defense Center supports movements that seek to dismantle the political and economic structures at the root of social inequality and environmental destruction.
CLDC is honored to be a trusted legal resource for the progressive activist community. We provide our particular brand of movement-aligned legal representation at no cost to activists, but it is by no means without cost. In addition to our time, we often incur significant costs for filing fees, travel, expert witnesses, discovery, and more.
To help us continue providing pro bono legal support to empower and embolden movements for liberation and justice, visit https://cldc.org/.