Judge declares mistrial in 'Stop The Sweeps' case
3 min read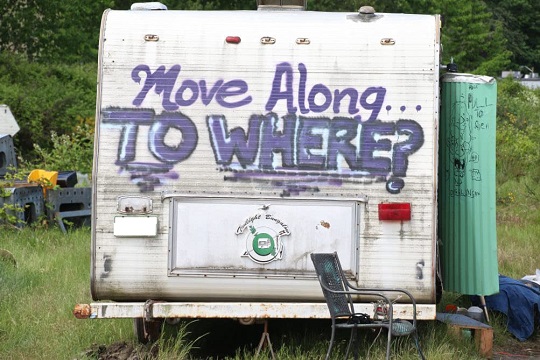 Advocate asked EPD to follow the law; jury unable to reach unanimous verdict
Contributed by the Civil Liberties Defense Center
Eugene, Oregon—Nicholas Hollows, a Eugene resident and Stop the Sweeps organizer, stood trial on Wednesday and the jury was unable to reach a verdict, resulting in a mistrial. Despite compelling evidence that Mr. Hollows was acting within his constitutionally protected rights to engage police verbally during the eviction of a houseless and disabled man, the jury was unable to fully see past the city prosecutor's narrative, which relied heavily on obscuring any context of the City's dehumanization of people experiencing houselessness.
"I feel we can claim this as a partial victory," said Sarah Alvarez, a staff attorney at the Civil Liberties Defense Center who represented Mr. Hollows. As a resident of Eugene herself, she continued to share that "At least one member of the jury indicated their own family had been impacted by housing insecurity, which only underscores the desperate situation our city faces. We will continue to push for Eugene to live up to its promise and potential to be a welcoming and progressive city for all of its residents, including for those who bravely use their voice to advocate for our unhoused neighbors like Mr. Hollows. We know Eugene can do better."
Mr. Hollows was pleased with the trial outcome, but recognized the enormity of the continuing challenges for his unhoused neighbors and community members.
The city of Eugene has a higher-than-average rate of people who experience houselessness and housing insecurity. In 2019, Eugene had the highest per capita rate of homelessness of any U.S. city, and since then the rate has increased by nearly 50%. This is a humanitarian crisis that necessitates a humanitarian response.
The city prosecutor indicated they will re-try the charge against Mr. Hollows for a second time, as is allowed in the case of a mistrial. With a humanitarian crisis at hand, Ms. Alvarez asked "It's hard for me to understand why the City puts so many public resources into persecuting the unhoused and their advocates when that time and money could be better used developing vital community resources that would solve the problems we're facing in Eugene."
People experiencing houselessness and housing insecurity face immense challenges. Being treated as a human being with dignity is among the top of these challenges. The City of Eugene perpetuates this dehumanization by criminalizing houselessness through repeated sweeps of encampments and further limitations on freedom of movement for those who live outside. The City's prosecution of Mr. Hollows was an extension of that dehumanization. Mr. Hollows was charged for simply approaching officers and asking for housing resources.
Stop the Sweeps organizers released this statement on social media:
"We are not angry because the City of Eugene lies about their intentions, break their own rules, or because their actions appear to be hypocritical. We are angry because they are cruel. Their response to this crisis is inhumane."
---
CLDC is honored to be a trusted legal resource for the progressive activist community. We provide our particular brand of movement-aligned legal representation at no cost to activists, but it is by no means without cost. In addition to our time, we often incur significant costs for filing fees, travel, expert witnesses, discovery, and more. Please give what you can today to help us continuing providing pro bono legal support to empower and embolden movements for liberation and justice.