Trespassing charges dismissed in landmark case upholding treaty rights
3 min read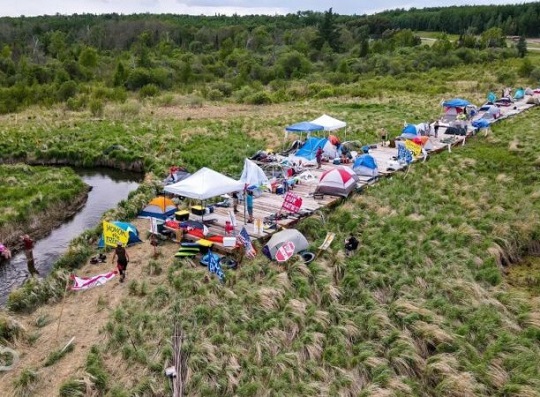 by the Civil Liberties Defense Center
Three Indigenous Water Protectors have had their criminal cases dismissed in a major legal victory for Indigenous sovereignty and treaty-reserved rights.
Anishinaabe Water Protectors Nancy Beaulieu, Justin Keezer, and Todd Thompson were charged with criminal trespass for their presence at the Fire Light Camp, an eight-day ceremonial camp held at the Mississippi River in June 2021. The Fire Light Camp was located on territory ceded to the United States by treaty, where Enbridge Energy Corporation was building its Line 3 fossil fuel pipeline to cross the river near its headwaters.
Pipeline construction threatened sacred waters, including the Mississippi headwaters, as well as the concomitant ability to hunt, fish, gather, and engage in religious and cultural practices central to Anishinaabe people, and threatened the safety and wellbeing of Indigenous women, girls, and two-spirits as part of the epidemic of Missing and Murdered Indigenous Women and Relatives. In the face of these threats, Indigenous Water Protectors and their invited guests lit a ceremonial fire, gathered in prayer, and camped on the matting that stretched over the Mississippi River so that Enbridge's pipeline could be built through it.
Fire Light Camp participants were originally charged and prosecuted for trespass by the State of Minnesota in Clearwater County District Court. The cases of several Indigenous participants were subsequently transferred to White Earth Tribal Court, including the cases of Ms. Beaulieu, Mr. Keezer, and Mr. Thompson.
Last week, White Earth Tribal Court Judge David DeGroat issued an order granting the three Water Protector's motions and dismissing their cases on grounds that their actions were lawful exercises of sovereign Indigenous rights reserved in the 1855 Treaty and protected nonviolent direct action pursuant to the White Earth Tribal Code.
"This is a landmark case," Mr. Keezer explained. "As Judge DeGroat's order states, neither treaty nor federal law purports to divest Anishinaabe people from our sovereign usufructuary rights on our treaty-ceded lands, including the right to hold religious ceremonies, invite guests of our choosing to share in those experiences, and protect the water that is life."
"My goal was to redefine the relationship we have to nature and the way we view rights," Ms. Beaulieu stated. "Colonized courts define nature as property, property to be exploited under capitalism. But native people have relationships with nature and an inherent ancestral obligation to protect the land and water not only for ourselves, but for our children and grandchildren."
"This is simple," Mr. Thompson described. "We have a connection to our land. We are caretakers of our land. The land is who we are and how we take care of our families. We have inherent rights from the creator, and a responsibility to defend our way of life, and it doesn't get any higher than that."
All three Water Protectors emphasized that this was a collective victory, one that required standing together in the face of an often-intimidating colonized legal system. They expressed hope that this victory will inspire others to know their rights, take action, and join them in the future.
Ms. Beaulieu, Mr. Keezer, and Mr. Thompson are represented by Claire Glenn, Attorney-Fellow for the Line 3 Legal Defense Project of the Civil Liberties Defense Center and the Water Protector Legal Collective.