Wildfire Adapted Communities discuss evacuation, development standards
7 min read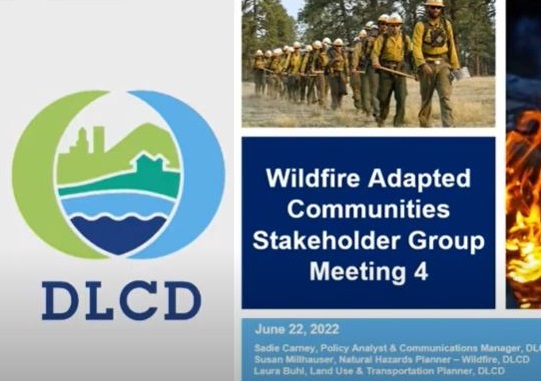 Wildfire Adapted Communities share highlights from the statewide listening sessions.
[00:00:09] Sadie Carney: Sadie Carney, I'm the communications manager and a policy analyst for DLCD.
[00:00:14] DLCD's charge under Senate Bill 762: …We are making broad recommendations to the legislature and the Wildfire Programs Advisory Council on ways that we can use land use tools…to help adapt our communities to wildfire risk.
[00:00:31] So this includes the statewide land use planning program, local comprehensive plans, zoning codes, an incorporation of the wildfire risk map to minimize wildfire risk in our communities. Recommended changes may include … sufficient defensible space, building codes, safe evacuation and development considerations in areas of extreme and high wildfire risk allowing for regional differences.
[00:00:55] John Q: With the top three concerns expressed during the listening sessions, Sadie Carney.
[00:01:00] Sadie Carney: So when we had our community listening sessions, really the strongest elements we heard were number one, that equity piece; two, evacuation concerns; and three, development considerations.
[00:01:14] And one of the things that we heard loud and clear is to really consider equity. Language accessibility. It's a challenge in getting the information to people today. It is a challenge in evacuation scenarios. It is a challenge in recovery scenarios. And so we are looking closely at that.
[00:01:34] One size fits all approach will not work. And I think that's really, that speaks to the varying needs that we have across the state, the differences between very urbanized communities and very rural communities. So how do we incorporate those differences with equity in mind —with differing populations, different industries, different communities, rural and urban?
[00:01:59] Statewide planning efforts need to be flexible for local communities and should balance the needs of individuals and the community. So how do we provide appropriate levels of autonomous decision-making for landowners, homeowners, renters, developers and how do we take the broad needs of a community into consideration with those concerns in mind?
[00:02:24] And we heard that there's a real benefit in having a consistent system that can apply throughout the state, but there's a tension there, because when we hear that a one-size-fits-all approach will not work, and then we also hear there is a benefit in consistent application and that helps planners and communities and builders and developers.
[00:02:47] Should we have clear and objective standards at a statewide level that would relieve local governments of some of the burdens of consideration or some of the need for review, is there an opportunity there? Where do we find the middle ground? So those are some of the questions that we're asking you to help us answer.
[00:03:08] John Q: She noted that development considerations can come into conflict.
[00:03:12] Sadie Carney: Within conflicting development considerations, House Bill 2001 requires local governments to allow for additional density on lots that are zoned for single-family development. If we are allowing for the development of a town home, some kind of apartment dwelling, are we creating levels of density that are in conflict to reducing the density that we want to see?
[00:03:41] I can think of places within the ODF map where the addition of an ADU on someone's property could expand the WUI into an area. And that really changes things for both that property and for their neighbors and for our planning.
[00:03:56] Probably a lot of us on this call have enjoyed special events at wineries or at farm stand locations, pumpkin patches, things like that. So there are uses that are allowed in a rural context that might have limited evacuation opportunities. Should there be considerations that we are making to better protect people in those scenarios? So should they have to have an adequate water supply? Should there be safety considerations that we're taking into account, lack of infrastructure to fight the size and the type of the fire?
[00:04:31] We heard about this earlier today. Was it the city of Talent or Phoenix? that ran out of water to fight and defend themselves against an urban conflagration. So how do we ensure that cities have the right infrastructure? So that's water access, but also road access. (Editor's Note: The heat of the Almeda Fire melted plastic water pipes and drained Talent's water supply just as it was most needed by firefighters. )
[00:04:49] Should our considerations of wildfire risk impact where we can have future development? Should we be thinking about placing people in harm's way? Should we have additional standards if people do make the choice?
Should we be thinking about where and how we place things that we might consider critical facilities—a hospital, a school—if we do place them there, should there be additional safety standards that they put in place?
[00:05:18] A concern that we heard: If we increase the cost of development for homes, for multifamily residential, because we are requiring alternate egress, we are requiring additional water supply, is that going to burden our housing crisis? Are we going to have even more difficulty finding adequate housing for everyone?
[00:05:39] And finally we heard that a local public process is really one of the best tools that we can use in determining how to protect our communities. So those are the considerations.
[00:05:54] Susan Millhauser: My name is Susan Millhauser and I'm a natural hazards wildfire planner with Department of Land Conservation and Development, and the staff lead for the Wildfire Adapted Communities project.
[00:06:04] John Q: Susan gave a recap of the considerations around transportation.
[00:06:08] Susan Millhauser: Some of the considerations we heard related to transportation, evacuation, and access, certainly evacuation route planning and warning systems really need to look carefully at the characteristics of the community and its members: one-way roads; folks who don't have their own transportation; other health and physical limitations, livestock and pet evacuation came up.
[00:06:31] Certainly language barriers in terms of communicating with folks during that emergency situation. It also was brought up that rural roads really do have limitations for serving as evacuation routes. So there's that balance of, most of the time that they meet the need, other times, what are some ways that there could potentially be improvements?
[00:06:50] And then there were also conversations around some of the best practices and really recommend additional access and exiting from a property to enhance emergency responders coming in and people and animals getting out.
[00:07:02] So if codes were to address, is there some type of threshold what size property? And I don't want to get into the weeds there. If you're requiring a second egress from a property, that might eliminate some properties from being buildable. Each property has its own unique characteristics. So there's a need for a balance there.
[00:07:21] There was a lot of conversation around evacuation route signage, which we heard from Ashland. They're reconsidering signage. So this is really an evolving practice, because depending where the fire's coming from and where people need to go, but there may be some opportunities for dead-end streets or for areas where folks aren't familiar with the lay of the land to get them towards the main roads and not away from them.
[00:07:43] There were also a suggestion that maybe there are streamlined land use exception process for evacuation improvements for rural roadways, for new and existing development. And then also redevelopment opportunities with recommendations for shared access agreements.
[00:08:00] John Q: The stakeholders convened in small groups to discuss evacuation and then development standards. With notes after the transportation session, Susan Millhauser.
[00:08:10] Susan Millhauser: Emergency evacuation and response are two different needs for the transportation infrastructure and sometimes there are conflicts there.
[00:08:18] And we also talked about more detailed standards, like, would it make sense to look at the model from Ashland where they're looking at evacuation zones and is that the best kind of scale to look at some of these types of standards and planning a little more locally, than, say for a broad community.
[00:08:35] We talked about multiple access points and, while seeing the benefit for new development from a firefighting and evacuation side, also concern that could inhibit development. And so there's a scale discussion there, with intensity and density of development and what might trigger something like that.
[00:08:53] We also did talk a little bit about alternate routes, hiking or walking access trails that could be used. And we talked about trying to do more broad coordination and planning in advance with property owners to better map some of these alternate routes and work on access agreements with landowners and have that in a plan that's developed by a wide variety of people. But really doing that in advance would be very helpful.
[00:09:21] There are areas where firefighters went in around the Bootleg Fire, and while there were multiple access points for them to get in, the roads were very poorly maintained. They were washed out. The firefighting apparatus, they couldn't get into those areas. Rather than requiring additional access for those areas where there's already access, are there potentially programs for education and funding for improvement and maintenance of the existing transportation network, which would involve federal and county and state agencies.
[00:09:50] So that was, it was a really great conversation.
[00:09:53] John Q: DLCD delivered its wildfire risk map by June 30, and works towards its October first deadline. They must report their recommendations for wildfire-adapted communities.