Immigrant advocacy group Causa to dissolve after 27 years
6 min read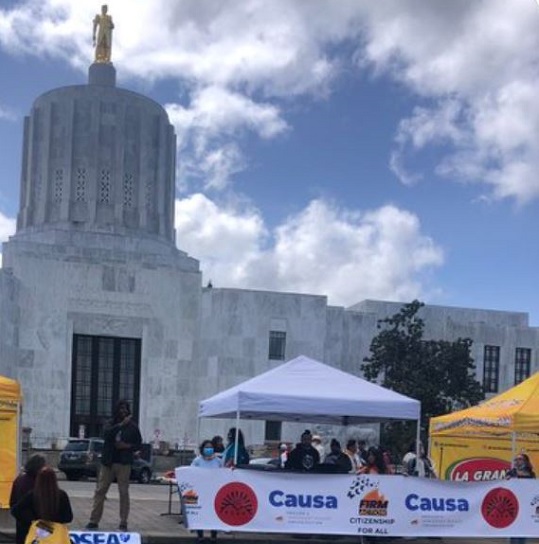 Board cites staff turnover, fundraising, union
by the Causa Board of Directors
It is with a heavy heart that we share this news with you today. Last week, after much thought and careful consideration, Causa's Board of Directors unanimously voted to begin the process of dissolving our organization after 27 years of working to support and protect Oregon's Latinx immigrant community.
The decision to dissolve Causa was not an easy one, but we firmly believe it is the right one. After more than two years of fundraising difficulties and unprecedented turnover among staff and leadership, the organization has reached a point where it will begin spending down its financial reserves to cover expenses. This is not sustainable for the organization.
Additionally, as many of you know, we have been unable to finalize a contract with our employee's union. Causa's board members are proud to support labor unions and to be a nonprofit with union staff members, and voluntarily recognized the union two years ago. But unfortunately, union leadership has been unwilling to enter mediation or put a fair contract offer to a vote, focusing instead on a damaging public pressure campaign. Our most recent attempt to finalize a contract has gone without a response from the union for nearly eight weeks.
All of these things have contributed to Causa's financial strain and uncertainty.
The Board firmly believes we have a responsibility to ensure our staff receive a generous severance before reserves are exhausted, and that vital programs will continue under the leadership of our allied organizations. To do so requires us to act quickly and so we are working to dissolve by July 31. Any remaining funds will go to staff severance and to furthering Causa's work through re-grants to partner organizations who can continue this vital work.
We are incredibly proud of the legacy Causa will leave behind. Our organization was founded in 1995 by farmworkers, immigrants, and allies who came together to defeat ballot measures that would hurt Oregon's Latinx community. Since then, Causa continued to organize grassroots canvasses across the state and defeat anti-immigrant bills and ballot measures, including attempts to restrict bilingual education, reduce needed services for low-income immigrant families, regressive voter restriction laws, and more.
Causa's work evolved over decades to give Oregon Latinx communities a powerful vote at the state and local levels. In 2019, Causa won a long fought victory, the culmination of over 10 years of struggle to secure Driver's Licenses for all undocumented communities in Oregon. In 2017, Causa supported the work to pass 17 sanctuary city resolutions to restrict local police from collaborating with ICE, and in 2018 helped secure an investment of $1 million dollars from the City of Portland and Multnomah County for deportation defense, creating the first Universal Representation program in Oregon. Later that year, Causa helped lead the campaign, alongside Oregon's Latinx community, to defeat Measure 105, a white nationalist effort to eliminate Oregon's 31-year-old sanctuary state status.
During the pandemic, Causa co-led the effort with close allies to secure relief funds for Oregonians excluded from unemployment benefits, helping to launch the Oregon Worker Relief Fund. In its first year, the Oregon Worker Relief disbursed more than $60 million to more than 37,000 individuals in Oregon's immigrant communities, including in all 36 counties statewide.
While Causa is closing its doors, we are confident our mission to give Latinx immigrants a powerful voice in Oregon will continue through the work of our incredible community partners. We know our community is strong, will continue to march forward, and new leadership will emerge. La lucha continúa.
We want to thank you from the bottom of our hearts for your time, energy and support over the last 27 years.
Sincerely,
The Causa Board of Directors
---
Es con gran pesar que compartimos esta noticia con ustedes hoy. La semana pasada, después de mucho pensar y considerar detenidamente, la mesa directiva de Causa votó por unanimidad para comenzar el proceso de disolución de nuestra organización después de 27 años de trabajar para apoyar y proteger a la comunidad de inmigrantes latinos de Oregón.
La decisión de disolver Causa no fue fácil, pero creemos firmemente que es la correcta. Después de más de dos años de dificultades para recaudar fondos y una rotación sin precedentes entre el personal y el liderazgo, la organización ha llegado a un punto en el que comenzará a gastar sus reservas financieras para cubrir los gastos. Esto no es sostenible para la organización.
Además, como muchos de ustedes saben, no hemos podido finalizar un contrato con el sindicato de nuestros empleados. Los miembros de la mesa directiva de Causa se enorgullecen de apoyar a los sindicatos y de ser una organización sin fines de lucro con miembros del personal del sindicato, y reconocieron voluntariamente al sindicato hace dos años. Pero desafortunadamente, los líderes sindicales no han estado dispuestos a entrar en la mediación o tomar un voto sobre el contrato justo que se les ofreció, enfocándose en cambio en una campaña de presión pública dañina. Nuestro intento más reciente de finalizar un contrato no ha recibido respuesta del sindicato durante casi 8 semanas.
Todas estas cosas han contribuido a la tensión e incertidumbre financiera de Causa.
La mesa directiva cree firmemente que tenemos la responsabilidad de garantizar que nuestro personal reciba una indemnización generosa antes de que se agoten las reservas, y que los programas vitales continuarán bajo el liderazgo de nuestras organizaciones aliadas. Para hacerlo, debemos actuar con rapidez y, por lo tanto, estamos trabajando para disolver la organización antes del 31 de julio. Los fondos restantes se destinarán a la separación del personal y a promover el trabajo de Causa a través de nuevas subvenciones a organizaciones asociadas que pueden continuar con este trabajo vital.
Estamos increíblemente orgullosos del legado que Causa dejará. Nuestra organización fue fundada en 1995 por trabajadores agrícolas, inmigrantes y aliados que se unieron para derrotar medidas electorales que dañarían a la comunidad latinx de Oregón. Desde entonces, Causa continuó organizando campañas de base en todo el estado y derrotó proyectos de ley y medidas electorales anti-inmigrantes, incluidos los intentos de restringir la educación bilingüe, reducir los servicios necesarios para las familias inmigrantes de bajos ingresos, las leyes regresivas de restricción de votantes y más.
El trabajo de Causa evolucionó durante décadas para dar a las comunidades latinas de Oregón un voto poderoso a nivel estatal y local. En el 2019, Causa ganó una larga victoria, la culminación de más de 10 años de lucha para obtener licencias de conducir para todas las comunidades indocumentadas en Oregón. En 2017, Causa apoyó el trabajo para aprobar 17 resoluciones de ciudades santuario para restringir la colaboración de la policía local con ICE, y en 2018 ayudó a asegurar una inversión de $1 millón de dólares de la ciudad de Portland y el condado de Multnomah para la defensa contra la deportación, creando la primera Representación Universal programa en Oregón. Más tarde ese año, Causa ayudó a liderar la campaña, junto con la comunidad latinx de Oregón, para derrotar la Medida 105, un esfuerzo nacionalista blanco para eliminar el estatus de estado santuario de Oregón de 31 años.
Durante la pandemia, Causa co-dirigió el esfuerzo con aliados cercanos para asegurar fondos de ayuda para los habitantes de Oregón excluidos de los beneficios de desempleo, ayudando a lanzar el Fondo de Alivio Laboral de Oregón. En su primer año, el Alivio Laboral de Oregón distribuyó más de $60 millones a más de 37,000 personas en las comunidades de inmigrantes de Oregón, incluyendo 36 condados del estado.
Mientras Causa cierra sus puertas, confiamos en que nuestra misión de dar a los inmigrantes latinos una voz poderosa en Oregón continuará a través del trabajo de nuestros increíbles socios comunitarios. Sabemos que nuestra comunidad es fuerte, seguirá avanzando y surgirá un nuevo liderazgo. La lucha continúa.
Queremos agradecerles desde el fondo de nuestros corazones por su tiempo, energía y apoyo durante los últimos 27 años.
Sinceramente,
La Mesa Directiva de Causa