FUSEE: Conventional firefighting threatens Lake Tahoe water quality
2 min read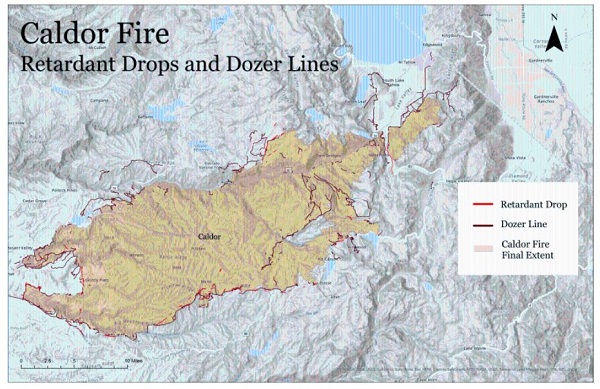 Eugene – Firefighters United for Safety, Ethics, and Ecology (FUSEE) released a report documenting the dozerlines and fire retardant drops that were part of aggressive suppression actions during the 2021 Caldor Fire, and the damaging impacts that these firefighting actions can inflict on Lake Tahoe's water quality.
The report, "The Caldor Fire: Fire Suppression and Environmental Degradation in the Lake Tahoe Region," explains how sediment from bulldozed firelines and chemicals from aerial retardant drops will be entering streams that feed into the lake. In shallow bays along the lakeshore, this pollution can feed algae blooms that will alter its famed blue color. These impacts can occur up to several years after the wildfire event.
"I have often worked in forested wildfire areas that were coated with powdery pink retardant, but I've never seen a retardant drop successfully contain wildfire spread," said Courtney Kaltenbach, a wildland firefighter and co-author of the report. "It hurt my heart to know that those chemicals would inevitably seep into the soil and flush into nearby waterways–for no good reason."
Lake Tahoe is the largest alpine lake in North America. The lake and surrounding forests are cherished for their scenic recreational values. But the area already faces a number of threats to the environment including the loss of water clarity from local municipal pollution, the impacts of climate change, invasion of non-native species, and the lack of low-severity fire. The long-term indirect effects of aggressive fire suppression during the Caldor Fire adds another threatened impact to the region's environmental quality.
"Climate change is making conventional firefighting methods increasingly ineffective. The overaggressive use of bulldozers and airtankers on the Caldor Fire largely failed to stop the spread of wildfire, but they did introduce another source of pollution in the watershed that may have more significant impacts on Lake Tahoe than the wildfire," said Timothy Ingalsbee, executive director of FUSEE. "Local environmental watchdogs like the League to Save Lake Tahoe will have to monitor and mitigate the damage from the firefighting over the next several years."
FUSEE's report can be accessed here: https://arcg.is/WPOrb
See FUSEE's website for additional info: https://fusee.org/home/suppression-impacts