Divest Oregon urges treasury to reduce its investments in fossil fuel companies
4 min read
A new Divest Oregon report called Risky Business calls for the Oregon State Treasury to reduce its investments in private equity firms that promote oil, gas, and coal, often while exploiting or endangering tribal lands.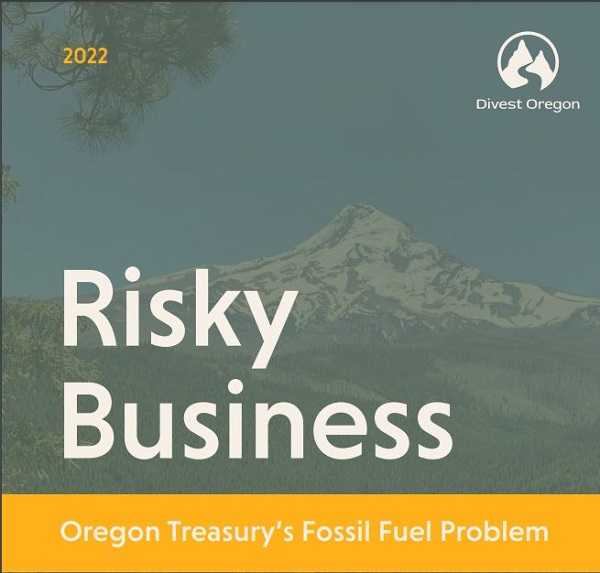 DJ Suss D: According to DivestOregon.org, Oregon can set the example on divestment. The Oregon State Treasury is a keystone in the fight for renewable energy. State pensions investments in private equity are particularly concerning. Amanda Mendoza is with the Private Equity Stakeholder Project.
[00:00:20] Amanda Mendoza: And in a report last fall, Private Equity Stakeholder Project found that private equity had invested over $1 trillion in energy companies in the past 10 years. We've also found that 80% of energy investments held by 10 of the largest private equity firms buyout are in oil, gas and coal, and Oregon's treasury invests in six of these private equity firms: KKR, Blackstone, Warburg Pincus, Apollo, TPG, and CVC Capital.
[00:00:56] The Oregon State Treasury has had a relationship with KKR going back to the leveraged buyout days that cooled due to excessive fees and union complaints. The treasury has been investing in various KKR funds since 1981 and over the past 40 years has committed over $8 billion through its investments. The treasury has direct exposure to Monterra Energy, the developer of pipelines and other oil and gas infrastructure in Mexico, and Fleur de Lis Energy, a company focused on acquiring oil and gas assets in Wyoming and Texas. KKR is also the majority owner of the 670-mile Coastal Gas Link Pipeline in British Columbia.
[00:01:47] Coastal Gas Link is being built to carry fracked gas from unceded Wet'suwet'en land to an export facility on the west coast. Wet'suwet'en hereditary chiefs' opposition has resulted in protests, delays and blockades. And although the treasury is not directly invested in the KKR fund that owns the Coastal Gas Link, it is directly invested in another publicly traded company, TC Energy, and that is the minority owner.
[00:02:16] Private equity managers are actually better suited than others to live up to science-based climate goals. And this is because private equity firms tend to hold large or controlling ownership stakes, which is a level of influence that is much harder to achieve in public markets.
[00:02:33] This gives private equity firms a lot more control over their energy portfolio than shareholders in the publicly traded companies and allows for the treasury to demand greater climate accountability so that their private equity managers demonstrate alignment with the 1.5 degree Celsius scenario by ending the expansion of new fossil fuel infrastructure, disclosing all energy holdings and their associated indirect and direct emissions, and decommissioning or phasing out current fossil fuel holdings and transitioning to climate safe investments, of course, using a social justice framework.
[00:03:14] DJ Suss D: Susan Palmiter is co-lead for DivestOregon.org.
[00:03:19] Susan Palmiter: Oregon Investment Council policy states that the treasury should be investing 14 to 21% of PERS in private, and right now, as of February 2022, 26% of the PERS portfolio is invested. And this is a real concern.
[00:03:39] DJ Suss D: Shareholder activists often get lost in the shuffle.
[00:03:42] Susan Palmiter: A large study from the University of Cambridge pointed out shareholder resolutions are generally non-binding. Most resolutions that come before annual general meetings fail, and that the majority of those that do pass are withdrawn or are not implemented, so we know that that is not enough. And if you look at the Exxon case study in the report, you'll see that the treasure touts the shareholder engagement with Exxon. That company has been a top target for these shareholder votes for many years, but there has been no change in the extraction behavior in any meaningful way.
[00:04:23] So we know that shareholder engagement isn't enough. Divestment is the answer. We know also that divestment is starting to really work, according to fossil fuel companies, according to Shell. And here's a great quote: 'Groups are pressuring certain investors to divest, and if this is to continue, it could have a material adverse effect on the price of our securities and our ability to access equity capital markets.'
[00:04:55] They're saying divestment is worrisome and it's going to keep us from extracting more fossil fuels out of the ground. We know we have all the reserves we need, folks. We don't need more extraction. And this is the result we need.
[00:05:09] DJ Suss D: DivestOregon.org is asking citizens to read and distribute the report that can be found on DivestOregon.Org.
[00:05:16] Susan Palmiter: We need to hear from those who are PERS beneficiaries— those people who are either currently working and feeding money into PERS, or those who are retirees and are accepting those benefits. Those are the folks that we need to join this coalition and to start speaking loudly about their desires.
[00:05:37] If you, anyone out there is a union member or a union organizer or has influence with unions, we would love to have them join us. I want to thank Rep. Khanh Pham and Sen. Jeff Golden, who have been incredible supporters of the Divest Oregon campaign.
[00:05:55] DJ Suss D: For KEPW Weekly News, I'm DJ Suss D.
---