Beatrice Grace, Michelle Bassi appointed as circuit court judges
2 min read
Gov. Kate Brown appointed Beatrice Grace and Michelle Bassi to serve as judges on the Lane County Circuit Court, effective Aug. 9.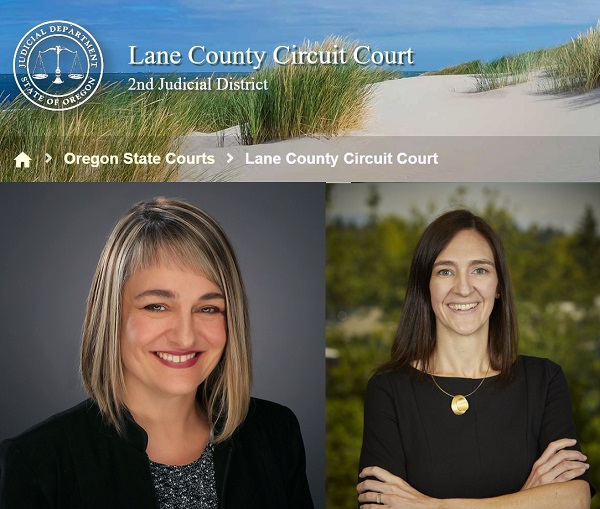 Gov. Kate Brown announced the appointment of two judges to positions on the Lane County Circuit Court. Governor Brown will appoint Michelle Bassi to a vacancy created by the retirement of Judge Charles Carlson (Position 2), and Beatrice Grace to a vacancy created by the retirement of Judge Lauren Holland (Position 11). Both appointments are effective immediately.
"Michelle Bassi and Beatrice Grace are skilled lawyers with impeccable qualifications that match exactly what the Lane County Circuit Court needs right now," said Governor Brown. "For years, both women have served their community with compassion and integrity, helping individuals navigate challenging circumstances. I have no doubt that Michelle and Beatrice will hit the ground running, ensuring that our justice system continues to serve people with fairness and equity."
Michelle Bassi has been a civil litigator at the law firm of Thorp, Purdy, Jewett, Urness & Wilkinson in Springfield since 2013 and a partner since 2018. Bassi's practice focuses primarily on complex plaintiff-side civil litigation and, until 2019, she also represented criminal defendants in misdemeanor cases. Recently, she began conducting employment investigations and serving as a Decision-Maker for Title IX administrative cases.
Bassi received her bachelor's degree in art history from Bowdoin College in Brunswick, Maine, and her law degree from the University of Oregon. While in law school, she clerked for the Southern Environmental Law Center and Earthjustice. After graduation, Bassi clerked for Judge Douglas Mitchell and Judge Josephine Mooney on the Lane County Circuit Court and then served as a public defender for the Umpqua Valley Public Defender in Roseburg.
Bassi also has been involved in her community, including serving on the board of the Springfield Education Foundation, the Oregon Law School Alumni Association, the Lane County Bar Association, and the Oregon Elder Abuse Prevention Work Group. She is a member of the Oregon Trial Lawyers Association, Oregon Criminal Defense Lawyers Association, and American Association for Justice.
Beatrice Grace is currently a civil litigator who represents plaintiffs in personal injury and medical malpractice cases. She received her registered nursing degree in 1991, and was an emergency room nurse for over 20 years.
While working as a nurse and raising her two young children as a single mother, Grace attended law school and obtained her law degree from the University of Oregon. Immediately after, she clerked for Judge Mustafa Kasubhai when he was on the Lane County bench. Grace worked at a Eugene civil rights and injury litigation firm before returning to clerk for Judge Kasubhai and assist him with establishing his chambers after he was appointed as a U.S. Magistrate Judge. Grace then continued her work as a plaintiff's lawyer in Eugene, drawing on her nursing, judicial clerk, and litigation experience to again represent injured individuals.
In addition to her legal work, Grace has volunteered her time with the Trauma Healing Project Board, the Campaign for Equal Justice, and is a member of the Oregon Trial Lawyers Association and Oregon Women Lawyers.