AHCPP one year on: We as a city must imagine moving past business as usual
6 min read
One year after forming the Ad Hoc Committee on Police Policy, Eugene City Council continues to avoid moral leadership by failing to take meaningful action.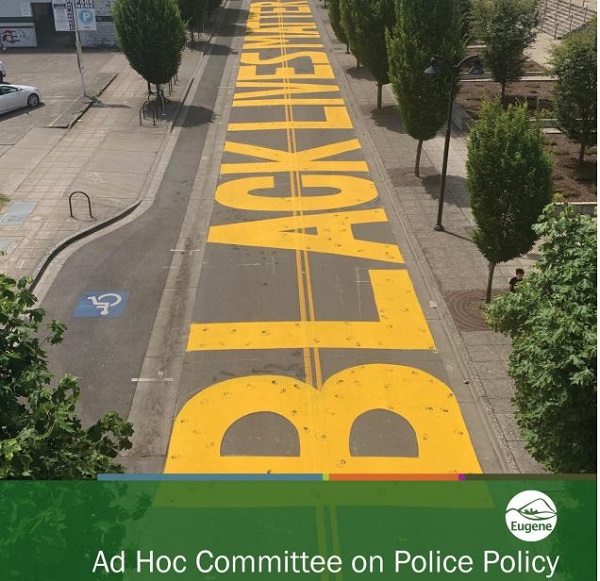 by Rob Fisette and Ellen Rifkin, Eugene/Springfield SURJ
In this article, we bring attention to the work of the Ad Hoc Committee on Police Policy (AHCPP), spotlighting the voices of committee members. Formed by the Eugene City Council on July 20, 2020, the AHCPP was meant to recommend policy changes for the Eugene Police Department (EPD). However, if you were moved in support of Black lives in the summer of 2020—perhaps even inspired to proclaim it with a lawn sign–it is essential to understand that little has materially changed. Eugene City Council has avoided moral leadership and deflected the need for structural change into business as usual, declining thus far to take meaningful action. It's up to us to demand and do more—to imagine, and then build together, the world we all deserve.
Background and Formation of the Ad Hoc Committee
"The experience was enriching and heartbreaking," Sandra Shotridge, indigenous elder
Across the world and in Eugene, the George Floyd uprising of 2020 cried out with rage and grief for those murdered by police: over 1,000 human beings every year in the United States and disproportionately Black, Indigenous, racialized, poor, and in mental health crisis.
Eugene is not exceptional. Local killings and deaths include Brian Babb (2015), Robert Martinez Jr (2018), Charlie Landeros (2019), Stacy Kenny (2019), Michael Amador Sanchez (2019), Eliborio Rodrigues (2019), Chase Brooks (2020), Landon Payne (2020), and Robert Gutierrez (2021). There are incidents like the stalking, rape, and arrest of Jay St. James. There is every sweep of every encampment of unhoused people. There are the attacks on social justice movements. There are the everyday indignities of surveillance, harassment, and control.
Protesters pressured city officials to recognize these harms as systemic, to shift resources away from EPD, and to radically re-imagine how we respond to harm and build community safety. Instead, city officials channeled this energy into avenues for non-binding community advice by (1) re-opening public comment on the allocation of Community Safety Initiative (CSI) funds and (2) forming the AHCPP to make recommendations for police policy reforms.
The AHCPP was formed – comprised of 30 members from ten organizations representing communities traditionally targeted by police; the Police Commission; the Civilian Review Board (CRB); the Human Rights Commission (HRC); and four members named directly by Mayor Vinis. Three staff facilitators managed the work.
Scope and Process
"We demand that the City of Eugene funnel resources into community, not police." Transponder
To be clear, the bounds set around the AHCPP from the outset prevented the process from having any hope of co-creating a new vision of community safety. The committee was initially allotted five months to produce a written report of polite suggestions to overturn 200+ years of racial terror. Excluded from providing input on how the committee was structured, the length of the process, the possible outcomes, and even how the meetings ran – several committee members resigned early on.
The city ruled out comprehensive models of change, such as replacing EPD with a civilian department of public safety. Also out of bounds were options to re-allocate funding from policing and address root causes of harm, by investing in meeting the basic needs of all people in our community. Committee members' testimony went unheeded:
"May we always remember that community safety first means that we all have access to food, housing, health, education, and a life without discrimination." Erika Lincango
Committee members were not consulted on selecting the facilitators who would guide the process.
"We were asked to put our trust in these individuals without considering the possibility of asking the members to be involved… Imposing the facilitators on the group has become an issue." LULAC
It later emerged that one of the appointed facilitators was simultaneously involved in projects to bring in more funding for EPD.
For communities of color, inclusivity in determining the outcome of the work was also an issue. In the committee's final session, Silverio Mogart of the Police Commission noted with regret,
"I wanted to hear more from the BIPOC community, from people who I think were kind of edged out…It was a steep learning curve…There were a lot of people who didn't participate in community processes or sit on boards before…we should have made space for that." Silverio Mogart
Guadalupe Quinn, longtime activist for the safety, well-being, and dignity of immigrants, highlighted another major limitation of the Committee's framework. Structuring its mission around a predetermined goal with a short timeline ruled out fuller involvement of members' home communities, as well as the deep listening that can emerge from a process rooted instead in relationship building.
"For community folks, this just isn't a process that feels comfortable." Guadalupe Quinn
Even casual observers from the dominant culture can recognize the psychic harm inflicted by rigid procedures in city meetings that shut down creativity and thoughtful exchange. We stand in solidarity with the AHCPP members who endured this bureaucratic process for the sake of reducing harms inflicted by police.
Recommendations
"When you consider our recommendations, please bear in mind that what seems 'reasonable' and 'objective' and 'natural' to you is not experienced as such by those at the sharp end of U.S. history." LULAC
The final report provided by the AHCPP, issued on April 30, 2021, included over fifty recommendations. The city publishes a matrix of the status of all AHCPP recommendations on its website.
Here we highlight a few of the recommendations that are directed toward reducing the harms of police power:
That CAHOOTS staff or similar mental health teams be resourced to respond 24/7 to crisis calls instead of armed police officers;
That the city publish a publicly accessible and searchable database of police stops;
That performance evaluations of officers and promotion decisions reflect skill in, and successful record of, de-escalation;
That officers be prohibited from muting body-worn camera recording;
That body-worn camera footage be stored permanently and externally from EPD; and,
That a restructured and more powerful Civilian Review Board be created, with the power to conduct investigations and subpoena witnesses. Currently the CRB can only use materials in EPD's internal investigation, their recommendations are non-binding, and they are not permitted to know the final disciplinary action taken.
With respect to changes in "Use of Force" practices, the committee identified the police union's power as a major barrier. Policy changes recommended by the committee around crowd control, de-escalation, and strengthening the investigative powers of the CRB are desperately needed – but will be toothless as long as EPD maintains control of disciplinary decisions through its collective bargaining power. The police union and state labor law protects the EPD's ultimate authority.
"If current city structure, city law, and union contract are forcing us to keep in place …a system with inadequate oversight that allows police abuse to persist, then we need to tell the council that all these aspects of the system must change, not just police policy." Daniel Borson, Human Rights Commission
Recognizing that the perspective of "law enforcement" has dominated the city's vision of what's acceptable and reasonable, the AHCPP report speaks repeatedly of the need for community values rather than police values to guide investments in public safety and determine norms of police behavior.
What's Next
"I really really hope that this work doesn't stop here. It can't. We can't afford it. I'm sick of seeing deaths every day. I don't want to live it anymore; don't want it to be something that happens anymore, because it shouldn't be happening at all." Maisie Davis
We call on people to learn more about policing in Eugene and the full perspectives of Committee members by reading their full published testimony, selectively quoted in this essay.
Right now, words like "crime," "criminal," and "reasonable" keep systems in place that perpetuate violence and harm. We believe we need to take from police the power to define these words, and to start talking together about the world we want. We must imagine and work for a transformed system based in values of care, health, and safety for everyone.
"The solution isn't to bring more people of color into a system that damages us, that was designed to destroy us—indigenous, black, people of color. Let's unlearn, relearn, and rebuild this together." Erika Lincango
We ask you to join people in the community engaged in this work. We hope that you can join us in conversation about the "community values" that we wish to bring to a system of public safety, accountability, and harm reduction. What would it be like to build a system centered around care and meeting people's basic needs, rather than punishing them for being marginalized? What would it be like to start at the beginning and define for ourselves what we think is "reasonable"?
---
For more, see the SURJ website and the Springfield Eugene Facebook page.