Public comment on Wildfire Adapted Communities draft runs through Sept. 16
2 min read
DLCD's "Wildfire Adapted Communities Recommendations Report: Public Review Draft" is now available.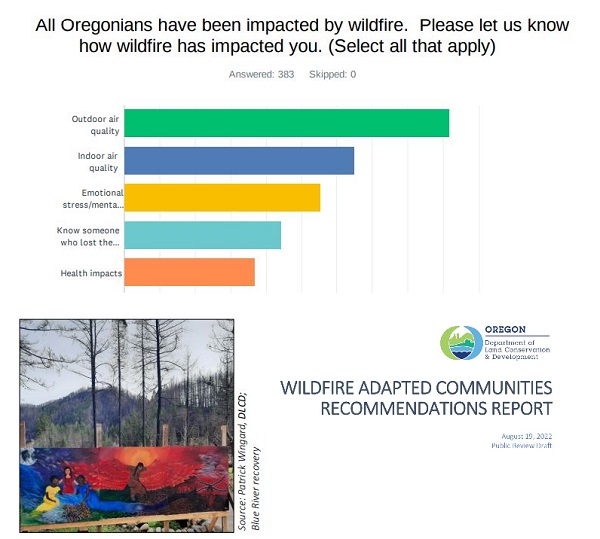 DLCD's Wildfire Adapted Communities Recommendations Report: Public Review Draft is now available. DLCD encourages written comments on the recommendations. These may be submitted using the online comment form. Written comments may be submitted to DLCD until September 16, 2022 at 11:59 p.m.
The Department of Land Conservation and Development's (DLCD) charge under Senate Bill 762 (2021) is to recommend potential changes to the statewide land use planning program. Legislators asked DLCD to develop recommendations regarding comprehensive plans and zoning codes that minimize wildfire risk and create more wildfire adapted communities.
In addition to accepting written comments, DLCD is hosting two Community Listening Sessions. All are welcome. DLCD will make reasonable accommodations upon request. To request an interpreter for the hearing impaired or for other accommodations for persons with disabilities, please contact Elliott Eastman at 971-600-8861 or elliott.eastman@dlcd.oregon.gov at least 72 hours before the meeting, or by TTY: Oregon Relay Services 800-735-2900.
September 8, 2022 | 8:30 a.m. – 10:00 a.m. register
September 8, 2022 | 5:30 p.m. – 7:00 p.m. register
The Land Conservation and Development Commission will receive a staff presentation and offer guidance on a final version of the recommendations report at their September 22-23, 2022 meeting. While public comment will be received at this meeting, the Legislature is asking for department recommendations. This is not a formal action by the commission.
DLCD encourages community members and other interested parties to review the summary level document outlining DLCD's recommendations, or to review the document in full.
Previous meeting materials, meeting summaries and recordings, and other resources are available on DLCD's Wildfire Adapted Communities webpage.
Related Agency Work
Several other agencies are responsible for implementing work related to SB 762. View a summary of each organization's role related to the Wildland Urban Interface and risk map here. For more information, or to provide comment on other important aspects of Oregon's wildfire adaptation program, see these websites or contact DLCD staff for more information:
If you have questions or feedback about DLCD's project or associated work, please contact Susan Millhauser, Natural Hazards Planner for Wildfire Adapted Communities.