LTD board member: There may be more council recall efforts ahead
6 min read
City and Lane Transit District planners gave a status update Wednesday on their joint MovingAhead project. Although a city councilor may be recalled from office due to public anger with the project, planners expressed confidence in their approach.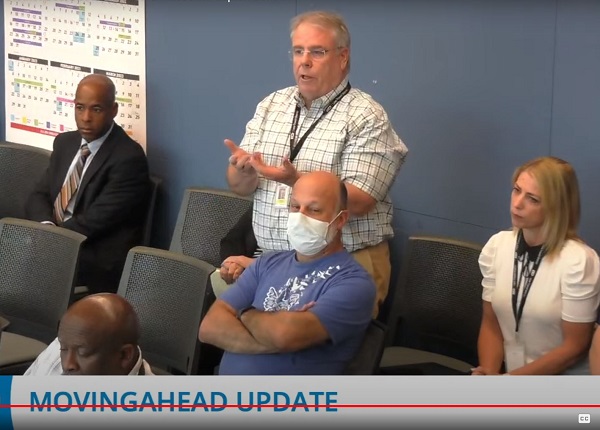 City and Lane Transit District planners gave a status update Wednesday on their joint MovingAhead project. Although a city councilor may be recalled from office due to public anger with the project, planners expressed confidence in their approach.
[00:00:14] Andrew Martin (LTD Planning): My name is Andrew Martin. I'm the development planner and I'm LTD's project manager for MovingAhead, a partnership between the city of Eugene and Lane Transit District. Both agencies recognize the need for coordinated investment along our major transportation corridors, and so, on one hand, MovingAhead has been a planning process that is leading up to (hopefully) conducting environmental review. But it's also really just about implementing our long-term vision along some of our most important streets…
[00:00:44] The goal was to streamline the process and figure out those big system-level benefits. We also are hoping that this helps us complete our projects in a more expeditious timeframe and hopefully save some time and money. We heard in previous projects that the community want us to limit our impacts on things like street trees, property, all the negative things that can come with changing the streets, and really maximize the positive benefits.
[00:01:10] We started out in 2015 holding open houses to have the community help us design what the, kind of, what the conceptual designs that we analyzed would look like. And we continued that community engagement throughout the whole process, holding over 22 open houses, getting over a thousand comments from the community, and putting in lots and lots of staff time to really make those connections. And that culminated in October 2019 with our public hearing…and in March of this year, both LTD's board and Eugene city council adopted locally preferred alternatives on each of the corridors.
[00:01:45] And so what that locally preferred alternative does is, it narrows our options and sets us up to really do the detailed study, which is the next phase of the project.
[00:01:54] There's a lot of community engagement to come. There is an opportunity for us to, like I said, update conceptual designs and turn them into detailed designs where we do have really specific—we can analyze really specific impacts. We can try to mitigate those and eliminate those. And historically, we've done a really good job of taking where, the impacts where we think we are now in the process, and by the time we get to the end, eliminating a lot of those impacts and mitigating even more. And so I'm really excited to start that work.
[00:02:26] Pete Knox (LTD Board): Thanks Andrew, for your presentation. And I just want to clarify: The public engagement that you're going to be doing here in 2023, is that going to be going out into River Road and that neighborhood and doing some public forums and stuff like that? Or what, what shape is that going to take?
[00:02:47] Andrew Martin: Absolutely. I can't give you specifics about like exactly what type events will be held, but community engagement is really a key part. I think it's multifaceted, right? So there's broader community engagement for everyone in the community, including people who live on River Road and other corridors, and then there's also working with, I would call them stakeholders. So people who might be impacted more directly.
[00:03:12] For instance, we know that when we do these projects, sometimes we need to acquire property. We don't want to. But unfortunately if we're going to change the way roadways work, sometimes you have to move the right-of-way line. And so we'll be working directly with people who might be impacted by that in a way that we're not working with the broader community, because we want to eliminate those impacts if we can. And if we can't, we want to mitigate them to the greatest extent possible.
[00:03:34] Pete Knox: That's excellent, 'cause I can't emphasize how important the public engagement part is. And I think you already know that and I am talking to community members. I know there's plenty of misunderstandings of how this is going together. So I look forward to seeing how that looks.
[00:03:53] Rob Inerfeld (Eugene Transportation Planning): One of the things we'll engage folks with in the River Road corridor in particular, there's been some people not necessarily supportive of the concept for MovingAhead, is the idea of reallocating the outer lanes to be 'Bus And Turn' lanes, also known as BAT lanes.
[00:04:09] And so we're going to redo the traffic analysis with more up-to-date traffic numbers to just make sure that that supports the reallocation. But the analysis we've done so far shows that the traffic will still flow almost as well as it does now by taking the outer lanes and making them into BAT lanes.
[00:04:28] And there's a lot of benefits in terms of safety that would go along with making that change.
[00:04:33] And so we're also going to look at doing something called microsimulation, which is basically showing people a cartoon of how the traffic will flow on River Road with different lane configurations.
[00:04:44] So again, that's helping people get an understanding of, How will this road function with the basic design concept that's proposed for lower River Road of having the outer lanes be BAT lanes.
[00:04:54] John Q: Rob said despite all of their efforts, many people still haven't heard of the project, or can't find their project information.
[00:05:01] Rob Inerfeld: I got a call from a woman who's concerned about lanes being reallocated on River Road. And I'm like, 'Well, where do you drive?' And she's said, 'I drive from Santa Clara through and get on Beltline.' That is not the area that we are looking at making a change. So I think that's something that Andrew (Martin, LTD), Pat (Walsh, LTD), Brian Richardson (City of Eugene), and I will be working on and including updating the MovingAhead website to make it more user-friendly.
[00:05:23] John Q: One board member said past efforts may have missed large parts of the community.
[00:05:28] Susan Cox (LTD Board): I guess one of the things that I'm really concerned about is, while we can talk about community engagement, I think I expressed at the last board meeting concern about the fact that somehow the community isn't as supportive of this as I think it should be. And that's reality.
[00:05:46] And when I talked about this last week, I feel like we have got to get in front of this because, you know, there was a recall, a successful recall. And so I don't think we can assume that that isn't going to spread further. So if public officials begin to feel like they are at risk, I think that is a real concern for us.
[00:06:08] So I know, Andrew, we've talked about this before, you've had 22 open houses, but all the people sort of have a similar profile and have the ability to participate in those kinds of things. We should expand our thinking to those populations who are working, who don't have the ability to maybe go to a meeting.
[00:06:30] John Q: Susan offered to help the staff in any way possible. In one other announcement, Rob Inerfeld is seeking funding for safe streets.
[00:06:38] Rob Inerfeld: The other thing I just want to let the LTD board know is that the city of Eugene is working on a grant application for a new federal grant program called Safe Streets and Roads For All to implement some of the non-public-transportation elements of MovingAhead on River Road. So this includes enhanced pedestrian crossings, also upgrading the existing pedestrian crossings, and making the new enhanced pedestrian crossings pedestrian signals rather than the flashing beacons that we have now.
[00:07:11] It would also involve building protected bike lanes on River Road and adding new street lights on River Road in places where there is currently not existing streetlights and then upgrading the existing streetlights to LEDs so that the entire corridor is LEDs.
[00:07:27] So those are things we're looking at moving forward with, with a grant application that's due next week to the Federal Highway Administration.
[00:07:33] John Q: One board member warns that unless LTD improves its public engagement, there may be more recall elections.