Vehicles can cause wildfires; make sure in these hot, windy, dry conditions that yours does not
2 min read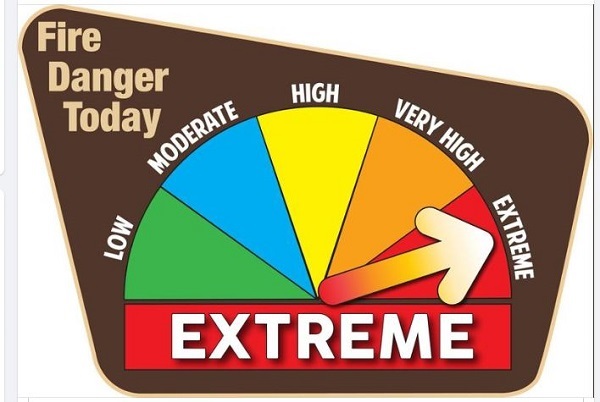 by Don Hamilton, Oregon Department of Transportation
Oregon expects high winds, hot temperatures and dry conditions in the days ahead and that means wildfire danger.
Make sure your autumn memories don't include starting a wildfire. Over 70% of wildfires are caused by people and in Oregon last year, cars were the number one source of wildfires during the summer.
In these conditions, ODOT maintenance and construction crews will curtail potentially dangerous activities, including mowing and the use of heavy equipment that could throw off sparks.
Power outages in the extreme heat could cause major problems as well, with street lighting and traffic signals going dark. When traffic signals aren't working properly, treat intersections like an all-way stop. Common courtesy says that the driver who stops first, goes first.
When power is out, some Tripcheck.com cameras and other information on the site may not be available and some tunnel lighting may be out. The lighting in the Vista Ridge Tunnel, in Southwest Portland, however has a backup generator. And variable message signs may not be available, making them unable to communicate emergency conditions.
With persistent and deepening drought conditions, we're all more aware of the potential wildfire dangers our vehicles pose. And that means we all need to remember the lessons about how to make sure our vehicles don't cause devastating wildfires.
Now is the time to remember lessons that help prevent roadside wildfires:
Stay on hardened surfaces when pulling off the road. Avoid dry grass that might come in contact with your vehicle's hot exhaust system or catalytic converter.
Never, ever toss a lit cigarette or ANY burning materials from your vehicle.
Carry a fire extinguisher with you and know how to use it. You may save lives by putting out a small fire before it turns huge.
Maintain proper tire pressure. Driving on rims will throw off sparks.
Secure tow chains and make sure they aren't dragging. That can cause sparks.
Maintain your exhaust system. A worn-out catalytic converter can cast off extremely hot pieces of material into dry roadside grass and brush.
If you see something, say something. Warn others of the dangers of behaving carelessly with fireworks or other flammables.
Stay on the road. Off-road driving is prohibited in most areas during fire season.
Be prepared. Keep a cell phone, water, a shovel and a fire extinguisher with you in case a fire starts.
Service your vehicle regularly by a trained mechanic. Heat and electrical sparks coming into contact with leaking flammable car fluids can easily start a fire.
This late into the season, grasses are cured and the forests have all dried out. In these conditions, winds give accidental sparks or car fires the ability to spread quickly.
Remember, we all have a role in preventing wildfires in Oregon, especially as extended drought conditions create a greater window of opportunity for roadside ignitions.
All of us, and our cars, need to be extra careful.