City asks Santa Clara for guidance on Hunsaker Lane
9 min read
Logan Tulles asks Santa Clara for guidance as the city starts detailed design of Hunsaker Lane safety improvements.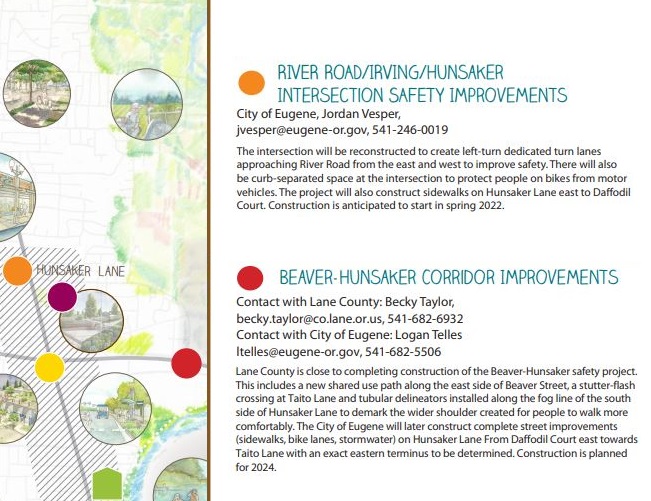 Santa Clara heard the latest from the City about improving safety on Hunsaker Lane.
[00:00:05] Logan Telles: My name's Logan Telles, I'm a transportation planner with the City of Eugene, and I'm going to be talking today about some upcoming work that we have planned for Hunsaker Lane from approximately River Road down to Taito.
[00:00:19] Lane County, who currently owns and maintains Hunsaker Lane, went through a planning process several years ago that included a lot of community engagement and a lot of technical analysis to come up with design recommendations for both Hunsaker Lane and Beaver.
[00:00:36] The preferred conceptual design for the corridor by the community includes 10-foot general travel lanes, a five-foot standard bike lane, and then a two-foot painted buffer. Just to give a bit of extra distance from cyclists and vehicles, that extra painted buffer just helps when it comes to separating the bike lane from the general traffic just a bit better.
[00:01:00] The conceptual design also includes four-foot landscaping planters and five-foot sidewalks.
[00:01:07] We received around a $1.5 million grant award to help us construct this project. We've gotten funding. We have the conceptual design and what we're really doing now is, we're looking for community feedback on some outstanding design considerations.
[00:01:22] John Q: The city is looking for comment in three general areas.
[00:01:26] Logan Telles: One: how we're handling spatially constrained locations, where there is less right-of-way width. There is going to be a handful of locations where the width required for the project crosses over that right-of-way line and more into private property. That impact's going to be pretty minor. We're only projecting four locations to have any impact of that nature at all. The maximum projected impact to any property is six feet. And we have strategies to reduce that potential impact, taking it from six feet down to closer to two feet.
[00:02:00] Lane County developed an aerial map and I could share that with Kate (Perle) and maybe she could distribute it to folks as she sees fit. The aerial map is helpful, but I feel like there's something to be said for actually being on the ground and seeing it in a non-overhead format. I am going to talk with our project engineer, whether we could put little flag markers to help people visualize exactly how far in the right-of-way line is on their front yard.
[00:02:27] John Q: The City wants to hear your thoughts on traffic calming.
[00:02:31] Logan Telles: Two, how we handle vehicle speeds, 'cause we've heard a lot of concerns from community members about vehicle speeds on Hunsaker. Lane County reduced the speed limit on Hunsaker from, I believe it was 35, down to its current 25, but folks are still traveling above that posted speed limit. And there's still certainly a lot of comments from folks about feeling uncomfortable, feeling unsafe, due to the speeds of vehicles. So the city at this stage is considering expanding the scope of the project to include traffic calming.
[00:03:03] Speed cushions—our go-to standard treatment for a street like Hunsaker—a lot of people would say it's a speed bump. They're relatively gentle. They're good for reducing aggregate speeds. It's not going to completely prevent every single person from speeding, but we've had many projects where we've constructed speed cushions, and we're bringing down 85th percentile speeds and 50th percentile speeds.
[00:03:26] Speed cushions have what I most often refer to as 'tire slots' to mitigate travel time impact for emergency response vehicles. They're spaced in a manner that allows things like fire trucks and ambulances to move through a corridor without travel time impact.
[00:03:44] And in the case of a street like Hunsaker, where it's such an essential part of reaching a lot of residential properties, it's likely that we would pursue speed cushions so that we could mitigate that potential emergency response time impact that might be associated with a different type of traffic calming device.
[00:04:01] The third primary design consideration (and hopefully folks will have comments on) is safe and comfortable pedestrian crossing conditions. Lane County has installed a marked crosswalk with what is referred to as an RRFB which is, which stands for Rectangular Rapid Flash Beacon. It's the type of crosswalk where you get up to the edge, you push the button, and then flashing yellow lights go off on the signposts to help visually indicate to drivers that a pedestrian is about to enter the crosswalk. So there is one of those at Hunsaker and Taito at this point. We scoped a marked crosswalk at the intersection of Hunsaker and Summer Lane— just paint—and so we're asking ourselves, is that enough?
[00:04:46] We sometimes hear community interest in speed feedback signs. That seems to be something that folks have an interest in these days. We may have some flexibility in getting a bit of additional funding that we could plug into speed reduction. So that's something that we're certainly interested in hearing from folks about.
[00:05:03] John Q: A question from Patrick.
[00:05:05] Patrick: Logan, it's fully funded, does that include all the drainage— as far as parallel and then down a little bit from Taito, the drainage that goes underneath, that will have to be widened out— is that included in the project as well?
[00:05:17] Logan Telles: Yeah, so we included funding for stormwater drainage improvements from Summer to Yvonne. It's going to help storm water drainage conditions, from a broader area as well.
[00:05:30] Janet Ayres: Janet Ayres. My question pertains to easements. With this being a county roadway, those on that roadway, I assume, are county rather than city residents. Is that accurate?
[00:05:45] Logan Telles: Yeah. The properties that front Hunsaker, I believe, are all outside of city limits.
[00:05:50] Janet Ayres: Will there be eminent domain applied with the sidewalk and the driveways that are currently there? Is this going to require annexation for the project, and whether or not those residents will be forced or asked to join the city.
[00:06:06] Logan Telles: Annexation is something that the city considers a voluntary process. It's something that people apply for. And I believe there's a relatively hefty fee to apply for. So it's certainly not something— nobody's going to be annexed into city limits against their will.
[00:06:21] What we want to do is, at the end of the project, when the portion of Hunsaker Lane that we're constructing has been brought up to the conceptual design, the city of Eugene would like to do something that's called a jurisdictional transfer with Lane County where they transfer ownership of the roadway to the city of Eugene, at least the portion that we've improved. That does not include bringing the fronting properties into city limits. That just applies to the roadway.
[00:06:48] And as far as eminent domain goes, that's not something that's going to play a role in this project. At this stage in the design process the most it could go over the right-of-way lines would potentially be two feet. And so we would probably be able to come to an agreement with homeowners where they voluntarily agree to allow us to compensate them for that property impact.
[00:07:12] Andy Janeczek: Hi, Logan, my name is Andy Janeczek, and I am curious why you haven't extended your project down to the new bike trail.
[00:07:23] Logan Telles: Yeah, so that's a good question. Some of you may remember, there were at one point in time those flexible posts out on the roadway.
[00:07:31] Andy Janeczek: The fact that they're gone says everything if you're a biker.
[00:07:35] Logan Telles: Yeah. I agree with you that, them being knocked down and not being able to be replaced, is an issue. The city of Eugene is going to construct up to the conceptual design on this portion of Hunsaker. And then the county was going to have that active transportation space to connect people over to the path.
And, so at this point in time, the funding from the grant has already been scoped out and it's not immediately clear to me that we're going to be able to extend the limits of that project that we have funded through that grant opportunity. But I do hear what you're saying. We're going to make the best effort we can to extend the project extents, if that is possible.
[00:08:14] Thad Ames: Hi, Thad Ames. I live on Hunsaker. And so this really impacts me and to the point that was just asked was the need to extend that down to Ross Lane. Cause that's the majority. I know a lot of people bike, but that for the community is a big feeder to that path. So it seems odd to me that it stops at Taito, where a lot of the residents have walking areas around their neighborhoods, but Ross Lane is where a lot of that walking and biking need is really prevalent.
[00:08:52] What were those white things called? That got put up. I don't know if they even talked to the community about those, but those were terrible, absolutely terrible for the residents that live there. People driving on 'em at two o'clock in the morning, to just our neighborhood looking like crap, once it was all busted up, I could have told everyone that those are just going to get destroyed, just based on how everybody drives on it. (Mm-hmm)
[00:09:21] But the main question I came up here for, actually, was the intersection from River Road onto Hunsaker. Is that being included in this, to make that intersection safer?
[00:09:33] Logan Telles: There's a separate project specific to the intersection of River Road and Hunsaker. They're working on a lot of safety improvements to that intersection. It's going to be the city's first 'protected intersection.' So it's going to reduce exposure of cyclists to vehicle traffic, more separation for people of various modes. And this project, when we have the buffered bike lanes constructed and the sidewalks constructed, is going to feed right into the active transportation improvements that are taking place at that intersection.
[00:10:06] Thad Ames: All right. Well, I haven't seen a lot of—thank God!—a lot of pedestrian / bicycle accidents there, but there's a lot of car accidents there.
[00:10:16] Logan Telles: To my knowledge, the subject of signalization and potential signal refinements and how we program those signals is absolutely something that's going to be really heavily discussed as a component of that project.
[00:10:28] John Q: The community asked to be more involved in any decisions about trees. At the Santa Clara Community Organization in September.
[00:10:35] Questioner: There seems to be a lot of projects and works to take out landscaping and trees and replace it with concrete. And we're kind of in a critical time with, with the climate. It's also a community feel—a feel for the street. (Mm-hmm) You know, I hate to see things turned into concrete and the trees gone, or maybe baby trees replacing big trees, so I think it's important that everybody has a chance to have a say. Will we have input after the details are made known? How many trees you're taking out, exactly what you plan to do?
[00:11:14] Kate Perle: I think there's at least one heritage tree along that stretch. And how do you plan on maximizing preservation of trees that are well over 100 years old and deserve that kind of treatment? And there's one more coming in the chat, Logan, for you: If you do have to take out a heritage tree, would we get to know about it beforehand?
[00:11:42] Logan Telles: That's a valuable point. If the neighborhood association has an interest in talking through the specifics, as we advance further into the design process, talking through the specifics of what's going to happen with street trees in the area, that's absolutely something that at a later point in time, myself or the engineering PM (project manager) for the project to come back and provide an update on.
[00:12:03] Since there's been a strong interest shown in street trees, we could absolutely keep you very in the loop on the status of that.
[00:12:10] John Q: Santa Clara asks to review potential impacts to street trees, as the City details work on Hunsaker Lane.
(Let your community organization know you attended this meeting, and get time dollars in the timebank.)