Unconscious driver on High Street leads to EPD fentanyl bust
3 min read
EPD recovered approximately 18 pounds of fentanyl, 12 firearms, and over $47,000 in cash after checking on a man slumped over the steering wheel at High Street & East 11th.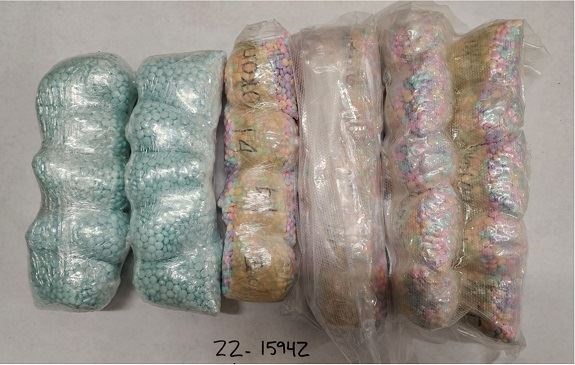 from Eugene Police Department
EPD recovered approximately 18 pounds of fentanyl, 12 firearms, and over $47,000 in cash after checking on a man slumped over the steering wheel at High Street & East 11th.
The presence of fentanyl means that no street drugs are safe. As just two milligrams of fentanyl can be a fatal dose, 18 pounds of fentanyl would be enough to kill over four million people.
At around 10:49 p.m. on October 19, a Eugene Police officer was working impaired driver and traffic enforcement for his assigned shift and responded to the intersection of E. 11th Avenue and High Street for a welfare check on a driver slumped over the steering wheel at the stop light.
The driver, Andre Lavell Johnson, age 42, of Portland, was found unconscious and police pinned the vehicle in before rousing him.
When he woke up, Johnson attempted to start the vehicle and refused commands to stop. He was removed from the vehicle and during this officers spotted a firearm near his feet. Officers also saw bags containing pills, later determined to be fentanyl, matching the description of currently circulating counterfeit oxycodone pills containing fentanyl.
A search incident to arrest found Johnson had a large amount of cash and multiple phones. Street Crimes Unit drug detection K9 Jack alerted to the presence of controlled substances on the cash and the firearm, which was found to be stolen out of another jurisdiction.
Johnson also had warrants for his arrest.
Johnson was lodged at Lane County Jail on his warrants as well as probable cause charges of DUII Felony, Driving While Suspended Felony, Felon in Possession of a Firearm, two counts of Unlawful Delivery of a Schedule 2 Controlled Substance.
Over the next 28 hours, officers and detectives conducted follow-up search warrants on Johnson's vehicles and residence. They seized approximately 18 pounds of suspected fentanyl in both powder and pill form, 12 firearms and over $47,000 in cash. Six of the firearms seized in this case were confirmed to have been previously stolen.
This continues to be an active investigation and additional charges are pending.
The presence of fentanyl means no street drug is safe to take.
Recently, parents and guardians have been reaching out after news reports regarding rainbow fentanyl (colored fentanyl that can look like candy), as well as fentanyl in general.
Our community has seen an increase in street drugs containing fentanyl, a powerful, illicit opioid with high risk for overdose. Police locally have come across the rainbow fentanyl variety, but it is important to be aware that all street fentanyl forms are deadly.
Any street drug could contain fentanyl, which is extremely dangerous. According to the DEA, just two milligrams of fentanyl, which is equal to 10-15 grains of table salt, is considered a lethal dose. And, without laboratory testing, there is no way to know how much fentanyl is concentrated in a pill or powder. Taking street drugs is an extremely risky and potentially deadly gamble.
Rainbow fentanyl is thought by federal officials to be a way of marketing to children and young adults, driving addiction. The rainbow fentanyl has been seized in other parts of the country in various forms: pills, powder, side-walk chalk-like blocks and other. Any form and color of fentanyl is dangerous.
Eugene Police Department has seen fentanyl contamination in cheap, counterfeit pills sold as common medications such as oxycodone, Adderall, or Xanax. We also have reports of fentanyl being found in white or colored powdered drugs that might be sold as cocaine, MDMA, or methamphetamine. It should be assumed that any illicit drug could contain fentanyl.
Lane County Public Health warns against any pills not obtained from a pharmacy. They urge people who use illicit drugs to take precautions and to not use alone. They recommend anyone who uses drugs or knows someone who does, to carry Narcan (naloxone), an overdose reversal nasal spray.
Individuals are able to test drugs for fentanyl with a fentanyl testing strip. It is also important to know the signs of an overdose and always call 911 immediately.
Narcan is available at any pharmacy upon request. State Law requires pharmacists provide it and many insurance plans cover it.
You can also obtain free Narcan and a brief training from HIV Alliance's Eugene location during drop-in hours (Monday, Tuesday, Thursday 10a-2p, Friday 1p-5p).
Young adults can access Narcan by contacting CORE Eugene.
For additional information on fentanyl see the fact sheet provided by the DEA and rainbow fentanyl.