City of Eugene agendas Dec. 4-10, 2022
1 min read
Agendas for City of Eugene public meetings for the week of Sunday, Dec. 4 through Saturday, Dec. 10, 2022.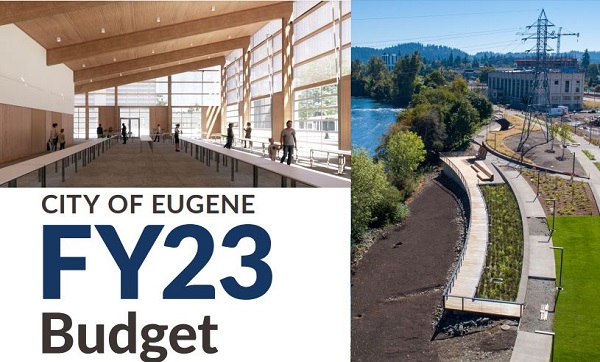 For more, see the city's media release or the city's online calendar.
Sunday, Dec. 4, 2022
(No meetings scheduled)
Monday, Dec. 5, 2022
Noon. Housing Policy Board Meeting. Agenda: Introductions; Public Comment; Minutes Approval; Legislative Updates; Committee Member & Staff Updates; Member Appointments (Chair/Co-Chair) 2023; Renter Protections Process Update; Eugene Rental Association on DPA; Displacement/Relocation Assistance Exemptions.
 
5:30 p.m. City Council Special Meeting. Interim Council Appointment Interviews, Ward 7. Councilors will interview five applicants: Janet Ayres, Lyndsie Leech, Carol Zorn, Barbie Walker, and Daniel Isaacson.
Tuesday, Dec. 6, 2022
3:00 p.m. Street Repair Review Panel Meeting. Agenda: Introductions, Meeting Logistics, and Agenda Review; Selection of Facilitator; Road Tour.
5:30 p.m. Planning Commission Public Hearing. Agenda: Public Hearing Skinner Butte Height Limitation Area Amendment (Market District Expansion) (CA 22-3).
7:00 p.m. Southeast Neighbors Board Meeting. Agenda: Neighborhood business, Committee reports, recap of Walk For Safer Streets.
Wednesday, Dec. 7, 2022
1:30 p.m. Intergovernmental Relations. Agenda: Regular IGR Committee Meeting to Discuss City Legislative Policies.
5:30 p.m. Budget Committee. Agenda: FY23 Dec. Supplemental Budget.
Thursday, Dec. 8, 2022
5:00 p.m. Human Rights Commission Advocacy Work Group Meeting. Agenda: Community Concerns; Work Plan.
5:30 p.m. Active Transportation Committee. Agenda: Public Comment; ATC Input on Bike/Ped Projects; ATC Recruitment update; ATC Retreat Planning; SmartTrips NewMovers.
Friday, Dec. 9, 2022
7:30 a.m. Metropolitan Wastewater Management Commission. Agenda: Liability Insurance Renewal; Northwest Youth Corps Contract; Switchgear Project.
Saturday, Dec. 10, 2022
(No meetings scheduled)