Envision Eugene group thanks Ed McMahon, Alexis Biddle
6 min read
The Envision Eugene Technical Advisory Group thanked departing members Ed McMahon and Alexis Biddle during their final meeting Dec. 1.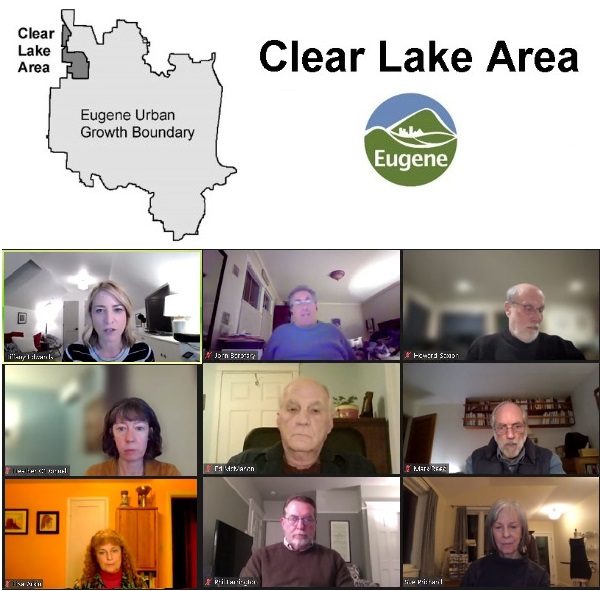 The Envision Eugene Technical Advisory Committee thanks two departing members.
[00:00:05] Ed McMahon (EETAC): You know, it's been an honor to serve with this group and everything, but I was at another meeting last night on the River Road-Santa Clara plan and, you know, I see that the urban growth boundary is not going to be reviewed again until 2026. And that really had an effect on me, on agreements and things that have been made in the past.
[00:00:26] And what I'm realizing is I'm at the point in my life where I want to improve my quality of life, and this is becoming somewhat frustrating, and it's not improving my quality of life. So I think this will probably be my last meeting, and I feel good about that because of all the people on the committee. I know it'll go in a good direction.
[00:00:51] Tiffany Edwards (Chair, EETAC): Thank you, Ed. Well, you know, I'm—Obviously, you've been a huge, huge asset to this committee, so that definitely goes without saying and I'm absolutely heartbroken to see you go and I hope to continue to see you, 'cause it's been a while. But I do understand, absolutely, there's a lot of frustrating things happening.
[00:01:14] Sue Pritchard (EETAC): You know, Ed has a body of knowledge that nobody else has. So—and I totally understand because I'm in a lot the same position he is that I'm on of an age where, you know, there are other things to do in this short timeline. I love this, so I'm going to stick around.
[00:01:35] But I think it's really important that we get some young people who are ready to take on what many of us have done for the last 20 years. And so I think it's a really good opportunity to think very planfully about who should be involved in this next, because it is important work.
[00:01:54] And it's also important that there's a thread that gets carried through, so that the original intention—of growth monitoring particularly—so that original intention gets carried on.
[00:02:07] So, thank you, Ed. I've always relied on you for having the most analytical understanding of the impact of these decisions on home building. And, having a real estate background, I know how these policies and things can really make a difference. So I'm going to miss you. And I think that's unfortunate that we don't have that same thing, but maybe there's somebody behind you who has the same commitment and that same body of knowledge, 'cause I think that's super important.
[00:02:39] Phil Farrington: Ed, I'm going to be sorry to see you leave. I've enjoyed kibitzing with you over the years, in and out of this committee. And I think you do bring a whole lot. I think Sue makes an outstanding suggestion though: Youth should be served. I think we're planning for another generation or two, and I think it would be really smart for us to have some young people on the committee.
[00:03:01] John Barofsky: When I heard you were leaving, I was like, 'Gosh darn it, we're losing the legislative history that you bring to the table.' And then when Sue spoke, I was like, 'Gosh, you know, it makes a lot of sense.'
[00:03:14] You know, you guys, you and Sue and Rick and the early-on Envision Eugene team, you know, that was on there, got us started down this road. I kind of came in during the transition before it was EETAC, when it was—what was it before? I can't even remember the acronym. I kind of came in, in that transition stage. And I think we're at a transition stage now, whereas the stuff that we built on is important, but where we're going is as important as where we've been.
[00:03:48] And so, I still think we've got enough people here that have the legislative memory so that we don't repeat the same mistakes. But yet we can move forward and pass it on to the next group of willing fools. (laughing)
[00:04:08] Heather O'Donnell (Senior Planner): Well, I just want to echo everything that we just heard about Ed. I mean, I was not planning, Ed, for this to be a thank-you and I get a little emotional because the TRG—John Barofsky, TRG—you know, this is going back years and, yeah, like I said, I'm a little emotional because I was hoping we could kind of arm-wrestle you.
[00:04:36] But like Sue said, you know, we totally understand and we thank you and your families and your friends who have really supported you and allowed you all to be volunteering at night. I mean, staff understands what kind of commitment that is and you're not getting paid necessarily to do that. And even if you are, it's still a commitment of your time, you know? And so, I just thank you immensely and I thank you for helping us get our first growth monitoring report.
[00:05:08] I do recognize that there are a lot of things that are in front of us right now with Climate Friendly and Equitable Communities, that are not allowing us to move as fast on things that we had hoped we would be able to do…
[00:05:24] We are starting, in January, the process to re-look at our urban growth boundary…because we do believe that we don't have enough vacant and partially-vacant land to accommodate our need. That's what our initial back-of-the-napkin showed in the growth monitoring report. And then if there's still a need, we'll need to look at expansion.
[00:05:47] And what I would like you all to think about is that I think that this is the right group to review those technical documents. It's a logical review for this group. But our bylaws are silent on reviewing the UGB analysis at that depth. It's very much about urban reserves and reviewing monitoring trends.
[00:06:12] And so we can talk about it more at the next meeting, but what that would entail is needing to update our bylaws. I just want to put out there, as you're thinking about, like Ed, as you're thinking about recruitment for us, we would like to really work on the bylaws early next year.
[00:06:33] Ed McMahon: I wanted to say, being my last meeting, Heather, I want you to know that my respect for you is over the moon. I've always enjoyed working with you.
[00:06:43] And I'd like to express a concern I have with Urban Reserves, and it may or may not go anywhere, but I remember in the original Envision Eugene out on Clear Lake, we had a really nice 20-minute neighborhood planned for an expansion at one point. And Toxic Right to Know came up and said, 'No, you cannot expand there. The air is not clean enough. It's not equitable for the people who had moved there.'
[00:07:10] And I was thinking: Are any of the urban reserves that we're establishing going to fall into that category as well? And so, that's a question. There's some clarity that I'd like to have. The urban reserves that we are about to adopt—is the same issue going to come up? And that's it.
[00:07:34] Heather O'Donnell: Thanks, Ed. I really, really appreciate your comments. It's been a pleasure working with you over a decade.
[00:07:43] Alexis Biddle: And, yeah, like Ed, I have some bittersweet news. This is also my last meeting. I accepted the job about a month ago and I started a few weeks ago working with the Department of Land Conservation and Development….
[00:07:54] We're going to be working with Goal 10, leading with production and, instead of like this, like, bean-counting exercise that we've done in the past.
[00:08:04] Heather O'Donnell: Yeah, thank you so much. We really appreciate your involvement. This is a hard meeting, you guys!
00:08:13] John Barofsky: Thanks, Alex. And you know, it's almost fitting that the two of you are leaving at the same time, because I think the beauty of this committee was the partnership between 1000 Friends (of Oregon) and the Home Builders Association to be able to collaborate to build this Envision Eugene and move forward… Just because you look at things through different lenses, doesn't mean that you can't come to the same goal.
[00:08:42] John Q: The EETAC thanks Ed McMahon and Alexis Biddle and wishes them well.