Southeast Neighbors walk for safe streets
2 min read
Southeast Neighbors walked for safe streets Dec. 6.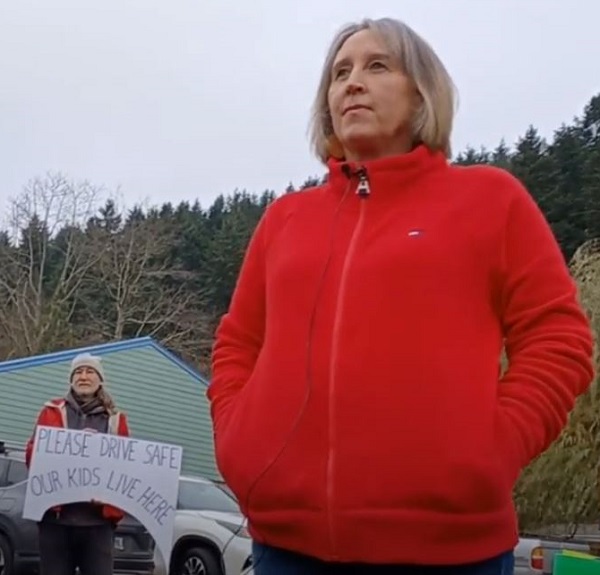 Southeast Neighbors walked for safe streets Dec. 6. The board met later that evening.
[00:00:06] Jess Roshak: I just want to recognize Kristin for all her work today on the walk. It was a great turnout. I drove past with some sick kids in the car, and honked, I waved. I just want to say that that was—the energy that Kristin put into the event. It's so welcome and so appreciated and I think by neighbors.
[00:00:29] So it was a great start to leadership on the board. They did a nice article on KEZI.
[00:00:38] John Q: Kristin was interviewed at the corner of East Amazon and Kincaid.
[00:00:42] Kristin Allen: We are a gathering of concerned residents, asking drivers to please slow down.
[00:00:47] We'd like support from the City of Eugene by painting bold lines in the crosswalks and adding some flashing lights. And we'd like support from the Eugene Police Department by coming out, issuing some speeding tickets.
[00:01:01] Anybody who walks or rides their bike or is on this road will see a speeding driver, probably eight every hour. And we're talking significant speed. We're talking, you know, 20 miles over the speed limit, even when kids are around.
[00:01:18] John Q: With the Southeast Neighbors board that evening, Jess Roshak.
[00:01:22] Jess Roshak: Great job and keep up the good work, Kristin.
[00:01:26] Kristin Allen: Hey, the news guy, Bobby, he mentioned to me that they would run this tonight, but he said, 'We are also probably going to run it later in the week.' And he sees this as an ongoing story because, of course, he knows, just like we know, that people are angry all over town, not just on Amazon. So that was—that was good. That was good.
[00:01:45] John Q: Neighbors try to slow drivers on the straightaways.