Lyndsie Leech selected for Ward 7 as another councilor is called out for 'racist, repugnant' behavior
4 min read
Lyndsie Leech is selected to serve as interim Ward 7 councilor, as Council President Greg Evans calls out an unnamed councilor for behavior he says is racist and repugnant.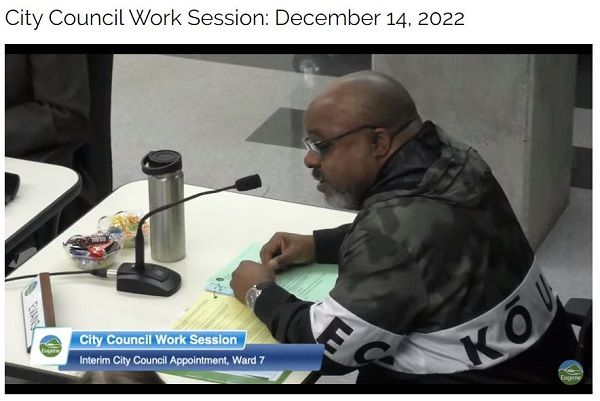 The Eugene City Council finally selects a successor to Claire Syrett. With Councilors Emily Semple and Mike Clark voting no, Lyndsie Leech received five yes votes and will represent Ward 7.
[00:00:13] Councilor Mike Clark: I want my future colleague to understand that personally, I thought she was a very sweet, very kind, very nice person, very much.
[00:00:21] But I see my job in this moment as to help somebody who is to help appoint someone and choose someone who's going to speak for the people of Ward 7. And while I like Lyndsie personally, I thought she was very articulate and did a good job in her interview, the views that she shared for me seemed to match those entirely of Councilor Syrett. And in order to keep my own integrity in place,
[00:00:59] I think her views were a part of the recall campaign, and I don't think that voting for someone who shares nearly the same views politically with someone who is recalled is a good service to the people of Ward 7.
[00:01:15] Councilor Emily Semple: I think this is the wrong choice. I agree with Councilor Clark. This recall asked for things to shake up, for us to look at things again, to reevaluate, to get to know each other once again, to reach out to our wards even more. I agree. Lyndsie is awesome. The interview, I was like, 'Oh, I like her. Let's have tea.'
[00:01:38] But as far as a councilor and her positions, it's not new. And I'm not saying I'm against all of those positions, but we need to be bold. And this is—this is not being bold and I am very disappointed.
[00:01:58] Council President Greg Evans: I want people to know, and everybody in Eugene to know, that I am not controlled by influence in votes or influence from people out of Portland. I will not be controlled by that. I will not be intimidated by people who call me up the night before this vote with veiled threats. I'm going to vote in the best interest of what I think right now is of this community and this council.
[00:02:29] Whereas I do have some reservations about Lyndsie's candidacy, I think for the six-month period of this interim between now and the election in May, and then taking office in July 1, that she would be a more than competent candidate to hold the position.
[00:02:54] But I am not going to be influenced by racial politics played by certain people at this table, okay? Don't call my friends in Portland because they're Black and you think that they have influence over me. I reject, resent that repugnant behavior on the part of a certain councilor, and I am going to make my vote based upon what I think is right for this city at this time.
[00:03:33] But I will tell you: I won't put up with those shenanigans anymore, and I will not, and I repeat, I will not, you know, take this lightly. And the next time this comes up, I have no problem in naming names and calling people out behind this. It's racist, it's repugnant, and it's against everything in my 62 years on this planet I have worked for, I have stood for, in terms of civil rights, civil liberties, and diversity, equity, inclusion, and belonging. So just so you know, I'm putting you on notice.
[00:04:22] John Q: Several councilors immediately apologized.
[00:04:26] Councilor Randy Groves: Councilor Evans, I am sorry that you experienced that. That's not right. I expect that we all get lobbied to a certain extent, but it shouldn't cross lines. And I'm sorry that happened to you. It's not right.
[00:04:44] Councilor Alan Zelenka: Greg, I'm sorry that happened. Hopefully lesson learned for some folks.
[00:04:50] Councilor Mike Clark: My colleague Greg, I'm sorry to hear that as well. No, you should not have to experience that. And it's wrong.
[00:05:02] Councilor Emily Semple: I think this whole process has been a bunch of bad words. It hasn't been smooth, it hasn't been elegant, it's been embarrassing. And I am absolutely outraged to hear that somebody has done this to Councilor Evans. So unacceptable. Just—I would be speechless except I'm a councilor, so I can't shut up.
[00:05:24] John Q: Council President Greg Evans calls out behavior by another councilor that he says is racist and repugnant.