City declares ice/snow emergency
1 min read
With the city declaring an ice/snow emergency, vehicles must be removed immediately from designated snow emergency routes.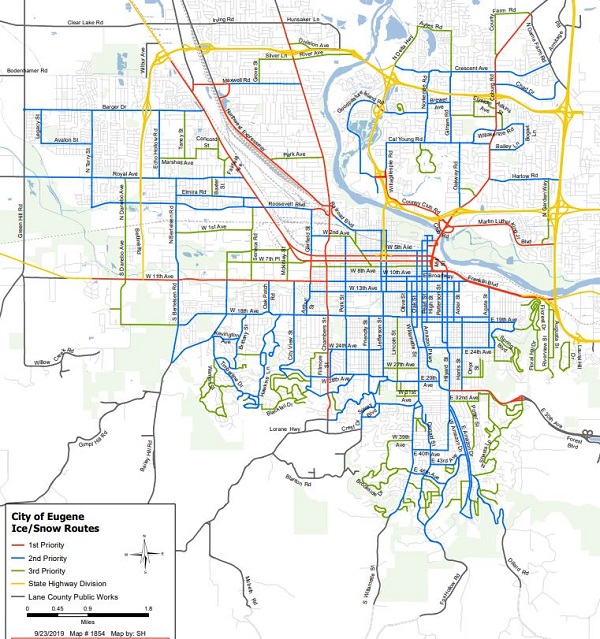 The City of Eugene declared an ice/snow emergency on Thursday, Dec. 22.
The emergency declaration means all vehicles must be removed immediately from designated snow emergency routes.
Eugene Public Works declared the emergency due to ice and freezing rain that's creating treacherous conditions. People are urged to stay home and off of the streets. Public works crews are currently responding to priority routes. They're sanding elevated surfaces, near signalized intersections and in the south hills.
The City's ice/snow ordinance prohibits parking along streets designated as snow emergency routes while a snow/ice emergency is in effect. Typically, emergency routes are collectors, arterials, and bus routes.
The ordinance gives the City the authority to tow vehicles parked or stranded along emergency routes. By banning parking, the City is able to ensure that emergency vehicles, buses, and other essential traffic can move safely around town, and that parked and stalled vehicles do not hamper snow removal operations or ice mitigation.
The parking ban will remain in effect until further notification. Listen to local radio and television stations for regular updates. If you have questions about which streets are emergency routes and subject to the parking ban view a map at www.eugene-or.gov/snow.
The National Weather Service issued an ice storm warning for our area until Friday morning, when warmer temperatures are expected to bring rain. However, people should remain aware of their surroundings and potential hazards.