Housing, not handcuffs
11 min read
Eugene marks Homeless Persons' Memorial Day Dec. 21. Speakers honor the 57 neighbors who died while experiencing homelessness in Lane County in the first 10 months of 2022. Sarah Koski reports from downtown Eugene for KEPW News.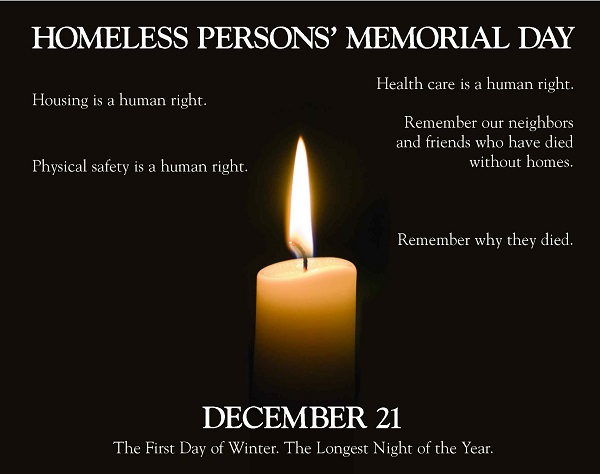 [00:00:00] Sarah Koski: Tonight on the darkest night of the year is the Homeless Person's Remembrance Day and Candlelight Vigil. Members from the City of Eugene's Homelessness and Poverty Work Group host a resource fair, candlelight vigil, and open mic to mourn those whose lives were lost in the street.
[00:00:19] The event takes place on the Park Blocks downtown in Eugene, with all eyes on the names of those who passed this year as a single bell tolls in honor of their soul.
[00:00:31] It's a somber night that brings attention to the drastic need for better support services and community network to advocate for our most precious, vulnerable human voices, the unhoused.
[00:00:45] Mayor Vinis, thank you so much for being here at the vigil today. And why are you here tonight?
[00:00:50] Mayor Lucy Vinis: I am here tonight just to support all of the people who work to make life better for people who have no resources, no place to live, no safety in their lives. We have a responsibility as a city to enable people to have safe places to live. And so I'm here to say this loss of life because cannot sleep in a safe, warm place is unacceptable to us as a city and we continue to work to try to provide more options for people.
[00:01:23] Mackenzie Ni Flainn: Mackenzie Ni Flainn, and I'm with Black Thistle Street Aid. Well, we're here tonight just to hold space for the community to grieve. Unfortunately, our organization had the honor of submitting over 12 names to the list of people who will be honored tonight. In our work, because what we do is medical, we unfortunately see people pass a lot. So the issue is really front and center for us.
[00:01:49] And holding community space to mourn together is incredibly important. But we're also here today to make sure that people remember that this is not an only one-night-a-year event. This is an issue that's been pressing on our community for decades and long-term upstream housing-first solutions have not gotten enough traction and they are the solutions that we need, not just one night a year lighting candles where people come together and say a few nice words.
[00:02:19] So we're here today just to make sure that people know who we are and how to reach us, but we're also here to help people remember that this fight happens all year long and we have to keep working together. And that's part of what mutual aid does. You know, our organization, we're 100% volunteer and funded by community donations.
[00:02:36] So it, we really have to just take care of each other. In the meantime, while we are talking about upstream solutions, while we are working with legislation, the thing that saves people's lives is just individuals coming together and doing what they can when they can and as often as they can. And even though sometimes it feels like it's not enough, it's the only thing that we have right now.
[00:03:01] So that's part of why we operate on that model and what we're just hoping people feel empowered to do it through the community.
[00:03:09] Blake Burrell: My name is Blake Burrell and I'm a human rights commissioner with the city of Eugene. The Human Rights Commission is focused on advocacy and telling narratives and lived experiences of individuals who are experiencing both sheltered and unsheltered homelessness in the city.
[00:03:20] Our Homelessness and Poverty Work Group does this vigil every year to provide a space for the opportunity to gather and reflect on the years past and respect the memory of those who have passed while living on the streets. This event is really important to our work group because recognizing those who have passed as a community in solidarity is very important.
[00:03:40] We have a large ecosystem of individuals in our community who provide direct service and support to individuals experiencing homelessness. And homelessness is on the rise. Homelessness is an issue that so many people experience. And if you reflect on anything, like looking at the Lane County TAC report, we know that there are only going to be more individuals that are entered into homelessness in the city of Eugene.
[00:04:02] So coming together to recognize those that we've lost and really respecting and paying tribute to them, I think, is very important for each of us to do, and for us to do together. The folks that are going to be speaking tonight are all individuals that actively work in civil liberties and human rights work in our community.
[00:04:17] Our work group, like I said, is focused on this issue. We meet monthly to discuss topics impacting that population. And we do a lot of organizing on five different action teams in our work group that are all focused on different issues, whether that's policy, looking at affordable housing, looking at access to affordable housing.
[00:04:35] We are really a group of people that are centered on advocating for individuals experiencing homelessness, and providing them opportunities to get housed and move forward.
[00:04:44] Drae Charles: Drae Charles. I'm the Human Rights and Equity Analyst for the City of Eugene.
[00:04:49] This event in particular is so beneficial to the community because it adds a layer of humanity that's often lost on the unhoused community. It kind of reminds the broader community that this unhoused community is still a part of the Eugene community and needs to be honored in that way.
[00:05:09] The humanity aspect of that is often lost, unfortunately. And that's why you tend to see these incidents targeting the unhoused community, which is where my role rolls into that. So a part of my role is responding to hate and bias incidents and crimes in Eugene and providing victim supports for those incidents.
[00:05:32] And so a lot of the harassment that we see targeting the unhoused community is something that dehumanization and, 'This community is beneath me.' What I think we all could benefit from, myself included, is a recognition that members of our community are a part of our community, period.
[00:05:53] Like, they aren't going anywhere. And so the real solution to love thy neighbor, if you will, is to lead by example and provide this space for folks to really come and honor and celebrate those that they've lost over the past year because they mean something. They matter. And having that space to just grieve and foster that community is so enriching.
[00:06:19] Heather Marek: I'm Heather Marek, and I am a commissioner on the Human Rights Commission. First and foremost, I think it's important for us to take time to celebrate the lives of our community members who were lost this year, and to reflect upon their deaths.
[00:06:36] And a reason that this event is really important to me too is to draw attention to policies that contribute to people having poor health and dying on our streets. Because none of this is inevitable, and research and public health experts tell us that there are things that we can do to prevent this from happening, and I think that that's the best way that we can honor the lives of people that we've lost.
[00:07:05] From January through October of this year, 393 unhoused Oregonians passed away. Most of those individuals were on the street when they took their last breath. The data shows that Oregonians experiencing homelessness died at a rate two and a half times higher than that of the general population, and that black Oregonians were more than twice as likely as white Oregonians to die homeless, and indigenous Oregonians were three times as likely.
[00:07:40] And we know that 57 residents in Lane County died while experiencing homelessness in the first 10 months of this year (2022). Tonight we're here to celebrate the lives and observe the deaths of community members who passed away while experiencing homelessness, to take time to reflect upon each unique person. But before doing so, I'm here to set the backdrop to discuss the context in which those individuals lived and died.
[00:08:11] The tendency is to individualize their situation, to ask what went wrong in that person's life: How did they end up on the street? What choices did they make? What was the specific cause of death here? But research shows that homelessness, health, injury, death—these are not just private personal problems. These issues do not occur in a vacuum.
[00:08:40] They are matters of public policy—the logical conclusion of policy decisions. There are what experts call 'social determinants of health.' That's a mouthful. That is the conditions and the environments where we live that shape and determine our quality of life, our wellbeing, and often, how and when we die.
[00:09:05] So rather than ask what these individuals did to get themselves in a situation where they were dying on the streets of Eugene, we should ask: What policies made their deaths possible, and what policies made their deaths likely?
[00:09:20] Research shows that housing is a social determinant of health and that the single most significant predictor of homelessness is a lack of affordable available housing. (Yep.) In Eugene (yep yep) there simply is not enough housing for the number of people here, and people who live here can't afford the housing that is available.
[00:09:42] At any given time, around 2% of rental units are available for all the renters to compete over. That drives up the prices. For example, some estimates show that a one-bedroom house or apartment could be as much as $1,700 a month.
[00:09:56] But one in five Eugeneans lives below the poverty line. And in case you don't know, that's just a little over $1,000 a month. And so it's not surprising to learn that most Eugene renters pay more than they can afford and the main reason, the predominant reason, that people end up in eviction court is because they weren't able to make the rent.
[00:10:20] Most people who become homeless in Eugene were previously housed in Eugene. When Eugeneans lose their housing, there's little to no safety net. Almost 5,000 people are experiencing homelessness in this county, three-quarters of whom reside in Eugene. But there are only shelter beds to accommodate 11% of these people.
[00:10:43] Another 11% can stay at sites that allow them to pitch a tent, park a vehicle, or live in a hut or a shed. But that leaves 78% of unhoused people who have nowhere to go. I helped someone get on the county's centralized wait list recently. He was told that the wait would be potentially up to two years.
[00:11:05] He is among the thousands of people in this city who cannot sleep, shelter, or be anywhere—whose existence is a crime. Under the camping ban, there is not a square inch of this city where a person can legally sleep, shelter in a tent, or use a blanket or sleeping bag to stay warm and dry. People who engage in those acts for survival face citation, arrest, prosecution, fines, and even potentially jail time.
[00:11:35] We are in a humanitarian crisis, yet the city responds by punishing the people who have the least power to do anything about it and who are suffering and who are the most vulnerable. That is a policy decision (Shame! Shame!) and it is a dangerous one. Criminalizing people for trying to engage in acts of survival makes our community less safe and less healthy.
[00:12:02] It leads to citations, arrests, convictions and those in turn result in jail time, fines, fees, debts for credit, and criminal records that make obtaining housing, employment, and stability all the more difficult. But criminalization actually puts people in danger of serious physical harm.
[00:12:23] First, Eugene Police frequently seize belongings essential for survival when enforcing homeless laws and policing camps.
[00:12:33] Last winter, I was conducting legal outreach in the park when a pregnant woman approached me and told me that police had seized her tent and sleeping bag. Her crime was that she put up a tent in the park where there was a sanctioned encampment, but at the time, no new tents were allowed. And I've spoken to countless other people who have had similar experiences, unsure what to do, or where to go after city officials kept taking their tests, their bedding, their clothing, their heaters, their stoves. Such policies and practices are literally deadly in the winter.
[00:13:16] Criminalization also isolates housed people from their providers and community and from public locations that are safe. Police routinely ban people from all parks and open spaces. For violating these laws, this displacement disrupts crucial services and it also pushes people into locations where they are alone and predated upon.
[00:13:40] I've personally known multiple people who have been victims of violence after being told to move along and being excluded from public places. And the negative interactions with police also create fear and distrust preventing unhoused crime victims seeking refuge in the justice system when they really need it.
[00:14:05] Finally, persistent scapegoating of unhoused people fuels fear, stigma, hate and violence. Homelessness is regularly conflated with crime, drugs, danger, trash, feces, pests, vermin, environmental harm, urban decay, our failing businesses— basically all the ominous threats.
[00:14:28] And after years of hysteria and dehumanization, we act surprised when neighbors call the cops every time they see someone sleeping in a tent. And we act surprised when a business owner douses a woman who's sleeping out in the cold with water. (Oh!) And we act surprised when somebody drives a vehicle into a camp. (Oh!)
[00:14:53] But these are not random, unpredictable events. In 2019, the American Medical Association adopted a policy opposing laws that criminalized individuals experiencing homelessness for carrying out life-sustaining activities like sleeping and sitting in public. The AMA stated that stable, affordable housing is essential to the health of individuals and communities, and avoid support for policies that preserve and expand affordable housing.
[00:15:25] This week, a coalition comprised of 19 federal agencies—including the U.S. Department of Justice, Housing and Urban Development, Veteran Affairs, Health and Human Services—they issued a plan which clearly states that housing is a social determinant of health, and the lack of housing contributes to illness and premature death.
[00:15:48] The plan emphasizes that housing is essential healthcare, and it outlines the critical additional affordable housing and the importance of using strategies that are proven to work like Housing First.
[00:16:01] Also, the plan specifically identifies criminalization of homelessness as a key challenge and barrier to reducing homelessness, because it takes away resources from constructive solutions and it imposes financial burden and criminal records upon individuals who are disproportionately people of color and people with disabilities.
[00:16:24] To prevent unnecessary deaths, we need housing, not handcuffs. That is how we can (applause). That's how we meaningfully honor those that we've lost. (Applause)
[00:16:41] Sarah Koski: This is Sarah Koski for 97.3 FM, KEPW Community Radio.