Ice emergency continues; 30th Avenue still closed
1 min read
The ice emergency continues Friday morning. Officials urge motorists to stay off the roads until conditions improve about mid-day.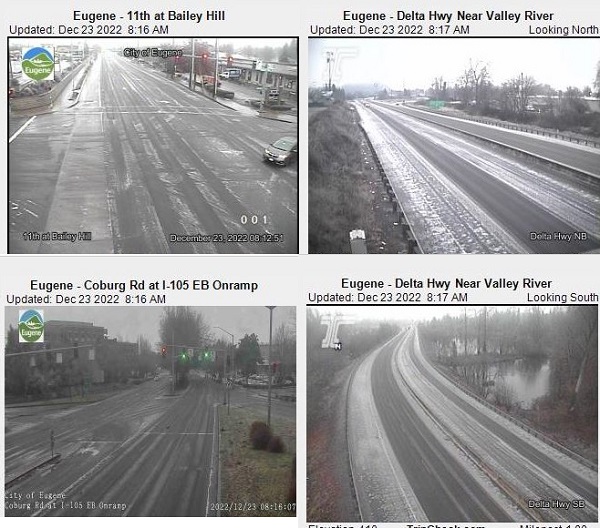 Significant ice accumulations overnight Thursday and freezing temperatures have allowed the hazardous conditions on roadways to persist. People are still urged to stay home Friday until conditions improve.
30th Avenue remains closed between Hilyard and I-5.
Many Eugene roads, especially neighborhood and side streets, remain covered in ice. Stopping and turning will prove especially challenging.
City of Eugene crews worked through the night, with a focus on priority routes—Eugene's busier streets.
With multiple crashes reported, the Lane County Sheriff's Office asked that drivers consider staying home until conditions improve by about mid-day Friday.
Eugene Police Department reported a total of 50 crashes: 36 crashes from 5 p.m. to midnight Dec. 22 and another 11 from midnight to 8 a.m. on Dec. 23.
The City of Eugene announced a delay in opening public offices and facilities Friday morning due to the icy conditions. While 911, Fire, and Emergency Services will continue to operate as usual, community centers, libraries, and administrative offices will open at 10 a.m.
The Lane Transit District also announced that LTD and RideSource services remain canceled due to hazardous road conditions. LTD anticipates resuming service beginning at 11 a.m. as road conditions improve.
The University of Oregon campus will remain closed all day Friday.
For the latest information about closures and delayed openings Friday, see http://flashalerteugene.net/closures-report.html.