City of Eugene agendas Jan. 1-7, 2023
2 min read
Agendas for City of Eugene and neighborhood public meetings for the week of Sunday, Jan. 1 through Saturday, Jan. 7, 2023.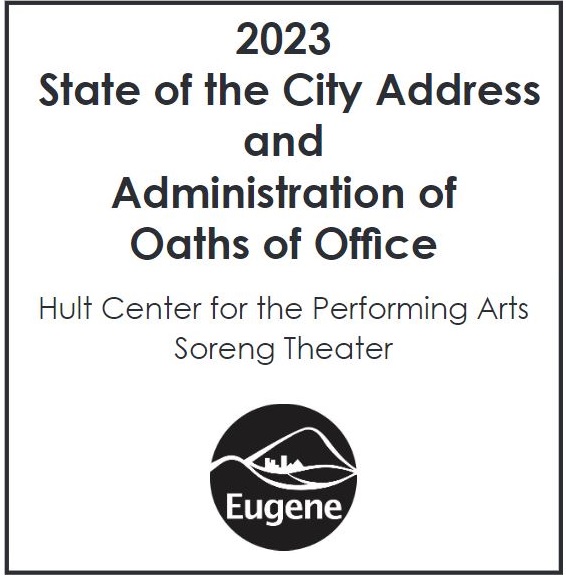 For more, see the city's media release or the city's online calendar.
Sunday, Jan. 1, 2023 (13.0.10.3.3)
City Offices Closed in Observance of New Year's Day.
Monday, Jan. 2, 2023 (13.0.10.3.4)
6:30 p.m. Northeast Neighbors Board Meeting, Zoom. Agenda: Discussion with Councilor Jennifer Yeh; Speakers for the March 7 general meeting; Arterial bridge update; Updates on Striker opening, Creekside picnic shelter, corporate sponsor.
Tuesday, Jan. 3, 2023 (13.0.10.3.5)
6:30 p.m. Ready NW Eugene Emergency Preparedness (Zoom). Agenda: Discussion, lessons learned from the Dam Safety Presentation and how to get involved in other local preparedness efforts.
Wednesday, Jan. 4, 2023 (13.0.10.3.6)
​​5:30 p.m. Eugene City Council Meeting. Agenda: Entertainment; Land Acknowledgement; Administration of Oaths of Office; Welcome and Introductions; Council Remarks; 2023 Bold Steps Award; Community Service Awards; Video Presentation; 2023 State of the City Address; Entertainment.
Thursday, Jan. 5, 2023 (13.0.10.3.7)
7:00 p.m. Santa Clara Community Organization Meeting. Agenda: New Ward 7 City Councilor Lyndsie Leech; Dan Bryant from Square One Villages. Any resident, property owner, or business owner within the neighborhood boundaries having attended and signed-in to at least one Santa Clara meeting in the past year—online or in person— is eligible to become a board member or vote on board members. If you haven't attended a SCCO meeting in the past year, attend the Thursday, Jan. 5 meeting and you'll be eligible to vote for board members and/or run for a board position at the February meeting.
Friday, Jan. 6, 2023 (13.0.10.3.8)
5:30 p.m. Equity and Community Consortium: First Fridays Communities of Color. Atrium Building, 99 W 10th Ave. Agenda: Networking, Food, Entertainment.
Saturday, Jan. 7, 2023 (13.0.10.3.9)
(No meetings scheduled.)
---
Mayan calendar long count dates courtesy of the Smithsonian Institution's Maya Calendar Converter, in the sequence baktun, katun, tun, uinal, k'in.