EWEB votes to decommission Leaburg Dam
2 min read
EWEB commissioners voted Jan. 3 to restore a free-flowing McKenzie River by removing the Leaburg Dam. Decommissioning studies and negotiations are expected to take about 11 years, with construction starting in 2033.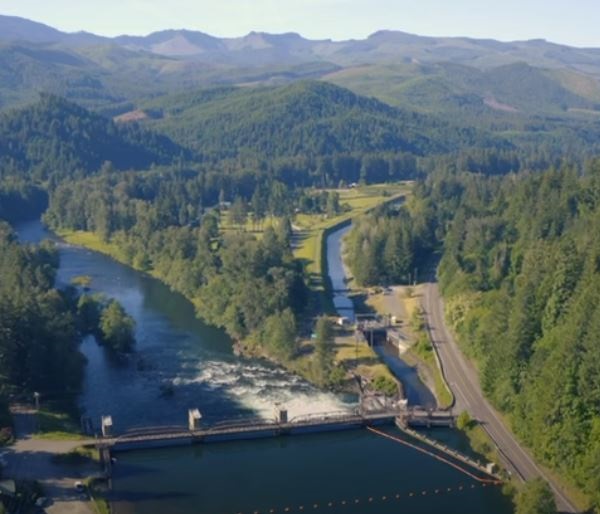 EWEB commissioners unanimously voted Jan. 3 to decommission the Leaburg Hydroelectric Project.
At their first meeting of the year Jan. 3, all five commissioners voted to direct EWEB General Manager Frank Lawson to develop a Leaburg Hydroelectric Project Decommissioning Action Plan.
Generation Manager Lisa Krentz said that while they hope to start construction in 2033, decommissioning projects typically take longer than anticipated.
The plan will guide staff in creating milestones for reporting progress and to determine a framework for how the EWEB board of commissioners can continue to provide oversight on the decommissioning process.
Commissioners also unanimously approved the management recommendations:
Permanently discontinue electricity generation at the Leaburg Hydroelectric Project
Remove Leaburg Dam and restore the McKenzie to a free-flowing river in the project area
Develop access to Leaburg Dam Road on the southern side of the river, if possible through Leashore Drive and the Goodpasture Bridge
Repair the Leaburg Canal for stream and stormwater conveyance, while preserving the option to completely restore the site in the future to pre-project conditions
Work with water rights holders to mitigate the effects of dewatering the Leaburg Canal, particularly the Leaburg and McKenzie fish hatcheries,
Conduct a similar assessment of the Walterville Hydroelectric Project by the early 2030's, and
Identify opportunities and requirements for EWEB board review, guidance, and direction moving forward.
Also during the Jan. 3 meeting, commissioners approved plan development as an organizational goal for 2023. Staff will provide quarterly updates.
Lawson emphasized that decommissioning the project is a regulatory-driven process requiring several years of studies and negotiations with settlement parties before decommissioning construction activities will begin.
Staff will continue working on near-term risk-reduction measures on the Leaburg Canal.
Commissioners requested continued public outreach on the decommissioning process.
"As much information as we can get to the public – when we know or have a better idea – is important to me as a commissioner," said EWEB Board Vice-President John Barofsky.
Throughout the year, EWEB staff will continue to provide updates through the Leaburg Canal Updates Newsletter, as well as scheduling meetings with interested groups to explain the implications of decommissioning on electricity rates, recreation, water rights, fisheries, and other considerations, as discovered.
Staff will also advise interested parties how to participate in the negotiations between EWEB and various interest groups to develop a settlement agreement. 
Once a settlement agreement is reached, EWEB will petition the Federal Energy Regulatory Commission for approval and begin designing and permitting to begin decommissioning the project.