Forrest Paint, Threadbare Print House win awards from city
3 min read
Mayor Lucy Vinis presented 2023 Bold Steps Awards to Threadbare Print House and to Forrest Paint at the Hult Center on Jan. 4, 2023.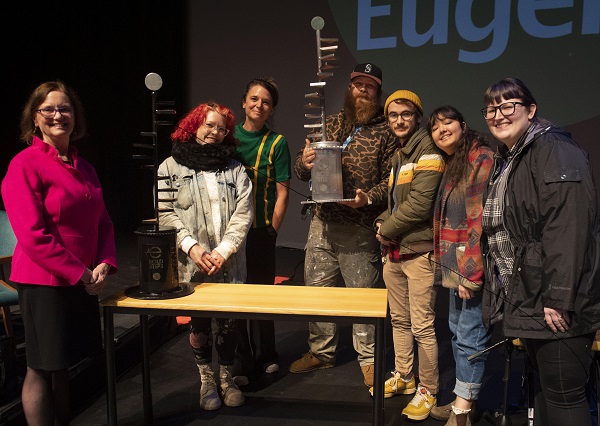 from Deveron Musgrave, Waste Prevention Program Manager
The 2023 Bold Steps award winners were announced by Eugene Mayor Lucy Vinis at the annual 'State of the City' address Jan. 4.
Forrest Paint makes industrial coatings, house paint, and aerosols, and developed FireSnake, a product responsible for salvaging 814,946 pounds of recycled fibers and isopropyl alcohol from the waste stream over the past year.
Threadbare Print House is a commercial textile print shop that provides knowledge and guidance to customers around how to reduce environmental and ethical impacts related to clothing purchases.
The mayor's Bold Steps award program highlights local businesses that offer their employees opportunities for wellness and career growth, and take steps to reduce their environmental impacts. 
Finalists were selected by a committee of local business leaders, and Mayor Vinis selected the award winners for both large and small business categories. 
The local companies appeared in a video presentation during the program.
---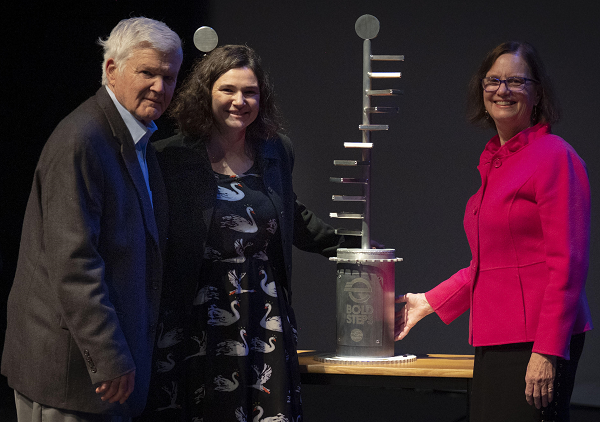 Mark Forrest (Forrest Technical Coatings): Sustainability is not only good for the environment, but it's just good business. it's an expectation today, especially with the kinds of companies that we prefer to deal with as a specialty products and technical coating supplier.
Scott Forrest (Forrest Technical Coatings): We were recycling our own paint, but there was still a problem in that not everybody has our paint in their garage. We started a program called Paint Care. All the paint that you returned to us is put through a recycling program.
Mark Forrest (Forrest Technical Coatings): We were using a huge amount of water for some of our processes in the factory. If we could put in a system with a heat exchanger to recycle that we could really reduce the amount of water that we're using.
The FireSnake has become a very significant product for our company. We were able to use recycled alcohol from the chip manufacturing industry as well as the food industry, and we turn that into the FireSnake that the railroad uses to make repairs on the rails. I'm very proud of the relationship we have with our community here.
It's something that my father Scott always prioritized from the beginning: Being a good neighbor and having a good relationship with both the people in the community and the regulatory agencies that we work with.
It's always been part of our DNA to be a good place to work where people enjoy coming and have good relationships with their colleagues and with their employers. A lot of effort's gone into maintaining that culture.
Amy Baker (Threadbare Print House): I started Threadbare Print House in my garage. We are a commercial screen printing business. We strive to be as sustainable as possible in a pretty toxic industry. One of the boldest steps that we have taken is to only use water-based inks.
Sam Kiesse (Threadbare Print House): It's a much harder thing to work with, but in the grand scheme of things, water-based is generally more ethical and kind of a cleaner solution if you could do it correctly.
Amy Baker (Threadbare Print House): I've really tried to keep in mind taking care of the people that work here first, even over buying equipment because I appreciate the dedication that people bring to their job. I wanna make a difference. I wanna be the kind of company that people respect and believe in and wanna work at. We have a great group of people who are really dedicated to really being excited about what we do here and what we can achieve as we grow over the next couple years.
---
The award program is open to Eugene-based businesses that have completed a free certification through the BRING Rethink Business program. BRING provides on-site consultation to help businesses reduce waste, promote equity, and use resources efficiently.
Summit Bank won the Bold Steps award in 2022.
For more information, visit www.eugene-or.gov/508/Bold-Steps-Award-Program.