Santa Clara meets Ward 7 Councilor Lyndsie Leech
8 min read
Ward 7 Councilor Lyndsie Leech takes questions at the Santa Clara Community Organization Jan. 5, 2023.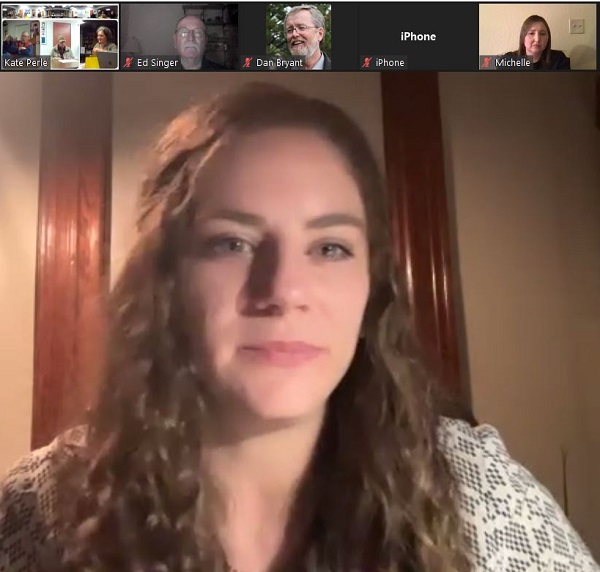 Ward 7's new city councilor introduces herself to Santa Clara. Here's the 10-minute version of their Jan. 5 meeting.
[00:00:08] Ward 7 Councilor Lyndsie Leech: Hello. I am really happy to be here tonight to introduce myself and to get to know you all more.
[00:00:15] I am a mom of two little boys and a stepmom to a 13-year-old. And I have been in social services in the nonprofit field for 12-plus years.
[00:00:30] I really am passionate about mental health and mental health for families—seeing just a crisis right now. And I want to bring that to the city council. The city doesn't really have anything concrete in the way of specific mental health policies and services that they're doing, and I want to change that.
[00:00:51] And the Willamette River Greenway is so important to me. It's one of the reasons I moved to this city. I love our bike path. I love our river. I want to see that preserved for our families. I want to see it beautiful and a community space that we can all enjoy.
[00:01:08] John Q: She was asked about other priorities on the council.
[00:01:12] Councilor Lyndsie Leech: Homelessness and the housing crisis that we're in right now. I think those two issues are two sides of the same issue: The more people move in, or the more demand we have in our housing market, the more people that get pushed out the bottom and get pushed into homelessness.
[00:01:30] Ten years ago, I bought my first house for $150,000. It was an adorable little house. That same house right now is worth almost $400,000. First-time homebuyers, they're never going to be able to buy a house in our town and that's heartbreaking to me. So I really want to have our housing situation, our rental situation, more in line with our wages.
[00:01:57] I think we have to do some innovative things to get more housing.
[00:02:02] I think we need to think creatively and I know that the city has put forward many things to help with that. But it's not enough.
[00:02:12] John Q: She was asked about differences among the ward's three neighborhoods, and how long she's lived here.
[00:02:18] Councilor Lyndsie Leech: So I've lived here for a year. I've lived in Eugene or surrounding areas, basically, since I first came in 2008. But then I went to grad school for about a year and a half and then came back. I've lived in the Friendly Street neighborhood, I've lived in Bethel, I've lived in South Eugene, I've lived in a lot of different places in the city. And I have lived on River Road for just over a year now.
[00:02:43] I'm a little more acquainted, I think, with the Whiteaker and River Road. My experience in Santa Clara, it's a little bit more rural. We've got a lot of county folks and city folks mixed in together in a little almost like checkerboard. So it can be a little bit hard to get that kind of cohesive sense of what the neighborhood is really wanting.
[00:03:05] John Q: Lyndsie was asked: Why'd you run for office?
[00:03:08] Councilor Lyndsie Leech: I look at the city council and I see a gap in perspective. You know, I come as a young mom with little kids and I went through the last three years in the pandemic really fighting, just like many of our families. Having to work full-time from home while watching very little kids. There was a lot of trauma in that. And there was a lot of isolation and struggle that happened for these young families and for all of us, right? So many of us.
[00:03:38] There was that missing component on the council and I recognize that I think I have what is missing and I think I can contribute a different perspective and one that's really needed right in this moment.
[00:03:49] John Q: She was asked about transportation.
[00:03:53] Councilor Lyndsie Leech: If you're talking about the EMX line I really honestly don't know. I live right on River Road. I'm going to be very personally impacted by whatever decision comes out of it. But I just don't have enough information in terms of the plans and what's coming out of that yet. And so I really am in a discovery phase. what do you want, what do you want for your city, what do you want for your neighborhood?
[00:04:14] And I'm going to be doing that with, all of the other neighborhood associations as well. What is your plan and why? I'm collecting all of that and then making some decisions later on. So it's a lot of information to take in. Everyone's been telling me fire hose , be prepared.
[00:04:32] John Q: Would she vote to ban new natural gas infrastructure?
[00:04:35] Councilor Lyndsie Leech: I'm still having a lot of meetings with city staff, getting oriented, getting information that isn't necessarily all publicly available. So I have not had a meeting yet with my staffers that are assigned to me to brief me on some of these issues and give me all of the information.
[00:04:53] I have been having a lot of meetings though with interested groups and individuals, really both sides of the issue. It's a very divisive issue.
[00:05:04] I do want to say that, the plan is not to take gas away from homes that are already existing with that infrastructure. There will be incentives if you would like to switch your appliances over. The ordinance will only be for new construction.
[00:05:23] My home on River Road is all gas, pretty much. I have a gas stove, I have gas appliances, furnace and everything. And I don't want my gas stove to go away. I know all of the things that they say are happening with the carcinogens in the air. But I really love my gas stove.
[00:05:41] John Q: She was asked her thoughts on the River Road / Santa Clara plan.
[00:05:44] Councilor Lyndsie Leech: I met with Jon Belcher and he briefed me on the plan. He gave me a very nice, comprehensive document outlining the goals of at least the River Road Community Organization's kind of stance on the neighborhood plan, with desires to really try to push that forward. I'm trying along with all of the other issues to do that homework. And I'm hoping that you can share with me your side as well.
[00:06:10] John Q: Would she meet with local businesses?
[00:06:13] Councilor Lyndsie Leech: I would love to do that. A town hall sounds like a great idea. I really respect small businesses. I think you're the pillar of our community. So I definitely want to get the input. I have met with the Chamber as well, to get some of their perspective. I'd be absolutely happy to come and talk with you all.
[00:06:30] John Q: Could the council invest urban renewal money beyond downtown?
[00:06:33] Councilor Lyndsie Leech: I understand what you're saying. It's hard to see our people really struggling while we're focused on X, Y, Z. And I understand that.
[00:06:45] It's my understanding that the budget for the renewal agency is actually separate, so if you get a federal grant or if you get certain funding, you can't just take that money and use it on something else.
[00:06:59] I know also that we're going to have to make some really tough decisions this year in the budget. They're projecting $15 million of budget cuts. I think it's going to be a tough year in deciding where we are focusing our efforts.
[00:07:13] Santa Clara resident: Have you looked into or heard how we're going to accommodate the $21 million they're in debt already—and the oversight of all non-governmental agencies that are receiving our taxpayer dollars?
[00:07:31] Councilor Lyndsie Leech: That was not brought up in my budget briefing. I think when we look at debt going forward and we pay down our debt in an appropriate time, I don't think it's necessarily something we have to be too concerned about because, you know, we have huge independent auditors looking at everything and making sure we're in a good space.
[00:08:07] The city is really highly rated in their budgetary processes including the debt-to-income ratios. Moody's national rating for city governments—we've basically gotten as high as we can.
[00:08:07] And I do know that the city is really hoping to build the reserves up that were used over the last few years in terms of emergency measures to deal with the pandemic. The reserves were drawn on a little bit and they're hoping to be able to boost those back up so that we can feel comfortable in knowing that we have a little bit of room, a little bit of buffer.
[00:08:30] John Q: With a followup comment about Moody's:
[00:08:32] Charlie Rojas: I've been through this before with other cities going bankrupt in California—the Orange County and San Bernardino bankruptcies— and I read Moody's ratings about three years ago, and the basis of our high bond rating is based on University of Oregon. If U of O begins to lose any sort of enrollment or begins to go down in terms of money they're generating, the bond rating is directly tied to U of O. So it seems to me that right now Eugene is in a very precarious situation financially, because if anything happens to U of O, like I said, we're going to have trouble.
[00:09:09] John Q: Lyndsie was also asked to look into student housing leases. One 12-month lease only allows access to the property for 11 and a half months.
[00:09:20] Councilor Lyndsie Leech: Thank you for bringing that up. I know that renter protection conversations will be coming up. And I'll certainly bring that up when we have those conversations because that seems like a violation.
[00:09:33] John Q: Lyndsie Leech introduces herself to Santa Clara—the 10-minute version.
[00:09:38] Councilor Lyndsie Leech: I would love to come back another time and hear from you all about some of these issues and what it is that you want to see at the council level.
[00:09:47] John Q: For her briefing with city staff, we've asked whether a neighborhood reporter can sit in.