Senate leaders identify priorities for 2023 session
7 min read
Oregon Senate committee chairs identified top priorities for the 2023 session. On wildfire, Sen. Jeff Golden spoke of supporting community and neighborhood collaborative programs.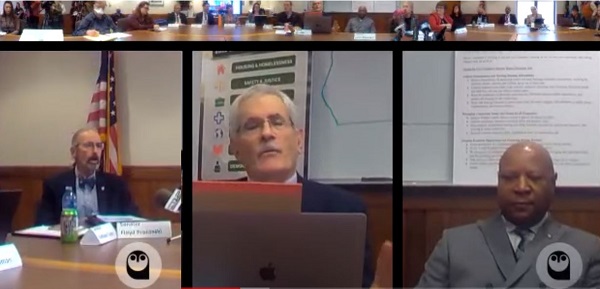 State senate leaders share their priorities for the 2023 session.
[00:00:06] Sen. James Manning: Sen. James Manning. My district is Senate District 7, Northwest Eugene, and now incorporated in that is the beautiful city and community of Veneta. I'm really excited about this.
[00:00:19] What I want to talk about today is the big elephant that's over the building: health care. I have a universal health care bill that I've been working on for six years now and it's ready to move to the next step, which is a bill to establish a governance board. The governance board will look at financial and all of those integral parts and details.
[00:00:42] Currently, our health care system in our state loses over $1 billion a year in unrelated direct health care costs. My bill, under the concept of universal health care, will actually save $1 billion a year.
[00:01:02] In addition to that, this universal health care system will cover everyone. That means opportunity for economic growth and development. That means that it provides an opportunity to attract outside businesses to come to Oregon. It's a beautiful thing and is much overdue.
[00:01:21] My time in the military, I found that universal health care systems work. They work for everybody. And the thing about it is those that require additional insurance, if they like, it won't stop them from doing that, but it will guarantee that we can get people off to a new start. And preventative health care measures saving tons of dollars and more importantly, saving tons of life.
[00:01:47] We have a falling number of veterans in our state. It used to be at 300,000; I'm told that is much under that now. So housing or the lack for housing has to do a lot with that. The lack of access to health care.
[00:02:01] But here's the deal: change can be difficult, but change in the health care system is necessary if we're going to save lives, reduce costs, and cover every Oregonian. If you live here in the state, you get quality health care. These are instrumental and it is a human rights issue as the voters of Oregon have already voted on under Ballot Measure 111, a foundation for universal health care.
[00:02:35] With that, I'll pass it over to my good friend, Sen. Jeff Golden.
[00:02:40] Sen. Jeff Golden: Thank you, Senator. Good afternoon. I'm Jeff Golden. I chair the Senate Natural Resources Committee. And of the big basket of work we have ahead, I want to touch on four areas briefly: wildfire, forest management, industrial agriculture, and climate.
[00:02:57] Wildfire. Our first order of business is refinement and the changing of the sequencing of the big omnibus wildfire bill from two sessions ago, Senate Bill 762, and our emphasis is going to be on fortifying the good work that people are already doing to protect their homes and their communities through well-proven community and neighborhood collaboration programs that are, have already been going on through the state.
[00:03:21] We want to give that technical and financial support and really spread that and do everything we can to help those folks, and also to make sure that homeowners who are doing what's needed, have access to affordable insurance. You'll also hear some really basic and interesting conversations about the best approach to fire suppression and to prescribed burns.
[00:03:45] In the wake of a couple of historic agreements in the last couple sessions about management or private forest lands and about the future of the Elliott State Forest, we've been asked, we've been asked to really focus on the state forest generally. And to try to find a path that eases that tension that's been going on for decades between really sustainable forest management and the need of communities for receipts that come off of those lands. The Board of Forestry has asked us to explore that and we're going to do it.
[00:04:14] Industrial agriculture: America's industrial ag sector is eyeing Oregon more and more and more over the years. We might have got a taste of that in discussions about chicken factory farms around Scio last year. House Bill 2667 (we have a counterpart bill) is a proposal for a moratorium on what's called those CAFOs (Concentrated Animal Feeding Operations)—those huge factory farms—until their likely impacts on water, air, and soil quality and community and worker health are much better understood. And that will include some challenging conversations about water use and the exemptions that some sectors have had from limitations on water use.
[00:04:55] Climate: We need to keep moving forward. Senate Bill 530 is a bill to encourage and assist more sequestration of carbon on natural and working lands. That dovetails really with improving the health and productivity of forest and agricultural lands, and it offers a potential for bipartisan cooperation with rural legislators who are concerned about timber and ag in their districts.
[00:05:20] You'll also see follow-through on a lot of study in the interim on making our buildings more energy-efficient. And House Bill 2601 we'll be taking up as well. It's a proposal to stop making new pension and government fund investments in fossil fuel holdings and to phase out the current fossil fuel holdings over a realistic timeframe. This bill would also increase the transparency of treasury investments, so Oregonians can know what their tax dollars are supporting.
[00:05:53] With that, I'd like to pass the baton.
[00:05:54] Sen. Floyd Prozanski: Thank you everyone. Floyd Prozanski, state senator in District 4. I'm here in my capacity as the chair of the Senate Judiciary Committee. The committee's already introduced over 100 bills, and so as one of the workhorse committees, we'll continue to do that work.
[00:06:09] The four points I want to bring out to your attention is what many of you already know.
[00:06:13] (1.) We are working on improving the Oregon public defense system, and services provided for those who are eligible for receiving public defense services. We opened up a tri-branch work group that's been ongoing. Myself and Rep. (Paul) Evans are co-chairing, we do have a draft of legislation as a starting point, and you will in fact see more infusion to get more attorneys available for individuals who are not only charged, in many cases, unfortunately, actually in custody without representation. So that's an infusion. Last session, we did $10 million that was released. But what we also need to be doing on a longer term is the restructuring of the services and how we provide them in this state.
[00:06:54] (2.) We are also will be working on the (gun control) Measure 114 that was passed by the voters in November, as to moving that forward for application. We have two courts that are currently looking at this, the federal court as well as the state court. We're monitoring that, but at the same time, the voters passed something in November. The will of the voters needs to move forward and the legislature is going to do the best we can. Whenever a measure has been passed by the voters through a citizen initiative, it almost always comes to the legislature to implement. So our job is to do that and we're going to do the best we can.
[00:07:28] 3. There will be some changes and modifications that need to be made to Measure 110. If you remember two years ago, the voters passed Measure 110, decriminalizing small amounts of controlled substances. Instead of using the criminal justice system to adhere services for people with addiction, moving them into a medical model.
[00:07:48] We're looking at the fentanyl issues as to how they're identified and how they're categorized as to what size and qualifies as a personal use. We will be looking at what is the break point as to being something that would be for personal use quantity as to what isn't. As we know, fentanyl has unfortunately shown its ugliness as to the strength and potency of it, and so you will probably see something that seems to be in size, maybe smaller in personal use than what you would for someone else, just because the ramifications.
[00:08:20] Also all the counterfeits…fentanyl is being added or cut into. So we'll need to be looking at how do we safeguard and we want to make certain that we take care of the issues with youth education and knowledge as to the concerns that we all have for everyone who is in this arena, but at the same time dealing with the addiction as it needs to be dealt with, as compared to someone that might be adventuring into an area that they shouldn't be.
[00:08:44] (4.) And then the last is one that just came to us via the Oregon Supreme Court, the ruling in the Ramos v. Louisiana U.S. Supreme Court decision being applied retroactively to the state of Oregon. As you can imagine, we will be having our hands full. This will tie right back into the public defense services because many individuals who are currently incarcerated in prison will in fact be asking for their trials to be reset, because they were unconstitutionally convicted on less than the unanimous verdict.
[00:09:13] So those were some of the areas. The other one I will just point out to you is Senate Bill 619. This is the Oregon Consumer Protection Act. This is continuing working on the data protection for individual citizens, ensuring that they have rights and recourses to ensure that their personal data is not misused.
[00:09:30] John Q: Eugene-area senators announce their priorities. They'll be addressing universal healthcare, neighborhood collaboration programs on wildfire, fixes to the drug decriminalization Measure 110, and preparing to implement the gun control Measure 114.
---
Original sources: Press release, YouTube recording