LTD board approves 7 replacement EmX buses
2 min read
Matt Imlach: "The fact these vehicles continue delivering service for as long as they have is a testament to the excellent work and care LTD Fleet Maintenance delivers every day to ensure taxpayer investments are maximized."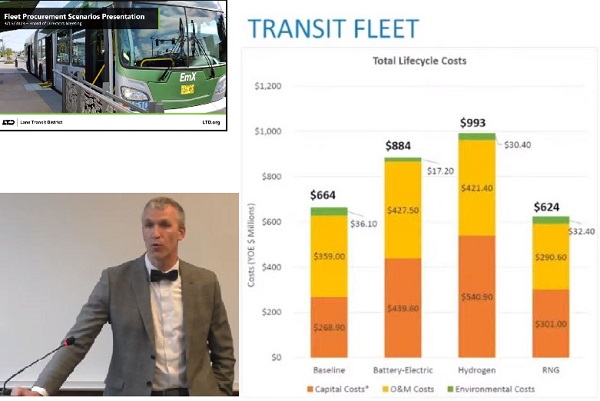 from Pat Walsh, Lane Transit District
The LTD board of directors approved purchasing up to seven EmX buses to replace some of the district's aging buses.
"The EmX buses scheduled for replacement are at the point where maintenance costs will begin to outpace community benefit," said Matt Imlach, director of LTD Fleet Maintenance. "The fact these vehicles continue delivering service for as long as they have is a testament to the excellent work and care LTD Fleet Maintenance delivers every day to ensure taxpayer investments are maximized."
Imlach says the Federal Transit Administration standard for how long a public transit bus stays in service is 12 years or 500,000 miles. LTD's current EmX buses have been on the road for 14 years.
The cost for the seven 60-foot five-door EmX buses is $7.4 million. Money to purchase the EmX buses comes from a combination of state of Oregon Statewide Transportation Improvement Funds (STIF) and Federal Urbanization Area Formula Funds.
The board of directors' approval gives LTD direction to place an order for the new EmX buses through a cooperative buying agreement with the state of Washington with New Flyer of America, Inc., a subsidiary of NFI Group and one of the world's leading independent global bus manufacturers.
While LTD continues to integrate battery electric powered buses into its fixed-route or neighborhood fleet, LTD's 28 diesel and 59 hybrid buses have run on Renewable R99 Diesel since November 2020 and so will the seven new EmX buses.
"We carefully reviewed fuel options for the new EmX buses, including battery electric, hybrid, and hydrogen," Imlach said. "Our decision came down to range the new EmX buses need to have to stay on the road to deliver service before they come back for refueling, as well as maintenance costs, projected maintenance costs over the life of the bus, and costs of the new vehicles themselves, which for electric buses adds $3.85 million to the order. Hybrid buses would add $1.75 million to the total purchase price of the new EmX buses."
Made from waste and plant matter, R99 does not release new carbon dioxide into the atmosphere. It is odorless and has low toxicity. Using R99 does not void original equipment manufacturer or vendor part warranties. In addition, the use of R99 supports LTD's, City of Eugene's, Lane County's, and the state of Oregon's climate action initiatives.
"R99 has played a leading role in LTD reducing the fleet's carbon emissions," Imlach said. "LTD will continue to evaluate the operational and cost efficiency of alternative fuel sources to operate its fleet."
The seven new EmX buses are expected to arrive in approximately 18 months. Once in service, the previous EmX buses will be sent to auction or disposed of as is required by federal agreements.