EWEB responds to neighbor concerns during wire-wrapping of water tanks
2 min read
EWEB added multiple safety measures to protect neighbors, including a barrier made from shipping containers. Feedback from a neighbor guided the final configuration of the barrier.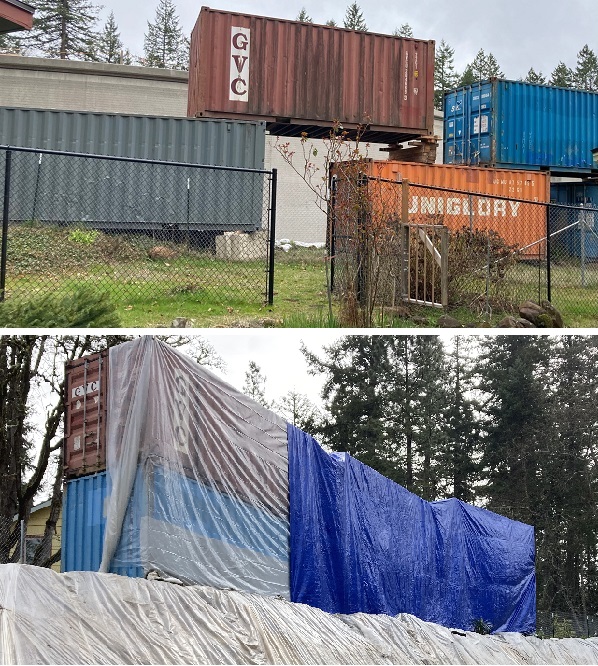 by John Quetzalcoatl Murray
After a neighbor adjacent to the Eugene Water and Electric Board construction site expressed concern about shipping containers stacked as a safety barrier, EWEB responded quickly.
EWEB met with the neighbor and repositioned the shipping containers.
"When a neighbor expressed concerns, EWEB staff and the contractor met with them, listened, and reconfigured the boxes," said Jennifer Connors, EWEB communications and marketing supervisor.
Jennifer said the large shipping containers are frequently used as barriers on construction sites, and shared a few more facts about the EWEB safety barrier:
Each shipping container weighs 5,000 pounds
Shipping containers that travel on cargo ships across the ocean are stacked six or seven high
The barrier at the EWEB site can withstand winds of more than 100 miles per hour.
The protective wall of containers and other safety measures came as the East 40th Water Storage Project team announced a new phase of construction in late March.
With concrete pours complete, wire cable will now be wrapped around each of the two 7.5 million-gallon tanks. The wrapped cable, when encased in multiple applications of sprayed concrete or "shotcrete," makes the water tanks more resilient during an earthquake.
EWEB warned that the cables used to wrap the tanks will be under incredible tension stress and if one were to snap, the force could be very dangerous.
Fences were extended another 100 feet from the tanks, with containers placed along the east side of the site, and the public asked to stay clear until this phase wraps up in late July.
EWEB's Jennifer Connors said the containers are just one of multiple safety measures implemented by the contractor during the cable wrapping and shotcrete processes.
"The cable wrapping machine also has a built-in barrier to stop a snapped cable. And fencing has been expanded to increase the safety buffer around the tanks," she pointed out.
The container arrangements are engineered to be effective and safe, Jennifer said. In this case, the final configuration was also responsive to feedback from nearby neighbors.
"We try to be responsive to neighbor feedback when we reasonably can," Jennifer said.
In other news from the site, EWEB reported possible vandalism to the detention pond April 7, with some flooding in a neighbor's property and on Patterson Street. The contractor was scheduled to work April 8 with a small excavator to install a new pipe and repair the damaged equipment.
EWEB Security and Eugene Police are investigating.