Facing ethics investigation, Oregon secretary of state to step down May 8
6 min read
Secretary of State Shemia Fagan will leave public office after Willamette Week reported that she was being paid by a cannabis firm.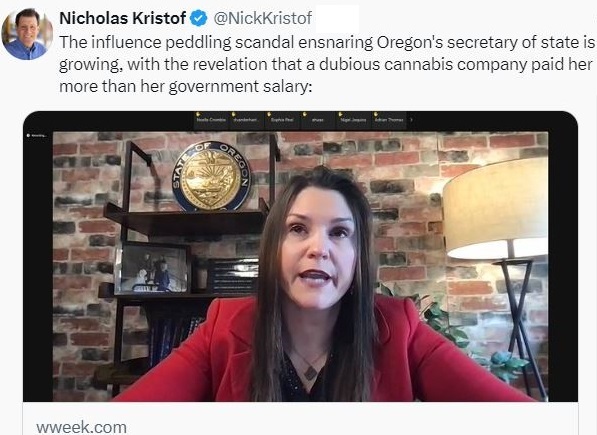 Oregon Secretary of State Shemia Fagan will resign effective Monday, May 8.
The $77,000-a-year official – next in line to the governor – was moonlighting as a consultant to a cannabis firm while overseeing an audit that called for modernization of Oregon's cannabis laws.
Her supplementary income was first reported by Willamette Week.
"While I am confident that the ethics investigation will show that I followed the state's legal and ethical guidelines in trying to make ends meet for my family, it is clear that my actions have become a distraction from the important and critical work of the secretary of state's office," Secretary Fagan said. "Protecting our state's democracy and ensuring faith in our elected leaders – these are the reasons I ran for this office. They are also the reasons I will be submitting my resignation today."
Gov. Tina Kotek, who called for an investigation by the Oregon Government Ethics Commission, supported Secretary Fagan's decision to resign.
"It is essential that Oregonians have trust in their government. I believe this is a first step in restoring that trust," Gov. Kotek said. "During the upcoming appointment process, my office will do everything possible to support the hard-working staff in the Secretary of State's office and ensure this will not disrupt the May 16 election."
Legislative leaders reacted to the news of Secretary Fagan's resignation.
"Secretary of State Fagan's severe lapses of judgment eroded trust with the people of Oregon," said four legislative leaders. Speaker of the House Dan Rayfield, Senate President Rob Wagner, House Majority Leader Julie Fahey, and Senate Majority Leader Kate Lieber said that erosion of trust extended to legislators, "who depend on the work of the Audits Division for vital information on public policy."
Their joint statement concluded: "This breach of trust became too wide for her to bridge. Her decision to resign will allow the state to move on and rebuild trust."
Republican legislative leaders issued statements praising the "exceptional investigative journalism" by Willamette Week's Sophie Peel and Nigel Jaquiss.
"It is critically important that statewide elected officials exercise good judgement at all times. It is clear that Fagan has broken Oregon's trust beyond repair. It's time to return integrity to the Secretary of State's office," said Senate Minority Leader Tim Knopp (R-Bend).
The resignation "reflects the level of corruption occurring in state government," said House Minority Leader Vikki Breese-Iverson (R-Prineville). "Since the beginning of the year, I have said we need a transparent process. The level of abuse Secretary Fagan flaunted from her official position is just another example of the extreme measures of one-party rule in Oregon."
Deputy Secretary Cheryl Myers will take on oversight of the agency until the next secretary of state is appointed by Gov. Kotek. The deputy has the power to perform any act or duty of the secretary of state (ORS 177.040), which supports continuity of operations and stability in transition periods.
"This is an unfortunate situation, but a change of leadership will allow agency staff to continue their good work with less distraction moving forward," Deputy Secretary Myers said.
Her professional background includes public policy, organizational leadership, economic development, public education/youth advocacy, and a history of assisting organizations to construct equitable cultures and embed collaborative practices.
Her prior public service roles include Director of Economic & Business Equity in the Governor's Office, Chief of Staff for the Higher Education Commission and as Operations & Engagement Director for Educator Advancement in the Chief Education Office and eight years as an elected school board member.
Deputy Myers will continue her oversight of the agency and will collaborate on a plan to onboard the governor's appointee.
Recreational cannabis sales hit a record high of $1.18 billion in 2021, according to the recently-released audit report, which listed six findings:
Oregon's cannabis industry is subject to some regulations that when coupled with the current licensing moratorium, federal restrictions on interstate commerce, banking and taxation create burdens the alcohol industry does not face. These regulations are not clearly based on a robust risk assessment, or the test of real-world effectiveness.
Instead of ensuring the state's cannabis industry receives similar supports provided to other industries that help bolster the economy, many of Oregon's cannabis regulations are based on repealed federal guidance and are largely in place to prevent federal intervention in Oregon's legal cannabis system, a concern that no longer carries the same significance, risk, or likelihood.
Oregon should adopt creative strategies to mitigate risks caused by existing federal cannabis laws and related barriers.
Government support of businesses, especially newer industries and smaller businesses is critical for promoting business equity and enhancing the state economy; however, Business Oregon, the state's economic development agency, will not work with cannabis businesses due to concerns over losing its federal funding and criminal liability. This situation is especially problematic as other state agencies provide services and supports to the cannabis industry, including OLCC.
Oregon did not consider or include targeted equity provisions when developing the recreational cannabis program. Although the state is considering options for an equity program, there are limitations and barriers preventing significant progress.
OLCC's current licensing system is not capable of tracking demographic data, hindering efforts to mitigate the disproportionate impacts experienced in communities targeted by the War on Drugs.
The audit includes three recommendations:
Identify and reform its rules which are in place primarily to avoid federal intervention, and which presume cannabis businesses will engage in illegal activity, specifically: (a) Reevaluate the public purpose and economic impact of regulations like the requirements for steel doors and 24-hour video surveillance. (b) Implement seed to sale batch tagging to balance accountability for reporting and compliance with lower costs for producer licensees and medical growers required to report in METRC.
Ensure its replacement cannabis licensing system has the capacity to gather demographic data and generate reports encouraged in Oregon's DEI Action Plan.
As part of the annual reporting required by House Bill 4016, OLCC should include an assessment of the impact the moratorium has on those most negatively impacted by the prohibition of cannabis.
The Oregon Liquor and Cannabis Commission adopted all three audit recommendations and hopes to have them in place by early 2024.
Gov. Kotek also asked the Oregon Department of Justice to review the audit.
Shemia Fagan was Oregon's 28th Secretary of State. She grew up in Dufur and The Dalles, raised by her single dad and two older brothers. Her public service began on her local school board. She was later elected to the Oregon House of Representatives, then to the Oregon State Senate. Secretary Fagan was a civil rights attorney before being elected to Secretary of State in 2020.
The Oregon Secretary of State is one of three constitutional offices created at statehood. Oregon's Secretary of State is Oregon's chief elections officer, chief auditor, chief archivist, and oversees business and nonprofit filings. The Secretary of State also serves as one of three members of the State Land Board and as the chair of the Oregon Sustainability Board.
Under Article V, Section 8a of the Oregon Constitution, if there is a vacancy in the office of Governor, the Secretary of State becomes governor.
As an independently elected constitutional officer, the Secretary of State answers directly and solely to the people of Oregon.
The mission of the office is to "build trust between the people of Oregon and their state government so Oregonians trust the public services that can make a positive difference in their everyday lives."
Secretary Fagan said she began working for supplemental income earlier this year, teaching at Willamette University Law School and consulting with Veriede Holdings, LLC.
In terminating her consulting contract, she said, "I owe the people of Oregon an apology. I exercised poor judgment by contracting with a company that is owned by my significant political donors and is regulated by an agency that was under audit by my Audits Division." One day later, she announced her resignation.
Shemia Fagan thanked "the incredible staff" in the secretary of state's office. "It has been a true honor to serve the people of Oregon," she said. She said she would focus on her children, her family, and personal reflection.