A love letter to libraries
3 min read
With the city proposing big budget cuts, the Eugene Public Library receives a love letter from Amanda Ligon.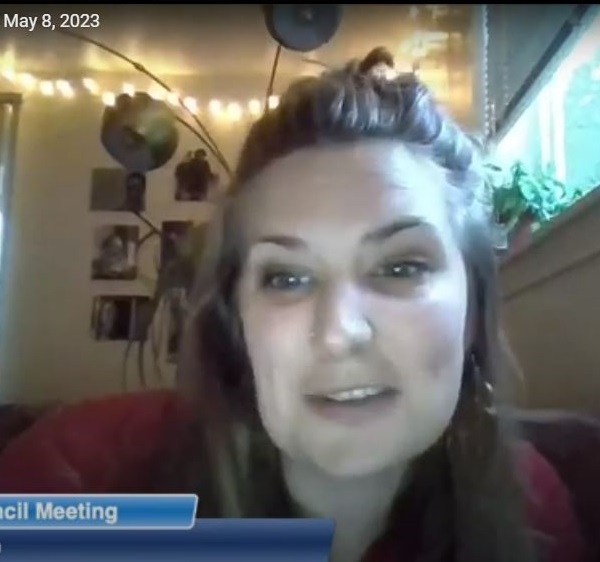 With budget hearings set to begin, the council hears a love letter to libraries: Public comment May 8 from Amanda Ligon.
[00:00:07] Amanda Ligon: Hi, everyone. My name is Amanda Ligon. I live in Ward 4, and I'm here as a love letter to our libraries. I've been going to the Eugene Public Libraries now for over 20 years, and I must tell you, my love for that space is woven into every molecule of my body.
[00:00:21] This is where Octavia Butler taught me to dream of other worlds, where I learned how to accept myself as a queer person through James Baldwin, where I've spent so much of my life poring through graphic novels under the light of those glorious windows.
[00:00:34] As someone who works with kids, I've brought countless kiddos there to discover their passions, grow a love of learning, and connect with other kiddos. I've personally witnessed the incredible growth that can happen when a community, especially its young people, have access to a thriving library. The library plays an essential role in our community that goes well beyond books.
[00:00:54] Not only do they give people of all ages access to free education, they also increase equity in Eugene by running public literacy programs, offering public meeting spaces, providing protection from the heat and cold, and working with Eugene Mission to teach computer literacy skills.
[00:01:10] And instead of looking at all they do for the community and offering more funding, we are instead threatening to take away $4 million from their budget over the next two years.
[00:01:19] It's important to note that the library is one of a few entities that does not have other sources of funding. They rely almost entirely on this budget. And if we cut this, it will take away from early literacy programs across Eugene. We cannot afford to wait to see the devastating long-term effects before we take action.
[00:01:36] Let's take a good hard look at what's happening in this country. You just made a proclamation in support of LGBTQ communities and supporting the library is your chance to put your money where your mouth is. Multiple states are threatening to shut libraries down in an effort to silence mostly BIPOC and LGBTQ voices.
[00:01:53] During the first half of this school year, there were 1,477 instances of books that were banned. For context, Nazi Germany banned a total of 5,485 books before the end of the war. Learning from our past would teach us it is imperative to protect libraries and other forms of public education at all costs.
[00:02:13] Speaking of Nazi Germany: Just last month, there was someone on Fox Hollow flying a Nazi flag on their front yard. If you think we're in any position to limit access to public education, I invite you to drive with me down that road and ask yourself again. We're watching our school systems crumble with the mass exodus of teachers, lack of funding, and lack of compassionate care towards our students.
[00:02:33] There's no public institution that greater embodies freedom than the public library…
[00:02:37] John Q: The city council hears about the importance of library funding.
[00:02:40] Budget committee meetings are at 5:30 p.m. on Wednesdays, May 10, 17, and 24.