Council hears of human rights abuses by city employees
6 min read
Pastor Wayne Martin tells the city council that criminalization of the homeless has now led to brutality: "...a war against those who have no way to defend themselves or shelter themselves other than with a tent."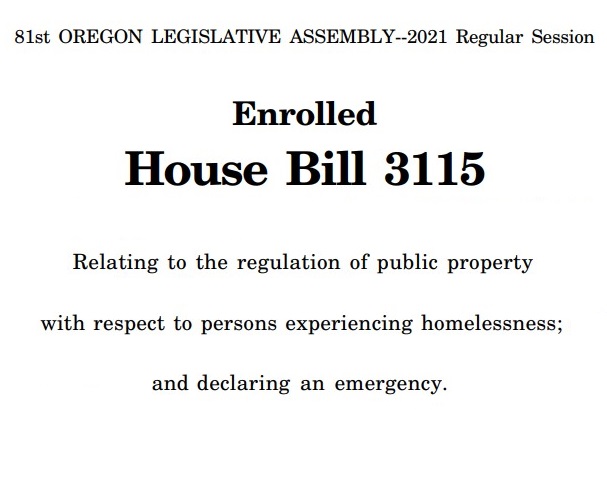 The city council hears about human rights abuses by city of Eugene employees. During the public comment period May 8:
[00:00:08] Pastor Wayne Martin: This is my third time before you in the last three months. I wanted to let you know that I think homelessness has become a pandemic here in Eugene. It has all the earmarks, the symptoms of a pandemic. It's spreading, as you know, throughout the country. It could get much, much worse.
[00:00:33] I'm here to plead with you. I serve a breakfast and a bag lunch four days a week with colleagues of mine. During that time, my primary role is to talk to our guests who are there for the meal, and I have in the last four weeks heard from three whose sleep has been interrupted at 2 or 3 in the morning by police giving them 15 minutes to pick up their stuff.
[00:01:06] I can verify this from the people who have reported it. That is stunningly mean-spirited and terribly draconian.
[00:01:18] It's one thing to talk about how we do or don't criminalize homelessness, but criminalization here has led to brutality and it now appears to be more of a war against those who have no way to defend themselves or shelter themselves other than with a tent.
[00:01:39] There's a real effort going on on the part of (Eugene) Parks and (Eugene) Police (Department) to trouble the people who have nowhere else to be and to ask them to leave with little or no notice.
[00:01:51] I urge you, I plead with you, become advocates for the ones who are now being mistreated. Become their advocates, as I urge you to become the advocates of those who are experiencing gender inequality.
[00:02:09] Sammy Rothauge: My name is Sammy Elijah Nestle Rothauge and I have been a resident in Eugene for 50 years. I'm here to strengthen the voice of Rev. (Wayne) Martin in this horrific epidemic of abuse of authority to the displaced, disabled on the streets, parks, alleys of Eugene.
[00:02:28] Where's the map of the safe place to be? Inside the bag of disposal? Thank you very much.
[00:02:35] City of Eugene: Next we will hear from Jason Bowman.
[00:02:37] Jason Bowman: I come before you asking, are we the victims or the crime? My name is Jason Bowman, Ward 1. I've been residing in Eugene since January 2023.
[00:02:49] I have observed several different notices regarding scheduling of 'cleanup' pertaining to the tent I have been provided by a local resource center for my residence. No direction was offered as to where to place my home or the rules regarding such. That being said, locating a compliant safe location has proven to be very confusing.
[00:03:13] I'm a disabled person with complex spinal injuries as well as head trauma. On occasion, I seek rest and sanctuary in parks to stretch out my spine and soak up some sunshine and positive vibes.
[00:03:26] While in the parks, I have the opportunity to do some observations. I observed a two-hour notice being left under a tent on a loose piece of paper, unsecured and unprotected.
[00:03:38] The (Eugene) Park person came back early the next morning and threatened the occupants with law enforcement. One resident of the home informed the Parks person that they were disabled and awaiting spinal fusion. That enforcer told them to call CAHOOTS. He indicated that they may even do spinal fusions. Amazing.
[00:03:59] The other resident of that home tried to speak to the enforcer, but due to slow speech from a traumatic brain injury, they were unable to find their words and the (Eugene) Parks person refused to even speak to them.
[00:04:14] Another observation: A tent appeared to be seeking refuge for 10 days outside of the federal court building. On the 10th day, a notice of cleanup was posted along with a work order number, a cleanup date of only 24 hours on the notice. On that same notice, it states cleanup would occur after 72 hours, but not more than 10 days. Confusing. And no instruction as to where to relocate the provided home.
[00:04:48] Eric Jackson: Hi, Eric Jackson…
[00:04:49] If (Eugene) Public Works via a police officer is saying 'Close this area for cleaning,' and there's not a stitch of anything on the ground except a couple of sundries that were delivered by a donor very nicely, and they were sitting outside…
[00:05:04] And the officer says: 'You are going to get a ticket for offensive littering,' which, when I first heard it about six months ago, I was like, 'What do you mean?' And I looked it up and I looked up the code and I looked where it was dropped into the code in July of 2021 and it was more for properties.
[00:05:21] And when you have a couple of officers, and I just mean a couple of officers, like the handful that calls themselves a homeless criminalization team in the back door, but they call themselves the 'Housing Support Team' on paper. It makes no sense.
[00:05:37] You have to stop, like (Pastor) Wayne (Martin) said. You have to put compassion first. You have to put objectivity first, and you can't have that when you have officers that are so tainted doing the same job.
[00:05:51] John Q: A Human Rights Commission workgroup discussed the public comment the next day.
[00:05:56] Richard Self (HRC workgroup member): Because of House Bill 3115 being perverted somehow and the term 'objectively reasonable' being turned upside-down, those who do not have established camps—and it's not certain to me how you become established anywhere—
[00:06:16] But if you don't have an established camp, then you're subject to a two-hour or less notice. I heard of three people at the city council last night by Rev. Wayne Martin that were told they had 15 minutes at two o'clock in the morning to 'Get ghost.'
[00:06:37] This is all, all wrong, all perverted. This is perverting the entire spirit and structure of 3115 and other laws to come. This is wrong, (HRC Workgroup Chair) Blake (Burrell), you spoke to this to the Eugene Weekly as well. And this is completely upside-down.
[00:07:01] The city was given the opportunity, when asked, to provide a map at least, of where we, where people could not go. And I just almost said 'we', because I'm still there in my head a lot of times, and it's been over five years.
[00:07:19] But 'Where can we go?' And the city said, one, that would be technically impossible. And B, they did not want to show areas, even if it was just to show where we couldn't go. Because they didn't want to encourage people to go anywhere.
[00:07:37] So I submit this body could stand to jointly write a letter to the governor saying this is all messed up. And that's putting it nicely: 'This is all messed up.' This is not the spirit of this. I think this is police not abiding by any laws, not abiding by what their own chief says. Not minding what the city does or doesn't say.
[00:08:04] And by the way, the city is coming up with more hardness of an ordinance coming up, where they're going to fine people up to $500 who are camping in the wrong place and/or 10 days of jail, despite the new governor and the new laws. So I think we're in order to at least submit a letter to the governor.
[00:08:27] John Q: A Human Rights Commission workgroup follows up on public comment about human rights abuses by City of Eugene employees.