Community welcomes LTD leader, asks about future of transportation
7 min read
LTD's Jameson Auten took questions at the City Club and University of Oregon, including a question about holiday service from former Eugene City Councilor Betty Taylor.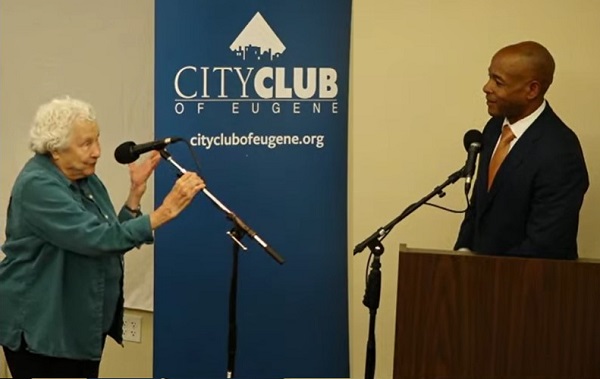 New LTD executive Jameson Auten is welcomed to the community, with appearances on campus April 10 for 'The Future of Transportation,' and at the City Club April 21. Here are some of the questions from the community.
[00:00:12] Kaarin Knudson: My name is Kaarin Knudson. I am the president of City Club's board of directors, and I'm delighted to welcome our speaker, Jameson T. Auten, LTD's new general manager and CEO. Our first questioner today is Rob Zako, the executive director of Better Eugene Springfield Transportation: Rob.
[00:00:28] Rob Zako: Thank you Kaarin, thank you City Club, thank you Jameson for being here. Welcome to our community. One of the challenges you faced is having difficulty hiring and retaining bus drivers. So my question to you is sort of a two-part question: Talk just about how LTD has used that special one-time $75 million funding, and has that been used to help hire and retain more bus drivers, or what else are you doing to make sure that you have the drivers we need?
[00:00:52] John Q: Rob also had questions for Jameson, Peter DeFazio and Lynn Peterson at 'The Future of Transportation.'
[00:00:58] Rob Zako: On behalf of Better Eugene Springfield Transportation (BEST), I am Rob Zako, executive director, I'd like to welcome you to this roundtable discussion about 'The Future of Transportation.' I've got a few questions I want to ask my colleagues here: How did you get involved in transportation? Why transportation?
[00:01:15] So Jameson, you're new to our community, and I've heard you talking about a need for change, of doing things differently. Do you want to talk to us a little bit about what you're seeing has been at LTD and maybe why LTD might want to do things differently? A little bit about engaging the community.
[00:01:32] I'm hearing about outcomes, about performance metrics, about designing for not just what the engineers say, but what our community says. List some things that you think the community might want to be designing for, planning for, engineering for, that's different from how we've done things in the past. What are some of your top outcomes you think that transportation should be looking at in the future?
[00:01:53] What should our governments be doing differently? And then what can all of us do? I see students here, I see some working moms, I see retired people, I see an executive director of a tiny nonprofit. What advice do you have for those of us who are not in government to help make some of these changes?
[00:02:11] Mary Leighton: Hi, I'm Mary Leighton and I'm one of those people getting older and older living in the South Hills. I would not take my car out every day if I could get down the hill to the bus station, the bus stop. And so, like 39th and Willamette—to get to 39th and Willamette, I can't do it. I mean, I have a bad knee right now. Even if I was riding a bike, I couldn't do it, it would be too scary. What are the hopes that someday there'll be a microservice or something up into those places (that seemed like such a good idea at the time, but maybe not such a good idea now)?
[00:02:44] Randy Prince: Hi, Randy Prince. I'm from the Amazon neighborhood in South Eugene and I've been with the City Club over the years, a long time. And over the years, our city has put out various redevelopment projects, improvements to an area, for example, the Franklin Street Boulevard, and then there's the riverfront. And transit seems to come in kind of late in the process a lot of times. And I'm not talking about the transit projects like putting in the BRT (bus rapid transit) or EmX (Emerald Express), but I was wondering if in Kansas City or anyplace else you've observed how the aims of transit and bicyclists can be earlier, considered earlier in the process, to be part of the original vision, rather than, how do you adapt that to the needs of transit and bicyclists and pedestrians.
[00:03:32] Betty Taylor: Betty Taylor, City Club member since 1990, and former city councilor. A very important thing (I think) is that the buses don't run on holidays. And I wonder if there's a plan to have them run. And I know personally at least one person who lives in one part of town, family in another part of town, and on Christmas or Thanksgiving, family members are too busy getting dinner ready to go pick the person up, and the person does not have a car and can't and it's too far to walk. And I think holidays are a really important time for buses to run. Thank you.
[00:04:12] Joey: My name's Joey. Can you talk about future plans for electrification and constraints related to that and the logistics of electrification. I think you said maybe 30% of the buses are electric at this point.
[00:04:23] Jon Belcher: Jameson, thank you for coming today. I'm Jon Belcher and I rooked you into this, so, thank you very much. My question is going to be about my neighborhood, which is River Road, and the effort to put EmX (Emerald Express bus rapid transit) on River Road. My perception is that there was a lot of misinformation shared in that process and it wasn't countered with correct information. So I have a two-part question. Number one is: What are your future plans for the EmX program (if you can share them, that may be premature)? And secondly: What will you do differently so the information that's out there is correct?
[00:04:58] Andrew Kalloch (City Club): I'm Andrew Kalloch, president-elect of City Club. Thanks for being here. You mentioned the pilot in Cottage Grove. I wonder if you could talk a little bit more about what you're hoping to get out of that, and in particular, whether you're seeing demand from your rural clients, from their municipality to a job center. Like: Cottage Grove to Springfield; Florence to Eugene. Or if you're seeing them actually between more rural places: Cottage Grove to Creswell, or Florence to Mapleton, or something like that.
[00:05:24] Zach Bruhl (KVAL): Good afternoon, Mr. Auten. My name is Zach. I'm a reporter with KVAL News here in Eugene and Springfield. (Hey Zach.) You talked a little bit about staffing; the issues you guys have faced staffing…Is there anything for LTD's plans as far as ensuring the safety of your drivers, once you do get those drivers employed?
[00:05:37] Kaarin Knudson: Thank you, Jameson. And I'm sorry to say that we are out of time for more questions today because I know there are more. I wanted to ask you about how LTD thinks about housing and I wanted to learn more about how your work relates to our workforce, but we will have to invite you back for that conversation. (Love to talk about that.) Thank you very much and thank you everyone.
[00:05:55] John Q: At 'The Future of Transportation,' Rob Zako introduces a professor of city and regional planning.
[00:06:01] Rob Zako (BEST): I have a helper over here, Mark Schlossberg, who's been going through questions.
[00:06:05] Mark Schlossberg (U of O): Is there a community or a country or another system that the three of you look to for inspiration and what do you look for that you want to do?
[00:06:18] The future of transportation cannot have the same level of ubiquitous car access all the time and try to meet some of the pressing challenges: climate change, inclusion, affordability, etc. So how do you balance the public opinion about the importance of cars and ubiquitous parking everywhere with a need to move faster away from this car dependency?
[00:06:43] If we are engaging a member of Congress or the Senate, what could we do that would make your job easier, better, help you act faster, bolder, whatever it might be, so that we have a task to do to make the future of transportation better?
[00:07:02] Hopefully I did a Vanna White-worthy job. I'm also actually a professor here of city and regional planning at the University of Oregon. I also supervise a transportation student group called Live Move. This is a fantastic student-based organization that does work on behalf of our larger communities. These are students giving of their time, they're learning along the way, but they're trying to impact our larger community.
[00:07:24] And so there's two upcoming events. One is on May 20. They are co-hosting a bike film festival. So there's both a sort of a traveling version and a local submission of bike-oriented films for a nice community event like this one. And that'll be happening here on campus.
[00:07:41] And then on May 31, happening on campus, two Live Move projects: Doing an inventory of sidewalk quality across our communities—it's hard to improve the sidewalk network if you don't know where it is in the quality of it—and then other students are working on redesigning quiet residential streets into a modern cycle street network and livable spaces.
[00:08:02] So you get to check out their ideas, engage with students, and hopefully have conversation that influences local change happening.
[00:08:09] John Q: Great questions for new LTD executive Jameson Auten from Betty Taylor, Mary Leighton, Mark Schlossberg, and others. On campus May 20, all proceeds from the bike film festival benefit Shift Community Cycles. On campus May 31, a sidewalk inventory is one of two featured Live Move projects. For more, see scheduled events at LiveMove.com.