Library pilots item return near Amazon Pool
2 min read
Library Director Will O'Hearn mentioned the idea during his January 2022 visit with Southeast Neighbors.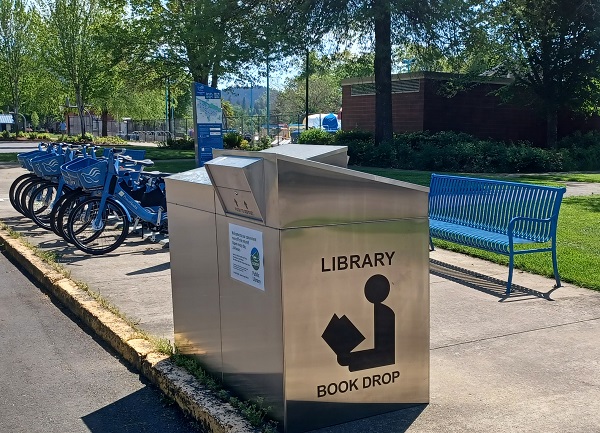 Community members can return Eugene Public Library items at freestanding receptacles outside Amazon Pool, 2600 Hilyard St.
The new returns will be open 24 hours a day, seven days a week. Returned items will be picked up twice weekly.
Because the library does not charge overdue fines, the timing of returns doesn't need to be precise.
The pilot project, which opened Monday, May 15, aims to make library borrowing even more convenient and sustainable.
Borrowers will be able to return nearly all Eugene Public Library items to the new bins, including books, CDs, DVDs and magazines.
Some items, such as the Library of Things collection, will still need to be returned directly to a library desk.
The pilot project comes in response to feedback from community members requesting additional places to return items between library visits.
Library Director Will O'Hearn mentioned the idea during his January 2022 visit with the Southeast Neighbors neighborhood organization.
"Anytime we can make using the library easier and more accessible for more people, we're eager to do it," he said. "We look forward to learning from this initial experience before potentially expanding the service."
The Amazon Pool location was selected because it's located farther from library buildings than other city community centers and pools. This site also provides an existing drive-through lane because there's a Lane County ballot box.
In addition to the pool, the new receptacles are near heavily used Amazon Park and Amazon and Hilyard community centers. The returns are easy to reach by foot, bicycle, scooter, skateboard or car.
To meet a national public library goal, nearly all Eugene households are within five miles of one of the three library buildings: the Downtown Library, Bethel Branch and Sheldon Branch. The outside return slots at the Downtown Library are open every day 5 a.m. to 10 p.m. The outside returns at the Bethel and Sheldon locations are open every day, 24 hours a day. The Amazon Pool return is open every day, 24 hours a day. All library buildings and their outside return slots are closed on city holidays.
For more information, contact Eugene Public Library at 541-682-5450 or visit eugene-or.gov/library.