Mayor Vinis answers questions from Northeast Neighbors
17 min read
Mayor Lucy Vinis: We do not have a well-functioning tax system in this state. We have to come to you for a library levy, a roads levy, a levy for parks and rec because we don't have the funds in our general fund.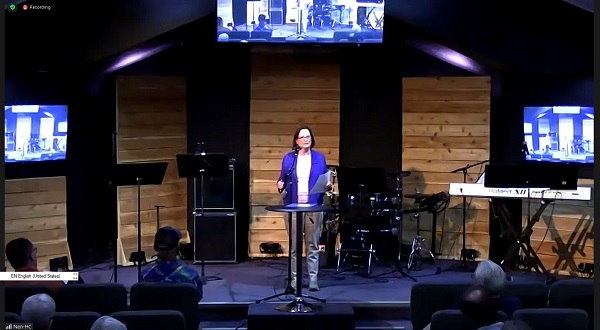 by John Faville, Northeast Neighbors
Eugene Mayor Lucy Vinis was our primary speaker at our May 30 general meeting. We collected questions for her from lots of neighbors, and she stayed until she answered them all. As promised, we're publishing all her answers to your questions:
Mayor Vinis was also invited to share opening remarks.
Mayor Lucy Vinis: There's good news and there's bad news, right? As we look at city policies, we're talking about housing supply and affordability, homelessness, public safety, climate change, and economic development. Those are 'The Big Five.'
The city council has made very significant investments and progress. But this work is incremental.
In the past year, council approved code changes on middle housing that will help us add to the supply at several different affordability levels. Council also adopted a 'Housing Implementation Pipeline' to look at the whole range of housing needs.
For public safety, we have a very innovative police department and chief, willing to think outside the box. And agile in respecting the will of the taxpayers on how to use the community safety payroll tax funds, not just in hiring officers, but also in addressing homelessness among youth and in bolstering our community court system.
We're also doing a lot of work on climate change. We are finding ways that we can – over time – reduce our greenhouse gas emissions, reduce our carbon footprint.
And then, finally, economic development. It hasn't been a headliner in the planning work that the city council has done. We realize that we need to come back to it.
Northeast Neighbors: What's your vision for where the city will be in five years, and what are the barriers to getting there?
Mayor Lucy Vinis: This is a fun question to think through. First of all, we're going to be a bigger city in five years. We're feeling all those growing pains. But we are attracting people.
We're planning to have a more dense urban core with more housing downtown. We are required by state law to have climate friendly and equitable communities where there's more compact housing and it's more walkable. So that's coming.
I think that we will be a more electric city. We'll have more electric cars and more electric charging stations.
Five years from now we're going to have more trees because we're investing in our tree canopy, especially in our 'heat deserts.'
Our economy will grow. We are attracting a lot of new businesses. A number are moving particularly into West Eugene. They're bringing a lot of jobs. They're clean industries.
I'm optimistic that our investments in public safety are going to bear fruit over the next five years. Our control over our public spaces is going to improve.
And finally, we'll have a city hall in five years. In fact, even sooner than that.
So that's on the plus side.
For the hard part, we will still have a homelessness crisis. Five years from now we will still have a challenge with housing affordability and availability because we just can't solve it that fast. It takes a long time to build housing. It takes a long time to build the support systems to overcome the impact of homelessness.
Five years from now we will be dealing with the costs—the cost of construction, the cost of labor, the limited land supply.
And we'll still be in a climate crisis that's not going to go away. We will be figuring out how we as a community think about our landscape. How do we think about our buildings? How do we think about our transportation systems? Both to mitigate our impact on climate and to adapt to it.
Northeast Neighbors: Many cities have phased out gas-powered mowers and leaf blowers to reduce air and noise pollution. Do you support that idea? How can we move it forward?
Mayor Lucy Vinis: I think it makes a lot of sense. The first step is for the city itself to model this, and we are doing that. As our parks and maintenance equipment ages, we are changing it for battery-powered or electric equipment. It's more feasible in some areas than others, like our downtown crews. Sometimes when there is a distance to travel there's a capacity issue. But the city is walking the talk in this.
I believe that this transition for homeowners and for landscape companies will be very market-driven. There will be opportunities for the market to make new products that are more affordable and have a longer lasting charge. That is probably going to be more successful than a regulatory approach.
I don't think the city is going to need to regulate this. I think the market will take care of it, and we all, as consumers, can help prompt that.
Northeast Neighbors: Do you support the construction of an arterial bridge from Green Acres Road to Santa Clara to give us an alternative to the Beltline for connecting our neighborhoods?
Mayor Lucy Vinis: I think it's really going to have a positive impact. It has been a long time in the planning. It was included in our transportation system plan that we adopted in 2017. This local arterial is an excellent idea for enabling local traffic to stay off the Beltline and just to get from neighborhood to neighborhood. As will pedestrians, bikes, and buses for that matter.
It continues to be a top city priority. Nothing happens as quickly or as easily or as cheaply as we hope. But it's a high priority for us.
Northeast Neighbors: Where is affordable housing going to get built in the city?
Mayor Lucy Vinis: I want to be really clear about this. There's 'Affordable housing' (capital-A), which is income-qualified subsidized housing. That's the kind of housing we build with public funds from federal housing and urban development dollars. We have been building a lot of it downtown.
We also need affordable housing (small-a) affordable workforce housing. That's housing that is moderate in price. It is the hardest to build because construction is expensive. Builders need to have a profit margin, and it's hard to do so.
Passing the middle housing code is a piece of the answer. It allows for duplexes and triplexes to be built on any land that is currently zoned for a single-family residence. That reduces the cost per unit because land is expensive. If you can build four units on a piece of land instead of one unit, you can begin to pencil it out. And they're smaller, so they don't have to be so expensive. It'll be interesting to see five years from now how much of that has happened and where it's happened in the city.
And our city council just sent to the legislature a request for funding to help install the wastewater infrastructure out at Crow Road, because 1,000 new units could be built out there. But it's stalled right now in the legislature.
We also want to build workforce housing using MUPTE, the multi-unit property tax exemption. There is a 10-year property tax exemption if the property fills a wide variety of requirements. One of them is that they either dedicate a percent of units to workforce housing or they need to pay into our trust fund account.
And one other piece, a favorite of your councilor, Mike Clark, is looking at the urban reserves. As we find ourselves too land-constrained, we can bump out the urban growth boundary to allow more housing development.
We're moving as many pieces as we can. but it's hard for the city to intervene in a market, and the cost of construction is high.
Northeast Neighbors: Lots of cities, including Eugene, buy carbon credits to meet their climate goals. Why can't individuals who want a gas stove in their new home do the same?
Mayor Lucy Vinis: We committed to be carbon-neutral by 2020, and we couldn't do it completely within city operations. So we did buy carbon offsets. It's a fairly complex process. The thought of doing it for individual homeowners is a little bit heart-stopping. What would it take to administer and manage that?
I think we're more likely to go the incentives route. I said before that I think the market is going to drive a lot of electrification. Over the next five years you're going to find more and more appealing and affordable electric options, and consumers are gradually going to go in that direction.
Northeast Neighbors: Is banning gas in new construction just the first phase of a long-term plan to get rid of gas usage entirely? If that's the case, will people get compensated for making the switch?
Mayor Lucy Vinis: Yes and no. Yes, in that it is part of our climate action plan to gradually decarbonize buildings. So in the in the largest sense. Absolutely. This is one piece of that puzzle.
There are several pieces on the table right now. One is to look at our building stock, particularly our commercial industrial buildings, and understand the best pathway for the kinds of buildings we have.
We already have a report looking at residential housing. One of the interesting things that we found was that in terms of equity and helping people live in better housing, we should focus initially on mobile home parks because they tend to be leaky. Low-income people live in them, and they're spending a lot on their bills, so that if we can weatherize and provide them with higher functioning heat pump systems, we're both decarbonizing and improving the quality of life.
But again I will say that particularly for existing housing, this transition is going to be driven by the market. All of you who own houses are going to be replacing your furnace sometime in the next 20 years, and when that time comes you will consider whether to put in a heat pump. Some of you will make that choice because it works for your house and your bills are going to go down, and some of you won't.
The reason that I thought that council was right to pass the ban on new construction is that it is so much cheaper to build it with the right energy system to begin with than it is to retrofit.
Northeast Neighbors: Why doesn't the city put a higher priority on disaster preparedness to be ready for a wildfire or earthquake?
Mayor Lucy Vinis: We are by no means unprepared. In 2019, before the pandemic, I convened a summit of all of the local leadership because I was worried about a major Cascadia event or a wildfire, and I didn't want someone in Cottage Grove, for instance, to look at Lane County and say, 'I thought you were going to do that part.'
That work has continued and we're coordinating our work.
For wildfires, we have a really significant fuels reduction program that's happening in South Eugene. In those wooded hillsides, our fire department has worked with the Northwest Youth Corps, and with neighborhood associations, Southeast Neighbors and others, to thin out those areas that need thinning to reduce the potential for a wildfire just ripping through there.
As to a Cascadia event, I think we have a lot of vulnerable people. I'm particularly worried about tenants in apartment buildings who can't keep two weeks of water and everything else. We still have a lot of work to do.
In a very positive step, the new schools that have been built lately all have water supply and their own power generation. So they are emergency response centers. And everybody's got a school that's within pretty reasonable reach. EWEB is supporting all of these wells that are being activated on school campuses. That's our network.
Northeast Neighbors: Why is it so hard to get dangerous streets made safer? Neighbors on Holly Avenue have complained for ten years. Speed tests have been done; the city agrees that it is unsafe. But nothing gets done. Same story on other streets here. And drivers often get belligerent when you tell them to slow down.
Mayor Lucy Vinis: Yes, we know that it's dangerous. I think Holly in particular is probably eligible for some traffic calming.
The 2023 road bond will be spent to promote walking, biking, and safer streets. But there's never enough money to do everything and it's never fast enough. I hear that frustration.
We do have radar trailers that we can put on the streets that tell you your speed.
When people get aggressive with neighbors trying to tell them to slow down, try not to engage them, but get their license plate and then report it to EPD. They can go contact them later.
Northeast Neighbors: I do not understand why the City of Eugene cannot prepare an annual budget that estimates the money needed to cover necessary services and costs, but instead requires levies constantly that increase our taxes. Why can't the city stick with a budget just like we homeowners must do?
Mayor Lucy Vinis: We do stick with the budget. We are required to balance the money coming in and the money going out.
But as you all know, we do not have a well-functioning tax system in this state. Prior to Measure 5, we had a much more robust general fund, and in a better world the City of Eugene would have a general fund that would enable us to pay for the services that the community expects and needs.
Instead, we have essentially turned you all into a Budget Committee because we have to come to you for a library levy, a roads levy, a levy for parks and rec. We come to you because we don't have the funds in our general fund, and we know that as a community you want those services.
So it is a broken system. I totally share your frustration. I wish we didn't do it this way. But until we change how we collect taxes as a state, it's going to be very hard for the city to dig out of that hole.
Northeast Neighbors: What are you doing to finally solve the homeless situation? I'm angry and I'm tired of seeing it.
Mayor Lucy Vinis: Well, we're all angry. Nobody wants to see people living under blue tarps on sidewalks. If there were a simple solution for which we had all the money, we would fix it.
We all experience the emergency that's on our streets, and that emergency has been decades in the making. We are not alone. There are cities up and down the east coast and the west coast in particular facing it.
Partly because of the cost of housing and because in this state we have lost our supply of housing. And we are very under-invested in mental health and in addiction services.
Gov. (Tina) Kotek in her emergency response to homelessness has really focused on the counties, telling them to step up. And last year the legislature gave us an additional $5 million to help support the safe sleep sites that we had set up. The city has added about a thousand shelter sites. We have a thousand beds, but we have over 3,000 people who are unsheltered.
We should all be incredibly grateful for the nonprofit organizations. I mean Community Supported Shelters and Carry It Forward and Square One Villages and Everyone Village and St. Vincent de Paul. They're all just pitching in and providing services.
It takes investment to get people back on their feet, and we have a lot of them. We're doing a huge amount, more than we have ever done. But more people keep falling into homelessness.
The city council has worked on this with renters. Protection is incredibly important because we have people losing their housing, and there's no place for them.
It's not for lack of trying. It's a big problem, and five years from now we're still going to be in it.
Northeast Neighbors: PeaceHealth is going to close down their pediatric cardiology unit and the waiting times in the ER are 10 hours sometimes. I am attributing a lot of that to a small group of the homeless that needs constant service. Does the city have funding to go to the hospital? Or is that something the county will do?
Mayor Lucy Vinis: The city has no authority over PeaceHealth, but they are a critical partner, and they have been, as you say, often the last recourse. If there's no place else for someone to go, they show up at the emergency room.
That is the reason that we collaborated with the county to build the Navigation Center. The county has built a series of health clinics and is now looking to create a Crisis Stabilization Center. So, actually, there's a lot of county investment.
Finally, I think there's a lot more going on in hospital costs than what's happening in the emergency room. A number of staff are traumatized from dealing with COVID for several years and that has made the staffing situation challenging.
Northeast Neighbors: What does it mean that we are a 'sanctuary city?' Is that for people coming in over the border? Do we play a role in checking people's documents?
Mayor Lucy Vinis: People move here. They get jobs. They send their kids to school. It's not a city role to check people's documents. So we don't do that. That's what we meant when we said, 'We're a sanctuary city.' We don't collect that information. If someone wants to use the public library, we want them to use the public library.
Northeast Neighbors: What is the timeline for getting into the new city hall?
Mayor Lucy Vinis: Our lease is up on the LCC Building in November. I would expect that shortly after that the first group of us would move. The city manager's office, the city council and mayor offices, the legal team. Also our Finance folks in the top of the library.
Some renovations are being made, but the good news is, it was an office building, and we needed offices. So yippee, it's basically there.
The north building that has always been a community meeting space will be the site for our new council chambers. I don't think that will be done when the first move happens.
Northeast Neighbors: Mayor (Ted) Wheeler in Portland has recommended a series of new ordinances to the Portland City Council that sound truly draconian: No camping on public property between 8 a.m. and 8 p.m.; you can't start a fire after dark if you're camping on public property. It sounds like they're just going to hassle the homeless and I wonder: What might happen in Eugene?
Mayor Lucy Vinis: Very timely question. The legislature has responded to a court case in Boise, Idaho, that ruled that you can't criminalize someone for sleeping in open and public space if there's if there's no alternative. The legislature has required that cities be clear about what their regulations are and how they're in compliance with Boise.
So the Eugene City Council just passed on Wednesday (May 24, 2023) our code revisions to comply. They looked at the code on public property with respect to public health, safety, and access.
For example, they set a 1,000 foot distance from an educational facility that you couldn't camp on. We're talking about camping, not sleeping. You're allowed to sleep in public space. You're not allowed to set up a structure. That's the distinction that was made at the state level that we're now following at the local level.
We decided that camping had to be at least 100 feet from the high bank mark of a waterway to protect the waterway. And on sidewalks and shared use paths, there has to be at least four feet accessible to the general public.
We have to identify what we call willful violators. If someone is camping in an illegal site and has been asked to leave more than once, they would be categorized as a willful violator. We raised the penalty from $250 to $500. It's not that we think we're going to get $500 from people who have nothing. We're actually trying to push them into the municipal court system. Our community court offers ways for them to provide restitution for their offense, but also access to services.
Northeast Neighbors: What are you seeing other neighborhoods do and what could we consider as a neighborhood group to help address some of the housing issues and homelessness?
Mayor Lucy Vinis: You are all well aware that faith communities have stepped up for a long time in this, initially with car camping programs but now vastly expanded to microsites, rest stops, and small housing.
The important part for neighborhoods and for neighborhood associations is to reassure neighbors who might be alarmed at the thought of providing some kind of temporary shelter or assistance about how well they are managed, and what the positive benefit is to the people that you're helping.
It is really up to us as a community to embrace the solutions that we're exploring.
Northeast Neighbors: Have they looked at the homeless population to find out where these people are from, how many of them are from Eugene? Are we supporting people from outside the area?
Mayor Lucy Vinis: We do a monthly tracking of the people who have sought services. They include a question about their last permanent address, but not how long they lived at that address. We do certainly have people who come here thinking they've got a job or they're going to live with a cousin, but then that falls apart. They may have been here for five years when that happens, or they may have been here six months.
There's no question that there's a huge amount of flux in the system. There are people who are coming to Eugene because they think they can live here, and there are people who leave Eugene to go somewhere else.
The data I saw when I worked at ShelterCare before I was mayor and the data that we have of people that are entering our programs is that over 80% have a last known address in Lane County. So we have a lot of our own poor.
Are we also attracting people from elsewhere? Yes, we are. We know that anecdotally.
The services are here in Eugene, so if someone in Lane County really needs services, they're going to come to Eugene because that's where they are.
You will hear that people are giving bus tickets to people to come to Eugene, and that is probably true. Tomorrow morning, I am going to the U.S. Conference of Mayors, and every other mayor will tell the same story.
It's true for every city because there's movement in the system. People migrate up and down I-5. There's no way that you can contain it. The best thing that could happen would be that we establish such singularly successful systems that all the other cities copy our model, and we all address it collectively.
That, I will tell you, is the constant conversation at the U.S. Conference of Mayors: What is the best standard of service? What are the best practices? How can we get ourselves there?
---
Encourage your friends to sign up for NeN news. All they have to do is email: newsletter@neneugene.org.