City flees its own downtown for riverfront
2 min read
The city paid EWEB $12 million for the 4.4-acre riverfront property at 500 E. 4th Ave., which includes two buildings and parking lots.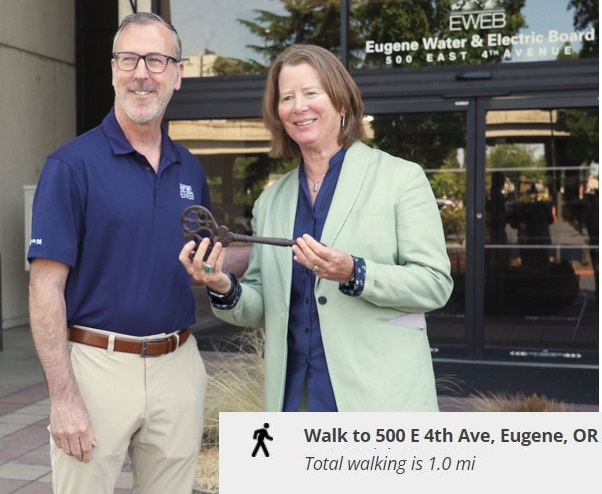 from the City of Eugene and staff reports
They tore down their iconic city hall. After lawyers defeated a descendant of Mary and Eugene Skinner in court, they swapped away the old city hall lot. Now they're moving out past Mill Street and leaving the downtown area entirely.
On June 27, the City of Eugene completed its $12 million purchase of the former Eugene Water and Electric Board riverfront headquarters. The ceremony followed a 7-1 city council vote on Jan. 30 to leave downtown.
The new site at 500 E. 4th Ave. will be renovated for use as a city hall to "establish a place for civic and community engagement, a public space on the river, increase ease of access to city services and provide long-term savings to the community." The 4.4-acre property includes two buildings and parking lots.
EWEB GM Frank Lawson officially handed over the key to Eugene City Manager Sarah Medary after signing closing documents.
"We're glad that the City of Eugene is buying EWEB's former riverfront headquarters site to maintain this location as a space for the community," he said. "EWEB and the city have always had a positive and productive relationship, and we're grateful to staff in both organizations for all the work they've done to make this sale happen. In short, selling the site to the city aligned with EWEB's core values and serves our customers well."
"This is an exciting day and step for Eugene!" said City Manager Sarah Medary. "After more than a decade without a city hall, it feels very good to say that we've finalized this purchase in a location that builds on our great history and relationship with EWEB, connects our downtown to the Willamette River and uses city funds responsibly."
The city manager's office and other offices within the Central Services Department will be first to relocate to the new site. As part of the sale, EWEB will be allowed to share space in the building for customers with appointments to conduct EWEB business.
Ward 1 Councilor Emily Semple, who represents downtown, was the lone dissenting vote against the purchase. "The loss of employees will affect downtown businesses, daytime safety, and activity," she said, and later suggested that the city should have brought forward innovative ideas for downtown before negotiating the purchase and moving.
According to the Lane Transit District website, the new city hall site is not currently served by a bus. Customers requesting directions to the new city hall are directed to walk one mile from the downtown Eugene Station to the site.