Latest Eugene renter protections take effect, hotline resumes taking priority calls
2 min read
After City Councilor Mike Clark predicted July 24 that renters would be harmed "in a catastrophic way," the tenant association hotline was overwhelmed by phone calls and closed for two weeks in August.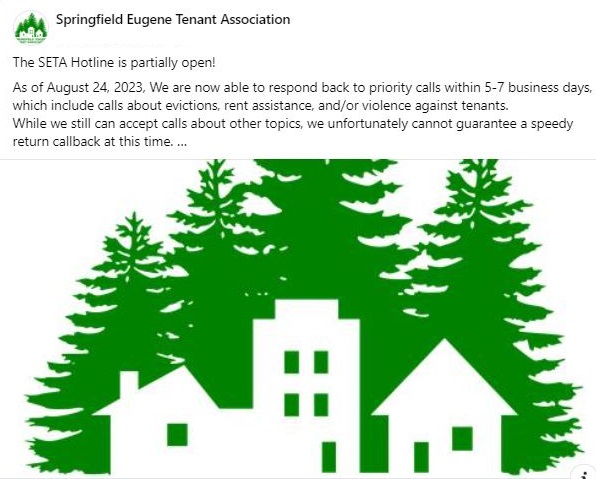 from Springfield Eugene Tenant Association and Eugene Planning and Development
A local renter hotline that closed Aug. 8 reopened Aug. 24 at half its previous capacity, handling priority calls involving eviction, rent assistance, and violence against tenants, just as Eugene's latest renter protections took effect Aug. 25.
Hotline staff members were overwhelmed by the number of calls in early August. The high volume of evictions had been predicted July 24 by City Councilor Mike Clark in response to Ordinance 20694.
With the ordinance now being enforced, the city encouraged landlords to file new required reports online:
The city of Eugene recommends creating an online account and signing in before completing the online forms. This will allow saving progress and reviewing submitted forms.
Tenant Education Information is also updated with the Phase II Renter Protections and available for download. Landlords are required to distribute this information with any written rental agreements.
As of August 24, 2023, the SETA hotline at (541) 972-3715 reported being able to respond to priority calls within five to seven business days. While accepting calls about other topics, the hotline cannot guarantee a speedy return callback at this time.
Those seeking information about tenancy are encouraged to see SETA's Resource Guides online.
Executive Director Tim Morris wrote: "We have made this decision to slowly re-open our hotline to give our new hotline team the chance to train and learn about their roles in a healthy, not rushed, environment. We are also using this time to review our hotline procedures to provide more flexibility, outreach, and support to our community."
Tim said they do not plan to stay half-open for long.
"We are committed to bringing our hotline back in full force as soon as we can, but want to be intentional in our commitment to having a safe and healthy working environment. Our priority is to ensure that our community feels safe, supported, and informed on what their rights are – and that includes our own team."
The city said administrative rules relating to the Phase II Renter Protections are forthcoming and will be posted for public review and comment.
To stay informed about the city's administrative rules and additional landlord and tenant resources, visit the Renter Protections Process and Rental Housing Code. You can also sign up to receive email updates about renter protections at Renter Protections Interested Parties Sign Up.