Wildland firefighters look for better pay after USFS program evaluation
3 min read
Feedback from surveys and focus groups addressed pay, well-being, facilities, hiring process, mission, organizational structure, crew organization and staffing, and vehicles.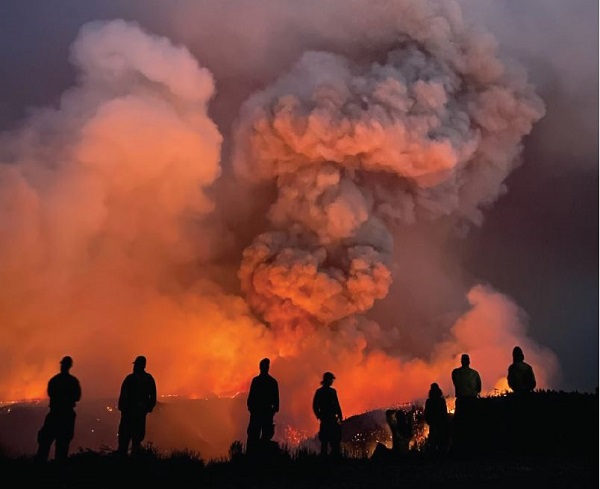 from the U.S. Forest Service, Sen. Ron Wyden, and staff reports
The U.S. Forest Service released a report Sept. 15 calling for reforms to its wildland firefighting program.
Its "Interagency Hotshot Crew Programmatic Review" provides a comprehensive evaluation of the program since its start, 80 years ago.
The report recommends a permanent pay increase and other reforms to enhance physical and mental health and well-being, increasing firefighter recruitment, retention and effectiveness.
"Hotshots and wildland firefighters are a critical linchpin in saving lives, protecting communities and serving on the front lines to confront our nation's wildfire crisis," said USFS Deputy Chief Jaelith Hall-Rivera. "We must take better care of them by addressing the challenges that have plagued them for decades. Better care means better pay and benefits, better housing, better mental and physical health resources, and better work-life balance—all issues raised in this report."
During the programmatic review, surveys and focus group discussions recommended improvements in eight areas: pay, well-being, facilities, hiring process, mission, organizational structure, crew organization and staffing, and vehicles.
The report identifies pay disparities between fire suppression crews and prescribed fire crews. "On a fire assignment, hotshots can work up to 16-hour days, getting both hazard pay and overtime, which constitutes the tradeoff for work-life balance sacrifices made during the primary fire season. Prescribed fire work, however, rarely permits hazard or overtime pay," the report stated.
The report also notes that though the average wildland firefighter works 1,934 hours each year—slightly more than the 1,920 hours of the average full-time government employee—firefighter overtime and hazard pay do not count toward federal retirement benefits.
Inadequate facilities for visiting firefighting crews can contribute to stress and fatigue. While each local host unit is required to "provide adequate facilities for the crew," there is no definition of "adequate."
The evaluation revealed a lack of adequate work facilities and lack of housing. "My crew is operating out of a single wide mobile trailer with one bathroom for 21 people," said the Truckee Hotshot Crew superintendent. "This is our office, training room, and gear repair. Our cache for tools, gear, and saws are shipping containers."
The report also notes the need to address longer fire seasons, with continued need for firefighters throughout the extended "shoulder" seasons.
An appendix describes the evaluation methodology.
USFS Deputy Chief Jaelith Hall-Rivera noted that some of the proposals are complex, multijurisdictional, or both. "This effort will not be easy, and some recommendations may not be implementable," she said. "However, I feel certain that at the end of the day, we can lay the foundation for a robust, modernized interagency hotshot crew program with the leadership, expertise, and capabilities our firefighters require and deserve in today's wildland fire environment as well as improve the entire system for all of our wildland firefighters."
Starting in November, a Forest Service working group will advance the review team's efforts. The working group will also receive advice from subject matter experts in mental health, labor relations, pay, fleet, facilities, budget and other areas.
The Forest Service is also currently developing a Joint Wildland Firefighter Behavior Health Program, which recommends three days off after a 14-day assignment.
Sen. Ron Wyden has repeatedly called for better pay for wildland firefighters, including at an August briefing on Lane County wildfires during the 2023 fire season.
The National Interagency Hotshot Crew Steering Committee requested the programmatic review in March 2021. A copy of the hotshot report is available on the Forest Service publications page. More information about Hotshot crews is available at https://www.fs.usda.gov/science-technology/fire/people/hotshots.