New city emergency manager Sierra Anderson welcomes volunteers
13 min read
Eugene's Sierra Anderson said that while living in Montana she learned that emergency management can build on community relationships. She highlighted local volunteers at a Southwest Hills Neighborhood Association meeting Oct. 17.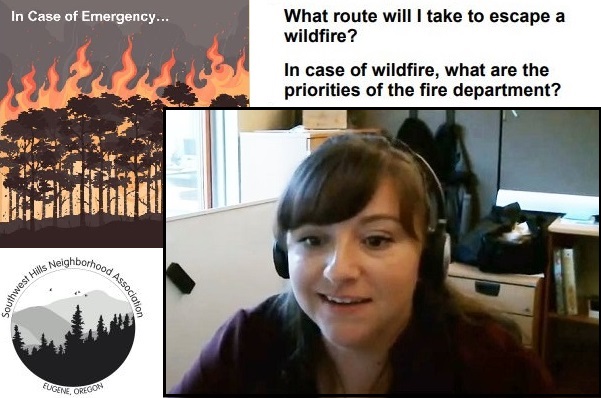 Eugene's new emergency management leader brings a strong background in community engagement from her experience in Montana. Speaking at a Southwest Hills meeting Oct. 17:
Sierra Anderson (Eugene Emergency Management): A little bit about my background. I worked for Benton County for a while, and I just moved back from Montana, where I was the City of Helena and Lewis and Clark County's emergency manager. So I've just been around the block a little.
[00:00:22] But you know, living in Montana, I learned a different way that emergency management was kind of facilitated and the connection that the community had there, because it was a small community.
[00:00:32] So the folks that I've invited tonight are volunteers. Charlsey (Cartwright) is the Northwest Eugene neighborhood association contact. She's very, very active in emergency preparedness.
[00:00:45] Charlsey Cartwright (Ready NW): I'm in River Road and we're really close in proximity to Santa Clara and to Bethel. We also share a lot of the same concerns and would probably experience a lot of the same risk factors in an emergency. It was a lot to ask every neighborhood association to have its own emergency preparedness effort.
[00:01:07] And what we did is basically collaboration among the three neighborhoods where we disseminate information commonly. We help one another out. We have a number of chairs and co-chairs of the neighborhood associations who have been very supportive and agreeable to doing it this way. It's an economy thing, because volunteers are very busy with their own lives, and we need more volunteers.
[00:01:36] We've looked often to the South Hills neighborhood associations because they seem to have had much more experience, and frankly, they're better at certain things than we are right now. But it's really healthy to exchange different experiences.
[00:01:54] And we have a lot of people from Friendly and other neighborhoods who join in. So if you are interested in being on our distribution list, we don't bury you with information, but we could let you know about things we're doing.
[00:02:09] We're going to be looking at the bridges and overpasses in our area, which is Santa Clara, River Road, and Bethel, to look at their seismic safety. And what we have in mind is if there is a large earthquake, will we have avenues for evacuation? And a lot of the other neighborhoods would want to know that as well.
[00:02:33] We don't know the circumstances that we're going to face. But if we can get ourselves more educated, we're going to be able to choose the evacuation routes or the alternate routes that we might not have thought of otherwise over time. It's going to take a lot of time and effort, but I am so thrilled that Sierra and (Eugene) transportation have been extremely helpful at working with us and planning for this.
[00:03:02] Sierra Anderson (Eugene Emergency Management): Do you want to talk about why you're so motivated—what you experienced?
[00:03:05] Charlsey Cartwright (Ready NW): I was an evacuee from the Paradise Fire in 2018. I went reluctantly to one or two community workshops. They did a really good job of educating their public there. And because of what I learned there about evacuation, I started getting my go bag together.
[00:03:26] I drove the route, the two routes that existed, and I thought it through. I rehearsed it in my own mind, and it saved my life. And it didn't take a whole heck of a lot of planning on my part, but you have to get started.
[00:03:43] I actually called a couple of my friends who lived in other counties and I said, 'If this were to ever happen, would you take me in with my pets?' And they all said yes. And so the day of the evacuation, I didn't have to hesitate. I didn't have to wonder I could just get my cats and my dog and myself in the car and leave. And it took six hours to go what should have been a 20 minute drive. But you know, I just really encourage you to get started.
[00:04:17] The scary part is really worrying about it and not doing anything. Once you get started, it feels such a relief. The stress starts leaving.
[00:04:28] John Q: Sierra encourages neighbors to take advantage of training offered by the Community Emergency Response Teams, or CERTs.
[00:04:34] Sierra Anderson (Eugene Emergency Management): And then our CERT folks, if you want to stand up and introduce yourselves.
[00:04:38] Tracy Baier (CERT): I'm Tracy Baier. I'm the outreach officer for CERT. Some of you have talked to me via email, text, or phone calls. So we work on dispatching people to your neighborhoods.
[00:04:50] You call us, say you need somebody to teach bug-out bag, or get-home bag, or emergency preparedness, we dispatch people to your neighborhoods to help with those classes.
[00:05:02] So if you would like to sign up for a class, give us a holler, we'll come out to your neighborhood. We'll come into your home. You have a group of neighbors, we'll sit and talk. And that's what we do. We teach.
[00:05:14] And this is Aimee Yogi.
[00:05:15] Aimee Yogi (Eugene Springfield CERT): Hi, I'm Aimee Yogi. I'm actually the, CERT district lead for Springfield. We are not as fortunate as Eugene. You are organized in neighborhood associations or neighborhoods, and we are not at all. And you've been supported by the city for years, and this is something really very, very important. That's the foundation of your community.
[00:05:44] So, what I'm interested in, especially since we are Eugene Springfield Community Emergency Response, is training—training our CERT members, and now we've been told, training everyone who is interested in disaster preparedness or disaster response.
[00:06:06] So we are becoming very, very active, in doing this with Sierra's, vision of an active CERT organization.
[00:06:17] There are two main initiatives that we are training for now.
[00:06:22] And one that EWEB has been working on recently in the last few years. And that is the well points of distribution. If the water is shut off at the Hayden Bridge intake for the city of Eugene there's a certain area without surface water or well water, and EWEB has recovered wells in those, I think it's approximately six right now, six. Usually high schools have the wells or the fire stations near there.
[00:07:00] So we're training to support EWEB in that distribution, and we're very, very honored to be called on to do that, and we're very excited to be part of this effort for Eugene.
[00:07:21] And I don't say that it is just Eugene. I don't say that, 'I live in Springfield, so I don't care about your wells,' but I do care. It's the community, right? I know you. And so we take care of each other that way.
[00:07:40] Springfield has just declared an initiative. The 42nd Street levee needs rebuilding because that is where the McKenzie River comes and it makes a turn over toward the Mohawk Valley. That in a major, major flood, may not keep the water out of downtown Springfield. It may top it, it may breach it. So we are actively planning and learning how to handle the river in case it threatens that levee.
[00:08:20] Tracy Baier (CERT): And four million sandbags!
[00:08:22] Aimee Yogi (Eugene Springfield CERT): Yes. So, our emergency manager in Springfield, Ken Vogeney, has gotten Public Works to purchase tons of sand and sandbags. We are going to learn how to safely load the sandbags and place them, and also not just for the levee, but if it breaches, then the community. If the flood comes in, then we'll protect the homes and the businesses in the community and he's got these really nifty plastic barriers also.
[00:08:58] It's really really exciting to us to be a volunteer organization and we are trained in teamwork. This is why it works. This is why the emergency managers and the emergency operation centers and the first responders can depend on us to support them in case of an emergency.
[00:09:24] Susan Dahlquist: I'm Susan Dahlquist. I'm the co-district lead for Springfield. We've been at this for a while, so we're trying to get a lot more people involved, like you guys are in your association, cause every little bit helps.
[00:09:39] Sierra Anderson (Eugene Emergency Management): So I just wanted to have a round of applause for our volunteers. The true thing is that we are nothing without each other. I can't do everything for you all. There's about 180,000 people in the city. What I can do is make sure our organization is ready. I can coordinate with our partners, like EWEB that's here tonight, or other partners like the university, other emergency managers, county emergency management, our Community Organizations Active in Disaster (COAD), all of our city departments.
[00:10:11] But if you think about how many things I just listed, that is my responsibility when an emergency happens, to protect you all.
[00:10:19] What you can do at your level is attend trainings like CERT, organize yourselves and have these meetings, start the preparedness conversation.
[00:10:27] We are fortunate enough to receive grant funding from the Oregon State Fire Marshal's Office. It was a one-time award, it's $150,000. We can use this money to develop evacuation plans, revisit our evacuation zones, making sure, because they weren't developed quite some time ago, and how much has this city grown, I mean, even in the year and a half I was gone.
[00:10:46] It's incredible. We're growing really, really fast. We need things like traffic studies. We need subject matter experts to come in and weigh in: Do our zones make sense? Can we feasibly evacuate this one area with the road systems that we have? Are the road systems keeping up with development? Those are all things that we need to look at for evacuation planning.
[00:11:06] John Q: A question from the Southeast Neighbors preparedness committee chair, David Monk:
[00:11:10] David Monk (Southeast Neighbors): Sierra, can I ask you a question about the grant monies, $150,000 in state fire money? I hope that you look to see what you can do to train individuals to go out into the community and help property owners understand defensible space. Because it's pretty straightforward, but I've done some of this and I've found a lot of folks, they love that oak tree and it's hanging over their house and they do not want to give it up.
[00:11:36] So, you just need somebody to really explain the options to them and you need volunteers.
[00:11:43] Sierra Anderson (Eugene Emergency Management): I really wish I could use the funding to do something like that, but it's very strict in the grant requirements that it is used to develop the plans.
[00:11:52] We do actually have some pretty vulnerable folks living in the South Hills area, so it makes for a really great project. It was my vision this year to apply for Community Wildfire Defense Grant funding, to hire a wildfire preparedness coordinator to go out and do property assessments and all of these things. But with the state of not having any staffing and the usual post-COVID struggles, I'm not able to do it this year, which doesn't mean we won't be able to do it next year. But this year I just can't.
[00:12:20] But if there are volunteers, I would be happy to connect with OSFM, the (Oregon) State Fire Marshal's Office, and see if they'd be willing to pilot a program here.
[00:12:29] John Q: A question from River Road's Charlsey Cartwright.
[00:12:32] Charlsey Cartwright (Ready NW): In Corvallis, they do live evacuation exercises. I know you're very familiar with that, Sierra. And we've talked about it in our area of wanting to practice that, given all the caveats that we don't know the circumstance that might really transpire.
[00:12:52] I know from first-hand experience that trying, just doing some practicing regardless of how accurate it is in the real case scenario, it helps tremendously to keep your brain thinking creatively and making decisions based on what you're seeing in front of you at that moment. things that you might not have thought about any.
[00:13:15] So my question is: Do you foresee a time when the neighborhoods might work with your office and the CERT people to actually start doing real life evacuation exercises here?
[00:13:29] Sierra Anderson (Eugene Emergency Management): After we finish the community wildfire protection plan, if everything goes well and the stars align, I would like to host a community wildfire evacuation exercise. It would be facilitated in partnership with our neighborhoods coordinator (Cindy Koehler) at the city, making sure that we're hitting neighborhoods that might not have the resources to be pre-planning, and at least providing some outreach to them and saying, 'Hey, like, what do you need? Here's everything we can do in Spanish. Here's everything we can do for folks that have mobility issues.'
[00:14:00] But it's really challenging the community to get out there and, you know, organize yourselves and be ready for something like that.
[00:14:08] And having Charlsey here really confirms that it's, it's very real.
[00:14:14] David Monk (Southeast Neighbors): So Charlsey here brought up that they're going to do a program on evacuation and transportation out of the community in the event of a disaster of some sort. So let's envision an earthquake, natural gas lines bursting, a lot of house fires. The fire department's going to be hard pressed to put all those fires out.
[00:14:36] So we're going to probably be evacuating out of our neighborhoods here in the South Hills. So, my question is: What's the police department going to do for us? Are we going to know that Spring Boulevard bridge is down and collapsed and that that (East 30th) access route is not available to us? Are we going to know that there are not big fir trees across Fox Hollow and Willamette and downed power lines?
[00:15:01] We know kind of what Eugene Springfield Fire is going to do, but for the police department, again, you're playing a critical role in the response. So the community needs to know what that is.
[00:15:12] Janina Rager (Eugene Police Department): My name is Janina Rager. I am a Community Engagement Crime Prevention Specialist for the City of Eugene Police.
[00:15:18] So when I have a major event, I can only hope we can get everybody there. But, I mean, on any given day in this town, 180,000 people, the most officers we have available to be on the street at any one given time, and this is the max amount, is 20 officers.
[00:15:32] That's what we have right now. And every call is a minimum of a two-officer response, but that's if it's not a priority one or a priority two. A priority one or two can have anywhere up to five officers it needs. At any given time, there's about 30 to 40 calls on a dispatch screen waiting to have an officer to it.
[00:15:48] We have a major event, I can tell you right now, it's not going to just be that event. All of a sudden you're going to have every criminal in this town breaking into facilities and stuff. We're going to have people getting attacked.
[00:15:59] So, you think of, you know, we're going to try to get everybody there, but we're a very small department in a major disaster. So we're getting information to the dispatch, and we're trying to get all the city, between Public Works, between EWEB, between Fire, between, I mean, every entity's trying to do what they can, but in a major event, we are very limited.
[00:16:18] And our main concern is: Let's get people to safety. If that means I've got to be in a road trying to pull a log out, by golly, I'll be doing that. We're going to do anything and everything we can, but we only have so many of us in a whole city.
[00:16:30] John Q: Another question from participants at the Southwest Hills Neighborhood meeting.
[00:16:34] SHiNA meeting participant: Are emergency responders in the city at all concerned that the second-largest city Oregon is not going to have a hospital? And if something happened on the other side of the, you know, on our side of the river, we might not be able to get across. A flood would be an example of that. So is that a concern of the city?
[00:16:59] Sierra Anderson (Eugene Emergency Management): Yes, to be frank, it is a concern. But the question really is for the hospital. So what are they doing with the property? What's going to happen with that and what's the contingency plan? Anybody else want to weigh in?
[00:17:15] Aimee Yogi (Eugene Springfield CERT): I am also a volunteer for Sacred Heart Hospital and, because I've been there for 16 years, I saw this put in place during COVID. As soon as we shut down, emergency management went into action.
[00:17:33] And the urgent care clinics were set up with COVID testing and so you didn't run to the hospital emergency room, bringing your viral infection. But yeah, so the urgent care clinics were open to take the calls and to get the prescriptions. If they didn't want you on site, they would get prescriptions called in, for someone to pick up for you at the pharmacies.
[00:18:05] But anyway, so the urgent care clinics were in the different neighborhoods. And we were told that in event of a disaster where RiverBend is not accessible to the medical staff, the doctors, medical staff in the neighborhoods would report to the urgent care center and that would be fully stocked with what was needed.
[00:18:40] So, I'm sure the scale of what we're talking about is much greater than what that building looks like, but there is a plan in place.
[00:19:06] John Q: Eugene's new emergency management leader brings a new community orientation from Montana and revitalizes volunteers in the Eugene Springfield CERT program.
To learn more, call Tracy Baier for personalized training, sign up at the CERT website, or contact your neighborhood association.