Northeast Neighbors hosts housing discussion
7 min read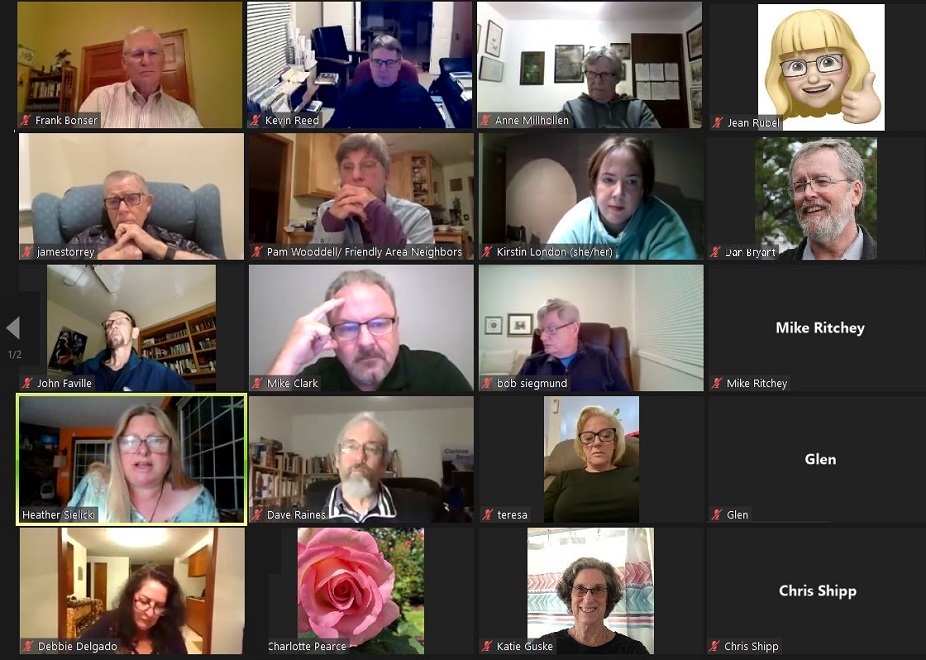 Northeast Neighbors convened a discussion on housing. Frank Bonser told how First Baptist Church created a village for families.
[00:00:08] Frank Bonser: First Baptist Church is almost 170 years old. So we formed as a church before Oregon was a state. And so in that we have been engaged in this community at just about every single level, we were instrumental in forming even Eugene Mission and helping support that. We've been talking over the course of probably almost two years, trying to understand what resources that we might have including property that might be able to help address the unhoused situation that we have here in the community.
[00:00:43] As a church we have chosen to really approach families with children. We have a gravel parking area that we think is the secure and a well lit area that we decided to commit to that space. When we saw the quality of this, the shelters, when we saw the quality of the leadership that was going to be managing this site we said, yes we can do this and we want to do this.
[00:01:05] We actually moved families into the site in March of this year. We have a total of seven Pallet Shelters within our village. It's fenced and secure, the seventh shelter is used for a food pantry right now for our families. We have over 20 kids that we have been able to serve within these families to give them a safe, secure, a warm place just to be to get them out of their cars, to get them off the street, wherever they are. We've transitioned several families from our pallet shelter village into low-income housing already. We've had two new babies within families that are been housed within our village. We have a church family that is loving them and adopting them and serving them and continuing to have relationships with them which is it's really, really important.
[00:01:55] Pam Waddell: I come to this as a board member of the Friendly Area Neighbors. And we were responding to requests to try to look for places for sanctioned camping, or microsites and things. So we set about doing that and we formed a committee and went out on foot and bicycles and stuff and looked around and we found the best spot was the city owned, unused former KidSports location. So we asked the city, why don't you just use that? and it took a while to find a service provider.
[00:02:23] What I was responsible for was the neighborhood PR and we knocked door to door. We went around within 500 feet of the site and knocked at every door, people of my committee and along with somebody from the city. If somebody wasn't home, we left a brochure and I was really, really happy how many people thought, 'Hey, it's about time we did something.'
[00:02:43] It's been up and running for three months now, three, four months. People say it's pretty quiet over there and haven't seen any problems. It's a special needs camp, as it's turned out, for people who have maybe psychological or emotional issues that maybe they don't work out so well at other sites so it's not heavily populated.
[00:03:03] I went and visited at the microsite on a day that they had their weekly meetings, where people can talk out issues and nip them in the bud. Hopefully it's, don't let them fester. So there's been some issues around, you know, who left the dirty dishes in the kitchen, anyway, I was impressed with that. So I was pretty impressed with the skill of the manager.
[00:03:24] John Q: Heather Sielicki of Carry It Forward.
[00:03:26] Heather Sielicki: I was the Southeast Neighbors chair when an encampment moved into my community. And it was the first time I really began to understand the depth of the crisis in our community. In Southeast Neighbors, we have the oldest site. It was originally Conestoga huts, and then it was upgraded to tiny homes at the Church of the Resurrection. And then we advocated as neighbors to get the Nightingale Hosted Shelters camp into our neighborhood, about five years ago. And they've managed a community of 20 next to a assisted living facility in our community without any incidents at all. It's really actually helped to bring the community together.
[00:04:04] Today I'm working on a project to establish a larger community village called Everyone Village, on donated land in West Eugene and it's going to be a combination of both Conestogas and other alternative dwelling types. We'll have RVs. We'll start with 30 people this winter, and then we'll move to the full 60 in the summer. We're going to be prioritizing the businesses areas out in West 11th to bring people who are living unsheltered over there.
[00:04:35] And we're doing it with a workforce development model. We're partnering with Oregon Bottle Drop and we're also working with the Homeless Garden Project in Santa Cruz, California to replicate their successful model of employing people for 20 hours a week in an organic garden. We're working with Homeless Entrepreneur in Barcelona, which has done some pretty remarkable work in helping people who are experiencing homelessness, to pursue their entrepreneurial dreams.
[00:05:03] John Q: Pastor Dan Bryant, of the nonprofit Square One Villages.
[00:05:07] Dan Bryant: I was pastor at First Christian Church, we were established in 1866, as I recall, I can't remember. And I only served about half of that time. Serving a downtown—yeah, you can laugh, Mike, you were there—Serving a downtown church, I just spent a lot of time dealing with people walking in off the street with all kinds of stories and asking for help, and just found myself spending more and more time trying to help people find solutions. And that led me to do a number of things, but I think we were the first church to host campers on our property starting in 1996 or '97.
[00:05:46] Moderator, Kirstin London: Saw a lot of questions pop up around, people are concerned about behaviors and problem behaviors.
[00:05:54] Dan Bryant: So the one thing that gets someone expelled from our programs, more than anything else is violence. And, if you hit another person, shove another person, engage in any act of violence. Even when we have a person who can be very violent verbally, that makes people feel unsafe. We have to be mindful of the safety of the village and it's just really important for the other people in the program to feel safe. We try to address that and we try to change that behavior. But the moment it gets physical that will get someone expelled.
[00:06:29] We tend to focus on the more behavioral issues, addictions and mental illness, and yes, we need to address those issues, but you can't address those issues unless you house someone, you just cannot address a mental health issue with someone who's living on the street. It's never going to be effective, same with an addiction issue.
[00:06:49] A lot of addiction issues are caused by their situation. Someone may not be addicted when they become homeless, but they'll become addicted. The classic example, I just hear over and over again, are women, women who are raped repeatedly, because they have no safe place to sleep, become meth users, because it's the one thing that keeps them safe, because they're just awake and can be active and can protect themselves. And so you got to get them in a safe place first, before you can address the addiction or the mental health issue. So that's where we need to start.
[00:07:26] Questions Moderator, Anne Millhollen: Why does it seem that the City and County invite the homeless and encourage them to remain here with liberal laws and punishments? If we create sanctioned sites will we then finally enforce the law and order at the unsanctioned ones?
[00:07:42] Dan Bryant: I do think that's part of the goal, setting up the 500 safe sleeping sites so that the city can then shut down the camps, particularly the WJ park and 13th & Chambers and some of those big camps, is that what we're attempting to do, so that we can now shut down those camps?
[00:08:01] Councilor Mike Clark: The census showed 30,000 people added in the last 10 years when we did the 20 year forecast in 2015, we—the City—forecasted 34,000 new residents in 20 years. And we're seeing double that. We've seen double the population growth that the city planned for.
[00:08:24] The homeless counts of how many are unsheltered at night in our community are well above 3,000.
[00:08:31] Recently I have stopped being supportive of creating new sites, because I believe our city's policy towards homelessness as a whole is incomplete. And for a simple way to talk about it, we are predominantly carrot and no stick. We have quite a bit of opportunity—nowhere near matched to the need—but quite a bit of opportunity, but we don't have a lot of accountability—or at least not to the degree that I would feel comfortable. I asked this question the other night during Council. We had the opening of two new microsites, and I said, 'Great. How many people from Washington and Jefferson moved from there to the sites?' And the answer was: None. And it is not currently City policy to compel someone that they have to move there.
[00:09:19] NE Neighbors Chair Kevin Reed: We all are trying to rack our brains and come together as a community to try and help solve this problem, but we all need to contribute and be realistic about what the causes of this problem are. And it's going to take a variety of different opportunities and avenues for us to be able to put a dent in this problem. But I think that more meetings like this, where you have willing participants that are willing to sit down like adults and listen and talk and share great ideas, is how this is all going to come to pass. So thank you all so very much for your contribution tonight. And I hope this is just one step for just continuing this dialogue.