Bethel planning starts with survey results, and other updates
7 min read
A meeting at Willamette High School on Tuesday to direct future changes at Golden Gardens Park; Beyond Toxics celebrates a big community win; and the Bethel Area Plan gets underway with results from a community survey.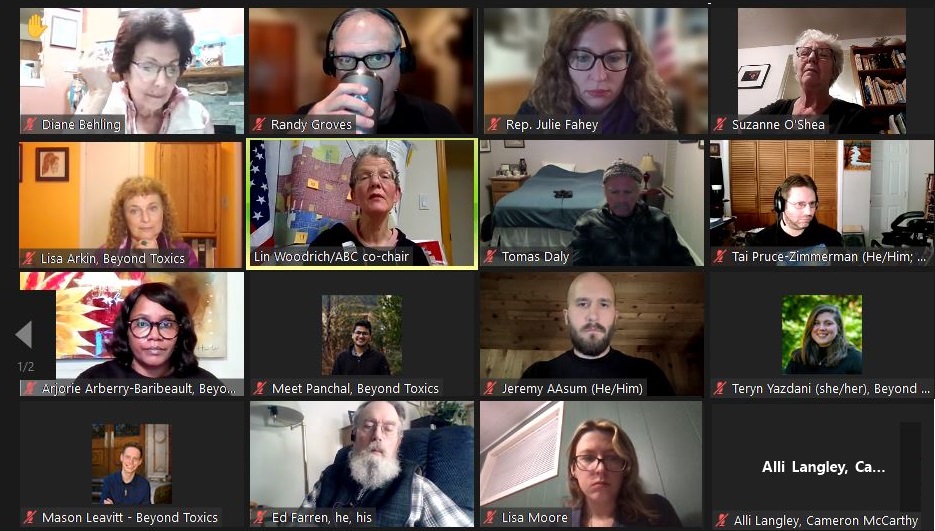 Information sharing at the Active Bethel Community meeting Jan. 18, 2023, in 10 minutes.
[00:00:08] Alli Langley (Cameron McCarthy Landscape Architecture and Planning): We are talking about Golden Gardens Park which is in the northern edge of the Bethel neighborhood. And the city is working on a concept plan for this park that's going to direct future development at the park, and that's going to include preservation and enhancement of the existing natural resources there.
[00:00:28] Folks might be familiar—if you've been to the park, you might be familiar with the ponds and the nature trails that are already there. It's a very large park, 223 acres. And proposed amenities include a sports complex / regional sports complex, a neighborhood park designed primarily to serve residents within a half-mile or walking / rolling / biking distance of the park. And then a habitat area with enhanced protections like I was talking about around the existing ponds.
[00:00:59] So we have the first of three public meetings coming up this coming Tuesday. We welcome all of you to attend and please share the word about that. It's going to be at the Willamette High School, at the Media Center from 5:30 p.m. to 7 p.m. We'll also be launching the first of three surveys to gather input.
[00:01:18] And this is probably the most important one. This is where we're taking lots of ideas to build three concept plans for the park. And we'll come back to folks in the community with those three concept plans after this public meeting and survey. And so there'll be more opportunities to get engaged, and more meetings and surveys.
[00:01:38] And this is the website here, Engage Eugene, that the city is using to gather input and you can sign up here on the right to receive project updates and announcements.
[00:01:50] John Q: An update from Beyond Toxics.
[00:01:52] Teryn Yazdani (Beyond Toxics): Hi, everyone. My name is Teryn Yazdani. I am the staff attorney and climate policy manager at Beyond Toxics.
[00:01:59] For those of you that don't know the nitty-gritty details of the Northwest Natural hydrogen pilot project, this was an extremely expensive project that was set to blend 5% to 10% of hydrogen by volume into the gas distribution system in Eugene, and specifically the Bethel neighborhood. Five to 10% of hydrogen is actually quite small. We like to think of it as 90+% methane still going into people's pipelines.
[00:02:28] Green hydrogen is 'hydrogen that is produced through electrolysis using renewable energy.' And when it says renewable energy, that also includes biogas and biofuels, which, those have huge climate impacts and public health concerns as well. It produces a ton of nitrous oxide emissions and NOx have really severe health impacts. It does use a significant amount of water by volume to do the electrolysis process.
[00:03:01] So it's not as green as they say.
[00:03:04] What the project wanted to do, it wanted to build an electrolyzer facility in the Bethel neighborhood to produce the hydrogen, and then that blended hydrogen mix of 5-10% would be pushed through Into the Bethel neighborhood, mainly in people's homes. Over 2,000 homes would've been impacted. And there was really no opt-out solution, which is extremely hypocritical, because I'm sure you all know, NW Natural's big campaign is that 'people should have a choice in the energy that they consume.' So, extremely classic fossil-fuel industry, talking out of both sides of their mouth, and not giving people an opportunity to say, 'No, we're concerned!'
[00:03:47] The predatory siting of this project in Bethel was a huge concern because once again, this is just another example of how industry is using this community as guinea pigs, putting them at risk for favor of profit, using it as a testing ground before pushing this onto more customers and more users.
[00:04:08] There was also a huge concern with the rate increases. The $9.8 million project was going to go mostly onto the shoulders of NW Natural ratepayers, including those of you in the Bethel community that were in this project footprint. And that rate increase was in conjunction with a previous rate increase of about 40%. So it was really a compounded issue that would impact the winter 2022 gas bill.
[00:04:39] Another thing that we really wanted to point out is that it's pretty high risk / low reward in terms of the emissions reductions that would actually be achieved with this project. There is a super high price tag for this, but what NW Natural estimated that the project would reduce in terms of greenhouse gas emissions was only 194 tons per year— the equivalent of removing 49 gas-powered vehicles from the world, with a massive, massive price tag. So, again: high risk / low reward.
[00:05:15] There are also a lot of safety concerns with blended hydrogen.
[00:05:19] And again, water usage is a big concern because this water to do the electrolysis would be pulled using EWEB water and being pulled from the McKenzie River, which is, as you know, Eugene's main drinking source. And water usage, as climate change worsens, and as our drought conditions get worse in the state of Oregon, is a huge concern for us.
[00:05:42] So, anyway, it was a really quick timeline that all of this was settled. We filed a motion on Oct. 7 and they pulled the project on Nov. 1, which is great.
[00:05:53] As their main reason for pulling the project, they cited environmental outreach, environmental justice concerns, and outreach, which is great. We are meeting this with cautious optimism because again, we don't trust NW Natural, and they have openly said that they will likely file again after doing the outreach.
[00:06:13] So we're monitoring the situation, taking the win for now.
[00:06:17] And this is just one victory that shows the importance of community voices really rising up and saying no and opposing.
[00:06:24] And I just also wanted to plug the amazing policy work that we're doing. Beyond Toxics also continues to fight for workable solutions. We're a part of several local and state coalitions that are working hard to really pass policies that will make electrification of homes, buildings, old and new, more affordable, working on policies to incentivize electric heat pumps and water heaters, things that are actual workable solutions to fighting the climate crisis that aren't greenwashed hydrogen.
[00:06:58] Lin Woodrich: I'd like Jeremy (AAsum) to present our Bethel Area Plan survey results.
[00:07:03] Jeremy AAsum: So we had 752 results from our 2022 park events. So that's a really good sample size and we asked folks for three strengths about Bethel, three weaknesses, three threats to Bethel. And then in another category, sort of a different way of looking at it: The three worst things about Bethel, the three best things about Bethel and three, nice-to-haves in Bethel. So the nice-to-haves especially are looking towards the future and the work that we want to do to address some of these concerns or to amplify the strengths.
[00:07:41] The top three strengths: The location. So a lot of people like the proximity that they have to different things such as parks, Echo Hollow Pool, wetlands. It's a very good location in Eugene to get to things that people are interested in.
[00:07:56] The second strength was people. So a lot of interest in support for families. Lots of people like their neighbors. They like the people that they live next to.
[00:08:06] And then the third strength was education. There's a lot of love for the school district and the support that we have for young people.
[00:08:13] And then the top three best things about Bethel. So this one: Definitely the outdoors. People love the parks. People love the access that we have to parks. People love the wetlands. People again: communities, the diversity of the neighborhood family activities especially. And then education again.
[00:08:29] So people really love the school district. And then this is, probably the biggest one for guiding us in terms of what we want to do moving forward with the area plan in Bethel, and really what our focus will be with Active Bethel Community, is the top three nice-to-haves in Bethel. And so here we had more outdoors and fun and entertainment.
[00:08:49] So a lot of desire, again, for better, better support of pedestrians and bikes. More support for running and dog trails. More pedestrian infrastructure, more art, more support for our parks, food, and shopping. So there's a lot of desire for especially more coffee shops, more farmer's markets, more access to food.
[00:09:10] And then there's even some specific callouts, like: 'We really would like a Cafe Yumm in West Eugene!' That's come up many times. And then businesses, so more access to commercial spaces, so things like theaters and arts and entertainment, fitness centers, saunas. So there's a lot in here about a desire for more places to shop for food, more places to shop in general, more things to do and then more love for our parks.
[00:09:34] Lin Woodrich: Thank you, Jeremy, for putting that together. And Suzanne (O'Shea) went through all 752 surveys. I helped her to start out with, but she finished it, and thank you, Suzanne. That was an awesome, awesome struggle.
[00:09:47] John Q: Bethel updates in 10 minutes: Have a voice in the design of Golden Gardens Park; Beyond Toxics has another big win after the mayor's award—helping Bethel organize against blended hydrogen; and Bethel planning kicks off with results from a community survey.