Meet Jameson Auten at City Club April 21
4 min read
CEO Jameson Auten will outline LTD's future as a regional transit hub, delivering and coordinating public transportation across a variety of travel modes.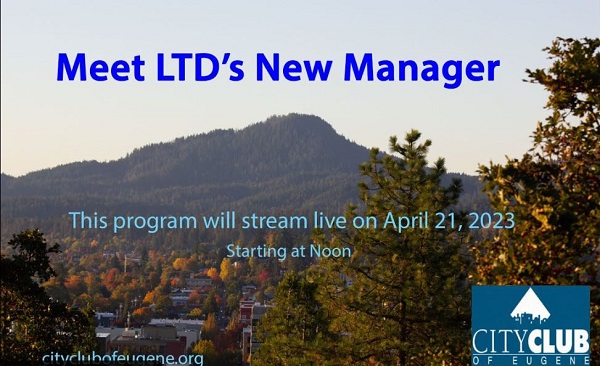 After struggling with public engagement over the past several years, the Lane Transit District found itself in the limelight for reasons that it may not have preferred.
LTD suspended Transit Tomorrow, its proposal to shift buses from neighborhoods to high-volume corridors, after neighborhoods learned of the plans and began organizing throughout the city. Former LTD board member Don Nordin helped neighbors ask LTD and the city to share transportation data, similar to the city's Envision Eugene monitoring program.
The LTD board of directors lost two members, the LTD general manager resigned, and LTD engaged a different attorney during a wild month in July 2021. One director on LTD's board was removed from office by the governor, while the other, an advocate for Transit Tomorrow, left voluntarily after an investigation into gender discrimination.
In 2022, hundreds of neighbors signed petitions opposing the loss of private property and up to 132 trees to build River Road bus rapid transit as part of the LTD project MovingAhead. Ignoring these residents, the LTD Board, Eugene City Council, and the Metro Policy Committee approved the project. Voters in Ward 7 collected signatures to force a recall vote, then voted 60%-40% to recall a city councilor, the first such recall in Eugene history.
These are the conditions that awaited Jameson T. Auten last November, when he took over as CEO and general manager of LTD.
Jameson will meet with the City Club at noon April 21 to outline how LTD will engage the community to chart a new course, transforming LTD from a bus company to a transit hub that delivers and coordinates public transportation services across a variety of travel modes in the region.
The City Club meets at noon in the Maple Room, Inn at the 5th, adjacent to the Fifth Street Market. You can also watch the session with Jameson Auten online.
Jameson T. Auten joined LTD in November 2022. Previously, he served as deputy CEO and chief operating officer with the Kansas City Area Transportation Authority, where he was employed for many years and held increasingly responsible positions. He holds an MBA from Virginia Commonwealth University and serves on the board of the American Public Transportation Association.
Rob Zako, executive director of Better Eugene-Springfield Transportation (BEST), and co-host of the recent public forum, The Future of Transportation, will ask the first question.
Rob Zako and BEST famously claimed credit for reducing public opposition to EmX in a March 17, 2022 newsletter, shortly before EmX opponents began the recall campaign.
"A decade ago, Lane Transit District's plans to extend EmX bus rapid transit to west Eugene were on life support as a small but vocal group of opponents ran a highly visible lawn sign campaign. After years of study, it looked like the Eugene City Council would reject the project, and with it $95 million in federal and state funding.
"In response, a diverse group of community leaders came together as Better Eugene – Springfield Transit. At a public hearing on September 24, 2012, BEST turned out 40 people to testify to the Eugene City Council in support of West Eugene EmX. Two days later, the Council voted 7-to-1 in favor of the project.
"Earlier this week (March 2022), there was little opposition to MovingAhead. The Eugene City Council (6-to-1, Mike Clark opposed, Greg Evans delayed but in support) followed by the LTD Board of Directors (unanimously) approved pursuing investments along not just one but four corridors!"
In the March 2022 newsletter, BEST highlighted its role in reducing opposition to EmX.
"Over the last decade, BEST has grown in reach and influence. Today with an updated name, Better Eugene Springfield Transportation is building a successful community by bringing people together to promote transportation options, safe streets, and walkable neighborhoods.
"BEST believes we are better when we speak and act together. We convene community leaders. We do our homework. And we look for win-win solutions."
Despite Rob Zako's BEST efforts, voters did not agree that MovingAhead was a win-win solution. They cited greenwashing, legislative logrolling, and a city councilor in Ward 7 who denied hearing opposition to EmX, sued citizens, then withdrew the lawsuit after the judge was asked to rule on a SLAPP claim—a Strategic Lawsuit Against Public Participation.
In the May 2023 election to replace the recalled councilor, all three Ward 7 candidates said they would be willing to reconsider EmX for River Road.
In one of his first visits to neighborhood organizations, Jameson Auten told the Santa Clara Community Organization that LTD would improve public engagement.
---
The City Club of Eugene is a nonprofit, tax-exempt charitable organization (tax identification number 93-1039541) under Section 501(c)(3) of the Internal Revenue Code. Donations are tax-deductible as allowed by law. All donations will be recognized.