'We Are Bethel' celebration June 10
2 min read
Featuring over three dozen booths, family games, food, music, and entertainment, the 'We Are Bethel' celebration will be held at Petersen Barn Community Center June 10 from noon to 4 p.m.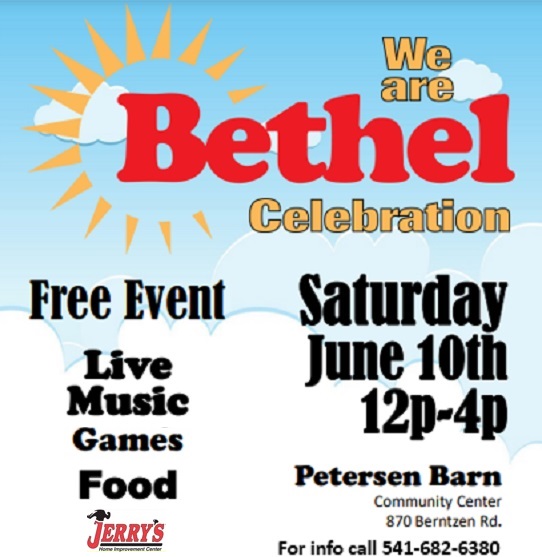 Collect and start drying soil now for free testing for lead
from the Active Bethel Community newsletter
Let's all celebrate Bethel on Saturday, June 10, from noon to 4 p.m. at Petersen Barn Community Center, 875 Berntzen Rd.
With over three dozen booths, family games, food, music, and entertainment, come at noon and stay until 4 p.m. Have lunch and early dinner at the Guatemalan Food Cart El Quetzal and save room for dessert at Bea's Cart.
The celebration will feature performances from Micky Wickd, Taller De Son Jarocho, Ballet Folklorico Colibri Dancers, West African Cultural Arts Institute Band, Cascade/Willamette Mariachi Group, Cascade Middle School Jazz Band and Cascade Middle School Choir.
Five fun carnival games will be run by high school students for volunteer hours. Gunny sack races will be staged several times throughout the event, with fun participant ribbons for all racers.
Bethel student art will be on display in the main room at Petersen Barn.
Booths include:
The Oregon Health Authority booth offers free soil screening for lead. Prepare and bring up to three soil samples from your yard, play area, or garden to the OHA booth. For each sample, dry at least two cups of soil and place it into a clear plastic baggie. Label each baggie with the location of that sample.
OHA will provide:
Same-day results and one-on-one education
Information on safe gardening practices
Ways to avoid metals exposure for the whole family
Complete sampling instructions can be found on OHA's website. Limit of three sample bags/person.
Note that screening cannot identify sources of lead and can only detect lead at the point where the sample was taken, rather than an entire area. This method is not as accurate as laboratory analysis and should not be used to make public health or legal decisions.